Are you looking for a trusted kayak rentals company around Kailua Beach?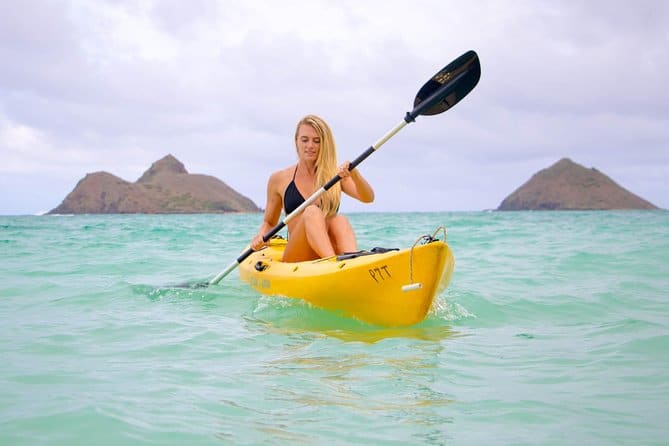 Catering to the demands of water sports enthusiasts, Kailua Beach Adventures has been in the business for over 35 years now. Just a walking distance to the beach, it also offers lessons for beginners from highly-trained instructors and guides who are ACA-certified, Lifeguard, CPR, and First Aid certified. They are even authorized to issue island landing permits for the offshore islands within Kailua Bay.
Rentals can be for a half day, which is for 4 hours and a full day that begins from 8 am to 5 pm. You can keep them for 24 hours if you choose the latter. Life jackets that come in all sizes are included. The best thing about it is that they allow children of all ages, as long as they know how to swim. Ideally, kids under 12 years old are recommended to ride with an adult in front of a double kayak. If you are not a strong swimmer or not comfortable with the ocean but wish to experience the waters, you can go for a paddling trip up the canal to the Enchanted Lake.
Are you an adventurous and independent explorer who dares to traverse Kailua Bay? Then, the sit-on-top single kayak is perfect for you! It is stable and easy to jump in and out of the tropical water in the bay. If you are a beginner who wants a company, the double kayak is ideal for you. In fact, it is the most popular rental for its ease of use and stability. Plus, two people paddling together can be the most efficient way to explore the beautiful Kailua. Another is the triple kayak that is designed to carry two adults and 1-2 small children. It is stable and can hold up to 450 lbs or 205 kgs. This is also a better option for two larger adults who are looking for stability.
After checking-in, you will be outfitted with all the necessary gear, including life-jackets, lockers, snorkel gear, and dry bags. After then, a short briefing on safety, basic instructions on kayaking, and recommendations for the trip will be provided. They have a shop that sells essentials for the trip if you don't have any, such as reef-safe sunscreen, water-proof cameras, and croakies.
Kicking off your exploration, you will start paddling at the Kailua Beach towards offshore islands and beaches of your choice. The best thing about this trip is that you paddle at your own pace. In this way, there are bigger chances to watch marine life, such as the green sea turtles that you will meet along the way. One of the most popular destinations is Mokulua Island, which features two small islands where you can land and snorkel, swim, or simply relax and savor the moment. The bigger island in the northern part called Moku Nui is usually where kayakers land to take a rest and eat snacks or lunch.
When you get there, you can go for a short hike for 20-25 minutes to reach a hidden natural tide pool called Queen's Bath. At the back part of the island, there is a dramatic cliff-backed cove with a U-shaped inlet where you could jump into the azure blue waters. Here, you can also snorkel above coral reefs and swim with vibrant-colored schools of fish.
SPECIAL INSTRUCTIONS
Check-in at 130 Kailua Road, Kailua Beach Adventures Beachside Center
Operations:

Monday to Saturday

Duration:

4 hours and 8 hours

Restrictions:

All ages are welcome as long as they can swim and weigh at least 30lbs. Children below 16 are recommended to ride with an adult.

Life vest must be worn at all times for all guests in the water.

Kayakers will need to transport their kayak to/from the beach via cart (5 to10-minute walk).