Rated as one of the most beautiful beaches in Hawaii, Kailua Beach is most certainly a treat to the eyes and the senses.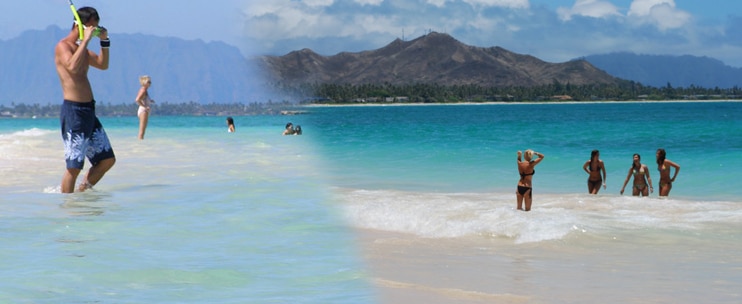 he view of its white sand beaches, pristine blue seas, and the majestic mountainscape in the background is already a treat and an awesome experience in itself. Of course, you have the choice to take things up a notch by exploring and enjoying Kailua Beach to its fullest… with thrilling water activities, that is! Come and join Kailua Beach Adventures' Kailua Beach Experience Tour for a full four hours of sun, adventure, and fun!
This tour kicks off with a comfortable ride from Waikiki to the Kailua Beach Center, aboard a 15-passenger capacity van. During this short drive, enjoy the sights of the Ko'olau Mountains—a tropical spectacle, that's for sure! Upon arriving at the Kailua Beach Center, prepare for more pretty sights and tropical fun. Kailua Beach Adventures' Kailua Beach Experience Tour lets its guests choose between snorkeling or playing with a boogie board, both of which are exciting ways to experience the lovely waters of Kailua Beach. With a boogie board, you get to ride the waves and connect beautifully with the ocean, despite not having much or any experience in riding a board. No need to worry about your inexperience and let it hinder you from riding the waves, as Kailua Beach Adventures' well trained and experienced staff will brief you beforehand and will be there with you every step of the way.
If, on the other hand, you decide to go snorkeling, you will have an amazing time exploring the unbelievable charm of Kailua Beach down under! After hopping into your complete snorkel gear, which will also be provided in this tour package, your underwater exploration begins. With the waters so clean and pristine, you will absolutely enjoy sightseeing and getting an up close encounter with green sea turtles, tropical reef fish, and many other precious sea creatures, many of which are endemic to Hawaii. Don't worry about not having much snorkeling experience, too! To emphasize, with Kailua Beach Adventures, you are most certainly in good hands.
After your water adventure, your scrumptious Hawaiian lunch feast awaits! Truly, there is no better to end your Kailua Beach Experience Tour with some mouthwatering Hawaiian-style plate lunch, while relishing the beach views, breeze, and the lovely Hawaiian sun. 
Tour Highlights:
Have a relaxing day at Kailua Beach, rated as one of the best beaches in Hawaii!

Go boogie boarding or snorkeling, instructional briefing and gear of which are inclusive in the tour price

Enjoy a scrumptious Hawaiian-style plate lunch
Tour Inclusions:
Kailua Beach Adventures' Kailua Beach Experience Tour is inclusive of the following:
Silicon snorkel, mask, and fins

Boogie board

Instructional briefing care of Kailua Beach Adventures' professional crew

Hawaiian lunch with drinks

Lockers to stow away your items during your water activities

Round-trip transportation from select Waikiki points

A special discount of 15% on retail items in the shop
Special Instructions:
Choose from the following tour times:

Morning tour: 9:45 AM

Afternoon tour: 12:30 PM

Check in at 130 Kailua Road, Kailua Beach Adventures Beachside Center, located at Kailua Beach, East Oahu.

For the morning tour, check-in time is at 9:00 AM. Check-in time for the afternoon tour is 11:45 AM. Make sure to be early for check-in as the tour will promptly depart at the scheduled time.

If you booked the Waikiki transportation service, the pick-up details will be provided in your confirmation email.

Tour duration is approximately 4 hours without the round-trip transportation to and from Waikiki.

This tour operates daily.