Rent a kayak for a day and enjoy Kailua's scenic bay offering miles of white sand beaches to land on, coral reefs to snorkel above, and offshore islands to explore.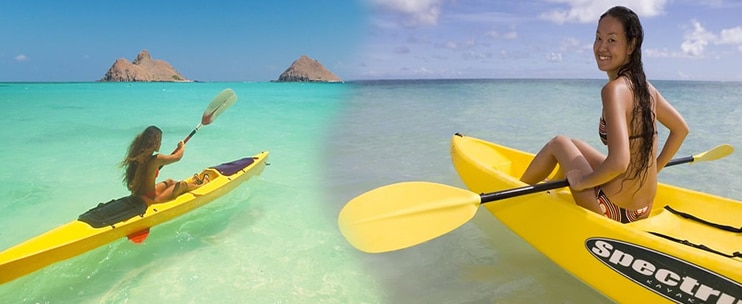 Kailua Beach Adventures is the only kayak company within walking distance to Kailua Beach and authorized to issue island landing permits for the offshore islands within Kailua Bay. Paddle to Mokulua Nui, one of the two "Twin Islands," and Popoia, also known as "Flat Island," which are both a part of Hawaii's seabird sanctuaries.
Rentals are for a half day (4 hours) or full day (8 am to 5 pm). Full day rentals can be kept over night for 24 hours. Life jackets are included for all sizes. Children of all ages are welcome. Typically, children 12 and under ride with an adult in the front of a double kayak. For people who are not strong swimmers or comfortable in ocean conditions, we recommend a paddling trip up the canal to Enchanted Lake.
Special Instructions
Where and When:
Check in at 130 Kailua Road, Kailua Beach Adventures Beachside Center View Map
Kailua Beach Adventures is open Monday through Saturday from 8:00 am to 5:00 pm.
Restrictions
Everyone participating in a water activity should be able to swim.
Kayakers will need to transport their kayak to/from the beach via cart (5-10 minute walk).
Operation Days:
Monday through Saturday