Enjoy a 2 hour kayak excursion on Oahu's beautiful east shore in Kailua Bay.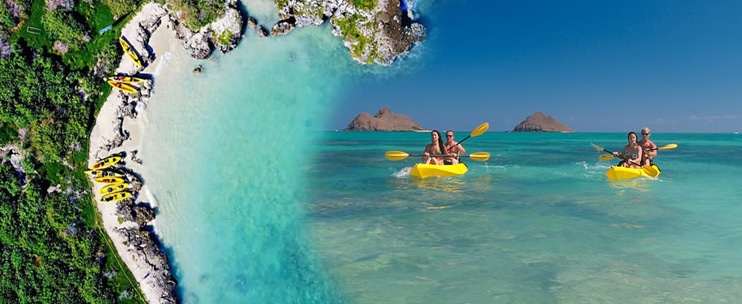 This guided kayak tour is ideal for beginners. Prior to launching your kayak, your tour guide will offer paddling instructions and assist in launching your kayak. The kayak is a stable sit-on-top type of kayak. The destination on this tour is Popoi'a Island, a small offshore island that is a protected seabird sanctuary. As you near the island, you will likely encounter green sea turtles as they pass through their natural feeding grounds.
Once landed on the sandy beach of Popoi'a, grab your camera and head for a 20-25 minute guided eco-hike around this unique seabird sanctuary. Keep an eye out for rock crabs, rainbow runners and a variety of marine life in and around the island's tide pools. The group will then head back to Kailua Beach and enjoy lunch. After lunch, you'll be supplied with boogie boards, snorkeling gear and beach mats for 2 hours of free time.   
Tour Highlights
Two hour guided kayak tour from Kailua Beach to Popoi'a Island
Short hike on the island, which is a seabird sanctuary
Paddle back to Kailua Beach and enjoy two hours of beach activities
Tour Inclusions
Roundtrip transportation from Waikiki
All kayak and safety gear, including life jackets, dry bags and island landing permits
Use of beach mats, boogie boards, snorkeling gear, and secure lockers for your valuables
Delicious lunch
Lunch Menu: Several options of meat and vegetarian hand-tossed pizzas, calzones, burgers, salads, and Korean BBQ, sandwiches, sodas and juice. Vegetarian, vegan and other dietary restrictions will be accommodated.
Special Instructions
Where and When:
Check in at 9:15 am at 130 Kailua Road, Kailua Beach Adventures Beachside Center (View Map) We can also pick up at your Waikiki hotel. Pick-ups begin at 7:30 am.
Tour returns at around 2:30 pm.
Restrictions:
Everyone in the party must be able to swim or you will not be able to go on the tour and will not receive a refund within the cancellation policy.
Minimum age 8 years old.
Ages 16 years old and under must ride in a double kayak with a parent or guardian.
Participants under 18 must be accompanied by a parent or guardian.
Must be adventure minded and physically able. Participants will need to transport their kayak to/from the beach via cart (5-10 minute walk).
Special Notes:
Operation Days:
Monday through Saturday
Duration:
4 Hours: 2 hours of guided Oahu kayaking + 2 hours free time at Kailua Beach
Equipment:
One or two-person Ocean Kayak or Spectrum Kayak with Comfort Pro kayak seat