If you're travelling to any of the beautiful islands of Hawaii, might as well learn a Hawaiian word to kickstart your vacation!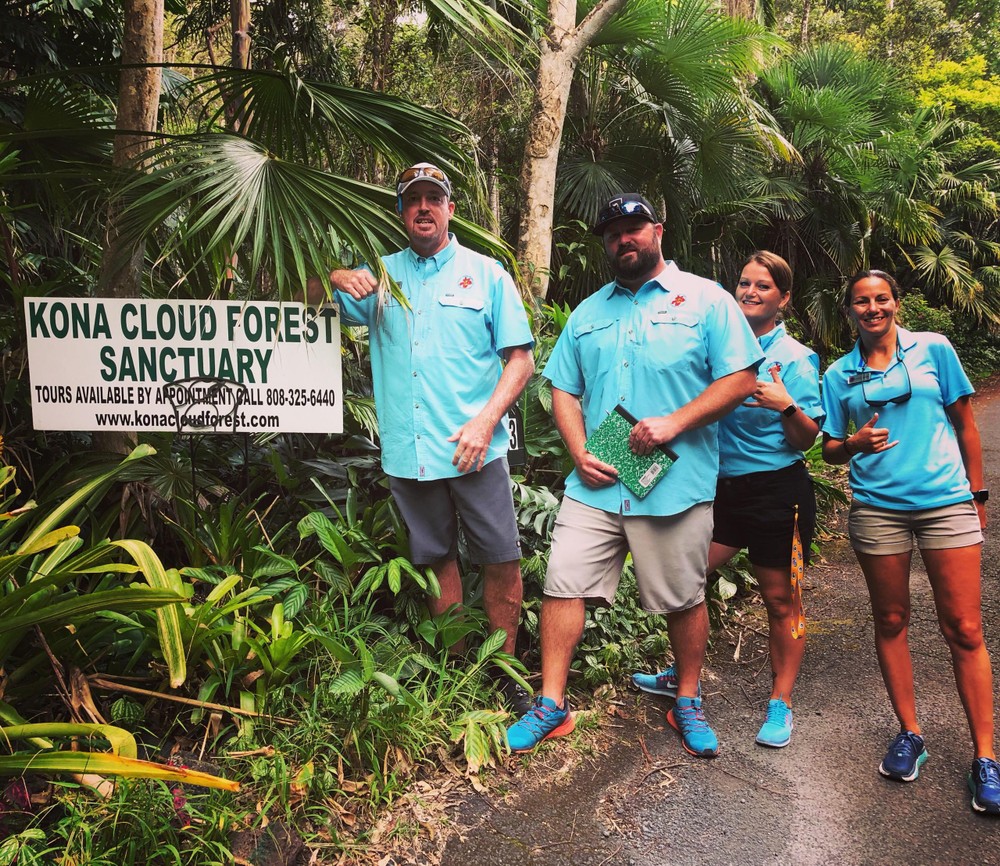 Its weather is more humid than the other parts of the island, where you can also find lush forests that are meant for growing the world-famous Kona Coffee. 
Kailani Tours Hawaii lets you experience this all-in-one trip to see and taste Kona's coffee and quality island-style beers while strolling down the thick Kona cloud forest. If you're in Big Island or planning to visit Hawaii, this 6-hour unique adventure is a must-try, so book your tickets now because they sell too fast! 
What to Expect?
Arrangements regarding transportation, pick-up time and location are made upon booking. Thankfully, this trip is from 8:00 AM to 2:00 PM, so you don't need to wake up so early, especially if you're not an early riser. We always recommend applying sunblock and wearing light and comfortable clothing, including closed-shoes if you're going out in Hawaii. You may bring a light jacket or sweater because the cloud forest can be misty, and the temperature can drop down to 50 degrees F. You may also need a wide hat and sunglasses for your protection from the sun. Though this tour doesn't require long hikes, you need to walk no longer than 20 minutes, and the sunlight is at its brightest from 10 AM to 4 PM in Hawaii.
Riding on a 14-passenger Mercedes Sprinter mini-coaches, you depart at Kailua Kona heading towards the Kaloko-Honokohau National Historical Park. This 1160-acre park is evidence of the abundance of many traditional Hawaiian activities. While sightseeing, your knowledgeable guide shares a wealth of knowledge and informative facts and history about this place.
You will also visit fish ponds, which show the ingenuity of the ancient Hawaiian architecture, as well as depict the tales of the community. Watch out for some turtles swimming, too! So always ready your camera because we assure you, everything you see is camera-worthy. 
Not very far from the park, you continue your journey to the Mountain Thunder Coffee plantation. We thought it's good to know that a trip to Kona coffee plantations is tagged as one of the "Top 5 Things to do in Big Island" by Hawaii Guide, and insiders always recommend this to tourists. So, what's special about Kona coffee? Kona coffee beans are grown on the slopes of Hualalai in Kona district, Big Island. It is highly sought and is probably one of the most prized coffee in the world. Blame it to the Hualalai's unique microclimate that causes the unique taste, including the morning sun, afternoon clouds and showers, fertile, well-drained volcanic soil and perfect tropical temperatures. 
While at the farm, you are serenaded with the beautiful songs of the birds while sightseeing. The owners show you how coffee is grown and roasted. And of course, you get to taste it straight on your cup, right after roasting. Although Kona Coffee is sold at Amazon, they have a shop where you could purchase their products to take home. It is also a perfect souvenir to your friends and family from the land of Aloha. After 30 to 45 minutes, you're headed to your next stop.
Kona Cloud Forest, Ola Brew Co, and Lunch
They say you know you're at the Kona Cloud Forest through the smell – a clean, ozone-y smell after a heavy thunderstorm, which blended with the mountain air. Nature lovers or not, a trip to this natural sanctuary is undoubtedly one of the best things to do in Big Island. Did you know that a cloud forest is a tropical or subtropical moist forest, frequently or seasonally covered with low-level clouds, usually at the canopy level? Thankfully, you get to walk along this unique cloud forest that you can only see in Kona.
Strolling the forest for 30-45 minutes, you could see exotic trees, including giant ferns, ohia trees, koa trees, and over 100 varieties of bamboo. In addition, they have a collection of non-native plants, which are very carefully managed. This 70-acre sanctuary is also home to different kinds of birds, such as honeycreepers, akepa, and Hawaiian hawks, which you can see flying all over.
Your next destination would be the Ola Brew Co., where you will have lunch and beer, cider and tea tasting. Known as the "finest breweries" by Big island Guide, you will get a glimpse of how local farmers utilize the Aloha state ingredients to produce world-class beers and ciders. They also started offering a menu of flatbreads, salads, poke bowls, and a poke melt these days. Their tuna melt is probably the best in Hawaii. You will have a tour of their 14,000-square-foot brewing facility and witness how they also process Hawaiian fruit-based ciders such as lychee-dragon fruits, pineapples, and ginger. At the same time, the owners give you insights into the processes.
TOUR INCLUSIONS:
Roundtrip transportation from major West Hawaii hotels and resorts

All entry fees

Lunch and beverages (you can purchase additional drinks at the brewery)
KNOW BEFORE BOOKING:
Transportation is wheelchair-accessible, and this trip caters to all individuals aged eight and up.
This tour is weather-dependent. If it is canceled due to poor weather, you will be offered a full refund or different date.
There is a maximum of 13 guests for this trip. If not met, you will be offered another date.
If you have particular requests for your lunch if you are vegan, vegetarian or have food allergies, you can notice them upon booking.