Meaning "the ocean," Ka Moana Luau invites you to learn more about Hawaii's rich culture, as well as the significance of the ocean and its marine life through an exciting world-class Polynesian show filled with traditional music, chants, dance, and local-style cuisine.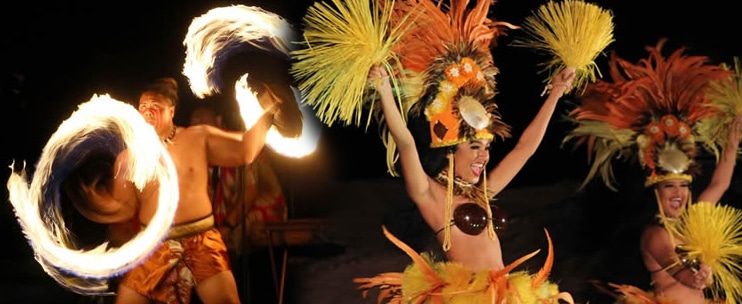 Held at Hawaii's number one marine life and wild animal park Sea Life Park, where the "hearts meets the sea," Ka Moana Luau lets you experience first hand many traditional activities, including lei making and coconut-headband weaving. Did you know that lei can be given to someone for different reasons? Usually, these reasons include love, peace, honor, or friendship with another person. Leis are given during special events such as weddings, graduations, and school dances. In Hawaii, a lei's composition often determines its significance. For example, a lei made from Hala fruit, which is said to symbolize desire, transition, change, and love.
Guests who want to get into the Aloha spirit like to attend a luau with their complete Aloha outfit – from foot to toe, though there's no dress code in luaus. For men, you can wear a Hawaiian-printed polo shirt paired with shorts or pants, whereas for women, you can mix and match a grassy skirt or floral-printed dress with a coconut bra or swimsuit top. For more conservative women, you can also wear a muumuu – a loose, brightly-colored dress. For your footwear, sandals, flip-flops, or slippers, complete your luau outfit.
When you get there, some friendly staff in their colorful Aloha outfits will welcome you with a warm lei greeting just like any other luaus. Apart from learning about some Polynesian crafts, you can also participate in an easy and fun hula and ukulele lesson or get some unique temporary tattoos. Be sure to sample the poi and Lomi Lomi, which are both luau staples. While enjoying these interactive activities, gaze at the breathtaking ocean and mountain views – a perfect backdrop combination for relaxation.
A luau is not complete without feasting. Before the evening's stunning Polynesian show, it's time to eat your delicious buffet dinner, prepared by none other than executive chef Joshua Bulock. Your dishes include chicken yakitori with teriyaki sauce, sweet potatoes, lo mein noodles, vegetables, Lomi Lomi salmon, fresh taro rolls, fruit salad, pineapple cake, and many more! Unlike most luaus, where kalua pigs are cooked in an underground oven or imu, Ka Moana Luau cooks its pig in an umu or overground oven. If you are a vegetarian or following a gluten-free diet, there are several options made for you.
After everyone's plate is clean, sit back and prepare to be amazed by an award-winning production and show inspired by the ahupua'a of Waimānalo, embracing the beautiful and inspiring views surrounding this area: breathtaking mountains, beautiful beaches, and a lighthouse trail. The event ends with multiple fire-knife dances like no other!
Ka Moana Luau Highlights
Award-winning live Polynesian performances

Tropical drinks and delicious island-style buffet, prepared by executive chef Joshua Bulock

Chance to participate in hula and ukulele lesson

Interactive, hands-on activities with Coconut weaving and lei-making

Beautiful views and backdrops for photo opportunities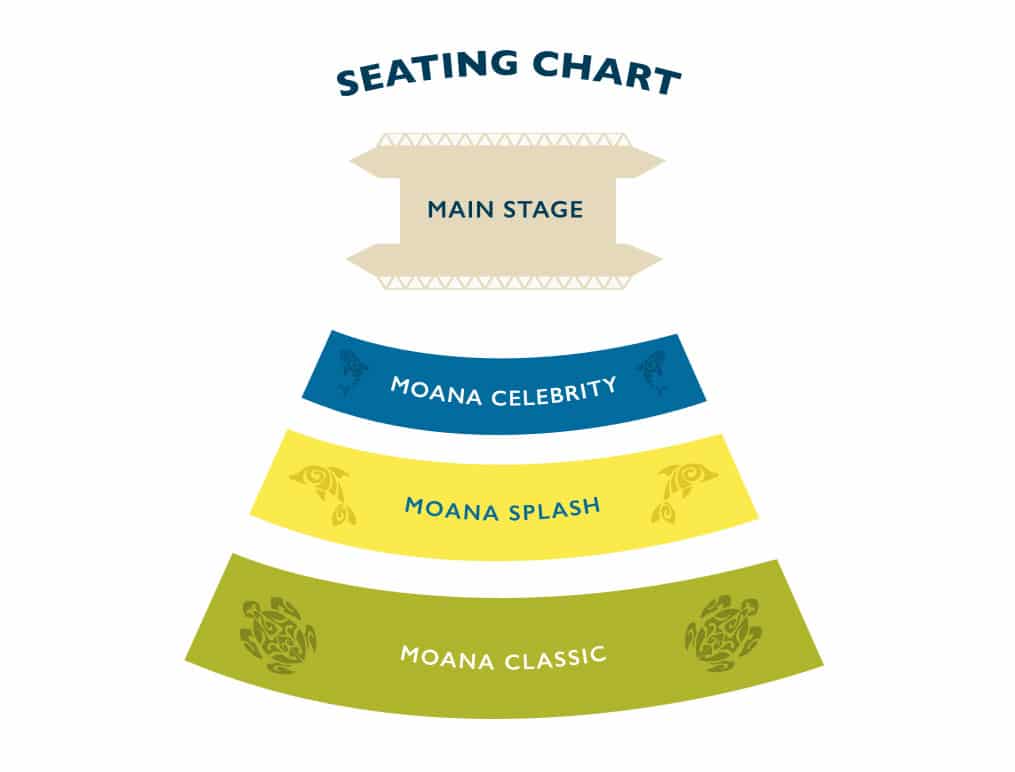 Ka Moana Luau Packages
CLASSIC PACKAGE: Includes a shell lei greeting, 1 standard drink ticket, and standard luau seating
SPLASH PACKAGE: Includes a kukui nut lei greeting, 2 standard drink tickets, and deluxe luau seating
CELEBRITY PACKAGE: Includes a fresh flower lei greeting, Mai Tai welcome drink, 2 premium drink tickets, VIP luau seating, and 1 souvenir photograph per group. 
*Note: This package is the first to be released to the buffet.
Ka Moana Luau Menu
Fresh Grilled Mahi Mahi with Macadamia Nut Crème Sauce

Chicken Yakitori with Teriyaki Sauce

Kalua Pork

Island Greens (VG + GF) with Mandarin Oranges, Radish Sprouts, Crispy Rice Noodles & Asian Dressing

Fruit Salad (VG + GF)

Lomi Lomi Salmon

Fresh Taro Rolls (VG)

Poi (VG)

Mixed Grilled Vegetables (VG + GF)

Lo Mein Noodles (VG)

Sweet Potatoes (VG)

Steamed White Rice (VG)

Pineapple Cake

Beverages include Coffee, Hot Tea & Fruit Punch

BAR MENU:

Includes Island Mai Tais, Salmon Creek Chardonnay, Merlot, and White Zinfandel, Domestic Beers, and Soft Drinks (Coke, Diet Coke, and Sprite). Additional beverages are at the discretion of Sea Life Park.
         *Note: VG=Vegetarian / GF=Gluten-free
Special Instructions
ADDRESS: Sea Life Park is located at 41-202 Kalanianaole Hwy, Waimanalo, HI 96795
TRANSPORTATION (Currently Unavailable): Transportation is available at an additional cost from 8 convenient Waikiki locations. If you selected transportation, your exact pick-up time and location will be in your confirmation email. Please look for a white minibus with Aloha Hawaii Tours on the side.
DRIVING OUT: Check in at Sea Life Park at 5:15 pm. Doors open at 5:30 pm.
DRIVING DIRECTIONS: Take the H-1 East (Lunalilo Freeway). H-1 becomes Highway 72, heading towards the east through the residential area. After the residential area ends, continue driving along the coast past Hanauma Bay and Sandy Beach to Makapu'u Point. Sea Life Park Hawaii is located on the left side of the road. You will see the large signage indicating the entrance from the highway.
*Note: Parking at Sea Life Park is $5 in cash.
COVID SAFETY MEASURES:
➤All parties will have their own table.
➤Social distancing measures are enforced.
➤Masks are required unless actively eating or drinking.
➤Additional Hand Sanitizing stations are available throughout the property.
➤Dinner is served via "silver-service" (cafeteria-style).
➤Guests are called up by tables.
➤Photos with dancers will be unavailable for now.
Restrictions:

There are no specific restrictions for this activity.

Duration:

Approximately 2.5 to 3 hours