Get ready for a truly unique underwater adventure at beautiful Maunalua Bay, located near Waikiki on Oahu's south shore.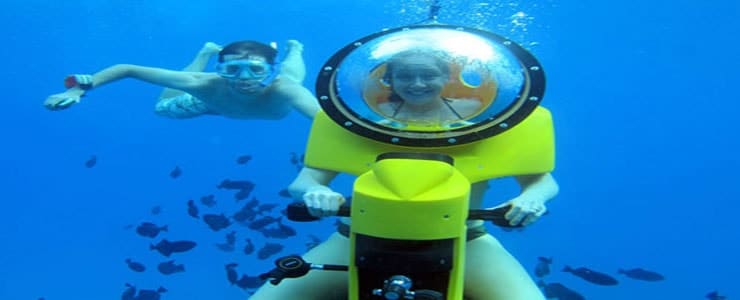 Much easier than scuba diving and more fun than snorkeling, a submersible scooter allows you to explore the underwater world in a new way. No scuba diving experience is necessary to operate a self-propelled underwater scooter.
The adventure begins when you board a 50-foot power catamaran for a scenic cruise to the crystal clear dive location. After a short orientation, your professional tour guide will lead you effortlessly through beautiful tropical reefs, so you can enjoy the colorful fish, corals and amazing green sea turtles of Hawaii. After your submarine scooter tour there will be more time for swimming, snorkeling and relaxing on the boat's spacious sun deck.
Tour Highlights
2-hour long adventure
Includes a 20-minute underwater scooter ride followed by fun activities, including swimming and snorkeling and relaxing on a sun deck on a 50-foot catamaran
Refreshments and snacks included
Special Instructions
Where and When
Address: 377 Keahole Street Honolulu, Hawaii 96825 View Map When you come to Keahole St. turn right by the McDonalds, follow the road until you see Island Watersports parking lot (park), go to the back of the building (you will see the water) and it will be the 3rd boat from the bridge. If you need any help with directions, please call 1-808-224-0076.
Restrictions
Submarine Scooter Restrictions:
Must be at least 4'0″ (122 cm) in height, but less than 6'8″ (203 cm) and have no medical conditions.
Weight limit: 350 lbs. Children age 10 and older.
Operation Days
Monday to Saturday
Duration
2 hours 
Equipment
The underwater scooter works on the bell theory. Remember back in science class when you would turn a glass upside down in a bucket of water and no water would enter the glass? The scooter is based on the same concept. As you descend a seal is formed so you are dry inside the bubble. It's amazing!