Nothing compares to a luau under the stars right on the shores of Kamakahonu Bay and Ahu'ena in Kailua-Kona, a former property of Kamehameha the Great.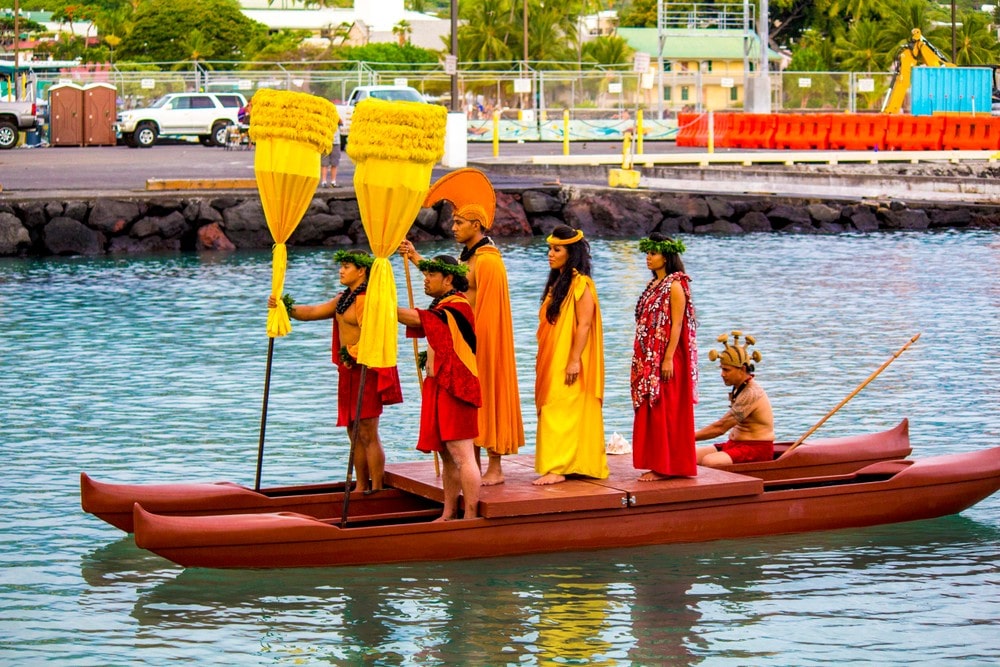 Join Island Breeze in an extraordinary evening, learning authentic traditional Hawaiian arts and crafts, feasting on a lavish Hawaiian buffet, and watching an award-winning Polynesian show! Whether you are travelling solo, with your kids, friends, partner, or colleagues, this is a perfect chance to see one of the bests on Big Island. Besides, Island Breeze Luau has been named "Best of Hawaii" since 2001.
Your magical evening starts with a warm lei greeting by some friendly staff in their colorful Hawaiian costumes. Not only the warm breeze of the tropical wind but also locals' cordial greetings let you feel the authentic Aloha spirit. Here's an interesting trivia for you: According to a popular Hawaiian legend, when you set sail back home, throw your lei into the ocean, and it floats towards the beach, it is believed that you will be back to the island someday. Who doesn't like to come back to a paradise?
One of the best things on the island is the cocktail. So, if you simply want to relax, sit back and order your favorite beverages from the open bar while enjoying the spectacular ocean view. If you want to know more about Hawaiian crafts and arts, you can look at displays and even learn how to make them. You can even have a tattoo (temporary) of your own and participate in games. Did you know that ancient Hawaiian artists were skilled craftsmen? To them, producing top-quality art was a test of oneself and a dedication to Hawaiian religion and culture. Before James Cook, locals were into wood carving, petroglyphs, feather work, barkcloth, and tattoos.
You should never miss watching the uncovering of the kalua pig from the imu – an underground oven used by early Hawaiians. In the past, locals used imu to steam their foods during big celebrations, including the pigs, taro, potatoes, chicken, fish, and others. Men needed to wake up early in the morning to prepare it. They dug a pit until 4 feet deep with side slopes, where they placed stones, food, and other vegetation. Before cooking, the stones were heated for two to three hours. The larger the pig, the longer time it is cooked until six to eight hours. 
Before dinner, witness the arrival of the Royal Court aboard an outrigger canoe with hula and chants. Native Hawaiians navigated the oceans on their canoes. Hawaiian chiefs and kings utilized these durable boats made out of fine koa trees to display the strength of their armies to whoever attempted to challenge them. When it's time to feast, have a taste of a mouthwatering traditional Hawaiian cuisine, including poke, poi, sweet potatoes, white rice, fresh tropical fruits, desserts, Kona coffee BBQ chicken, and many more.
After meals, prepare for a one-of-a-kind show that is second to none! Hear the stories of Polynesian islands through live music and exotic dances. Watch their multi-talented performers as they gracefully sway their hips to the beat of the drums. As a grand finale, hold onto your seats for a hair-raising and thrilling Samoan fire-knife dance as the stage is set on fire. With Island Breeze Luau, you will go home with your body and soul nourished.
Hanohano Seating Upgrade: This upgrade includes expedited check-in, preferred seating at the front of the stage, and first in the buffet line. This upgrade is paid at the door when you arrive but must be chosen with your order. You will not be able to cancel the Hanohano portion at check-in.
Luau Highlights
Enjoy a luau on the shores of spectacular Kamakahonu Bay in Kailua-Kona

Luau grounds are right on King Kamehameha the Great's former estate

Island Breeze Luau has been named "Best of West Hawaii" since 2000

Opportunity to learn and try traditional arts & crafts

Mouthwatering all-you-can-eat Hawaiian buffet with a wide variety of delicacies, plus an open bar

World-class Polynesian revue – live entertainment
Luau Buffet Menu (subject to change without notice)
Tossed Greens with Assorted Dressings (papaya seed, thousand islands, Italian)

Three Bean Salad

Pickled Cucumber-Ogo Salad

Macaroni Salad

Poke

Poi

Lomo Lomi Salmon

Pineapple Cubes

Fresh Island Papaya

Sweet Potatoes with Coconut Butter

White Rice

Kona Coffee BBQ Chicken

Island Fish with ginger, soy, and scallions

Kona Broil – Beef Teriyaki

Kalua Pig

Banana Bread

Haupia

Chocolate Cake

Banana- Coconut Cake

Coffee: Regular and Decaffeinated

Hot Tea

Hosted Standard Bar

No-Host Premium Bar (Available for Purchase)
There may be an optional premium "cash bar" that includes things like premium tropical drinks and imported beers and wine. Rates are subject to change but usually start at around $8.00. Premium "Cash Bar" may become unavailable without notice.
*Note: Special request for a vegetarian, gluten-free, or celiac meal requires 24 hour-notice. The option is subject to change without notice.
Special Instructions
Check-in Location and Time: 
➤Check-in for Hanohano (Preferred) seating is at 5:15 pm.
➤Check-in for Ohana (General) seating is at 5:30 pm.
➤Festivities end at approximately 8:30 pm.
The Island Breeze Luau is held on the historic grounds of the King Kamehameha's Kona Beach Hotel, which is located adjacent to the pier at Kailua Bay, on Palani Road in Kailua-Kona. 
➤The check-in desk is located in the Hawaiian Monarchy Room, located across from the Courtyard Business Library and hotel parking lot entrance. Payment for upgraded Hanohano seating is made at this time.
➤Parking is available at King Kamehameha's Kona Beach Hotel. Validation is given at the luau. Self-parking is $5.00 with validation, and valet parking is $10 for 5 hours.
➤October 6th & 11th: The luau will be held at the Sheraton Kona Resort and Spa at Keauhou during Ironman. Check-in at the Sheraton Kona Resort and Spa at Keauhou Bay.
Restrictions:

There are no specific restrictions for this activity.

Special Notes:

Infant pricing (children four and under) are provided their own seat and plate. They were required to pay for the Hanohano option.

Operations:

Tuesdays, Thursdays, and Sundays ( opens on Wednesdays during the summer months)

Duration:

3 hours

Capacity:

400 guests