Nobody leaves the land of Aloha without enjoying the luau.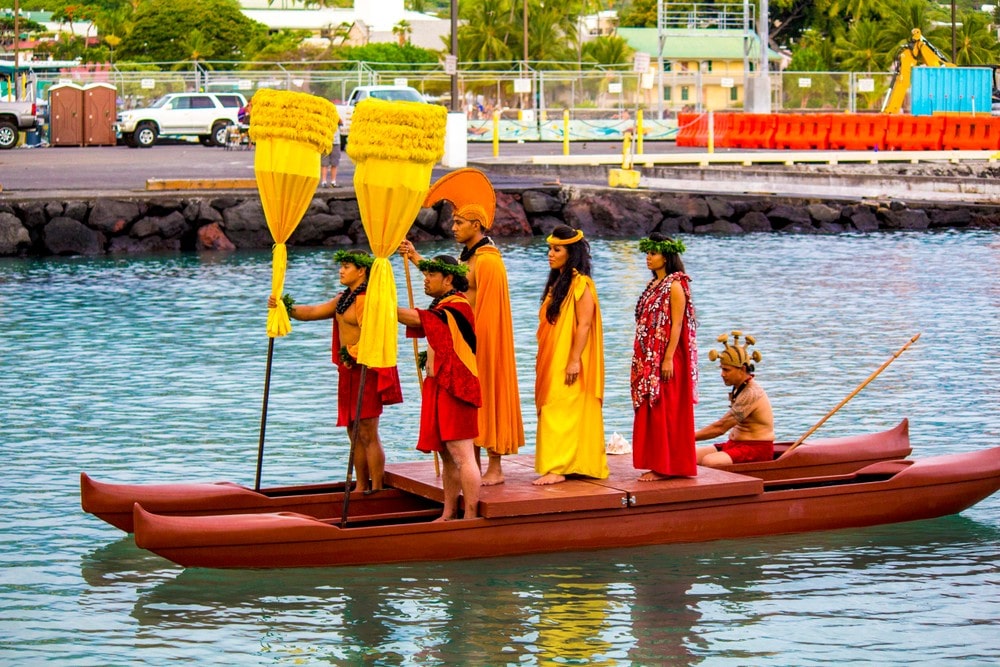 In Hawaii, everyone is a part of the family (Ohana), so all are invited to the party.
For Island Breeze, they believe that everyone is connected from the same roots, that is why they came up with the best luau experience you'll ever have in Kona. They offer four packages, but they invite you to join and experience their award-winning package called Ohana Package.
Happening at the Courtyard King Kamehamehaʻs Kona Beach Hotel with a stunning ocean view, the Island Breeze Luau (Ohana Package) features a family-friendly evening of sumptuous Hawaiian food and world-class entertainment right at the Kamakahonu Bay shores. Book your tickets now and witness the uncovering of a pig in the imu, which you will feast later on.
What to Expect?
There is ample space for parking at the Courtyard Marriott King Kamehameha's Kona Beach Hotel. To check-in, head to the lobby of the hotel where you can see the Island Breeze Luau reservation desk. Validation is given here and during the luau.
It may sound funny, but you can arrive at the site hungry because dinner is served in a buffet-style. Usually, your evening starts with a shell lei greeting and a chance to meet their talented performers. This is also an opportunity for a photo session with your family, other guests, dancers, and the venue itself at the photo booth. At 5:30 PM, they begin opening the bar, which closes at 7:30 PM so if you want to have a taste of their island-style beverages (mai tai, beer, wine, etc.), you can stay for a while before going to your designated seat. Just ensure you bring your ID to prove you are over 21 years old before consuming alcohol.
Before the main event, you are given a few minutes to learn about the Hawaiian arts and crafts by their knowledgeable staff. Did you know that Hawaii's spectacular beauty is inspired by their arts and crafts for centuries? Skilled locals have been designing their crafts for generations, where they express the spirit of Aloha through different mediums such as colors, lights, and shadows. Whether for selling or family's use, they indeed created masterpieces, including paintings, etchings, photographs, sculptures, prints, carvings, and textiles.
For a short while, the staff may also show you hula moves and teach you some steps while discussing each dance move.
The Luau
If this is your first time to attend a luau, it is formally opened with an Imu Ceremony. This is commonly held at the beginning of luau before dinner, where they remove layers of cloth and leaves from the imu to reveal the cooked pork. After then, the cooked pork is brought to the kitchen for shedding before serving to guests. In case you haven't heard, imu is an underground or pit oven used by ancient Hawaiians to cook pork or turkey commonly distributed at feasts in the past. You can take pictures of this unique practice as a beautiful souvenir of your Hawaiian holiday.
A Royal Court Procession with torch lighting happens before the most-awaited dinner. Adopting the name of the venue, King Kamehameha's Kona Beach Hotel, this luau showcases the traditional opening of Aloha festivals during ancient times. Witness the arrival of the Royal Court of King Kamehameha I by canoe. King Kamehameha I or Kamehameha the Great was known to be the founder and first ruler of the kingdom of Hawaii. He is greeted by a Court Conch Herald and a Court Chanter, and everybody follows him into the royal grounds to feast on the pig. Here's a little trivia for you: this area was once restricted to the indigenous Hawaiian community in the past as it was only a ground for the king. 
Enjoy a lavish buffet-style dinner consisting of steamed white rice, Kona tomatoes, banana bread, poi, juicy roast pork, salads, and others. After your dinner, a magnificent Polynesian Revue follows, which highlights this Ohana Luau.
He Ohana Kakou Show
Meaning "we are a family", He Ohana Kakou is indeed a feast fit for a king. After satisfying your stomach with a one-of-a-kind cuisine, enjoy a Polynesian show from their talented performers in their dazzling costumes. Watch them as they share a unique style of dances only seen in the Pacific Islands. We suggest recording this part, especially when they start showing the world-famous Samoan Fire Knife dancing!
KNOW BEFORE BOOKING:
Check-in time is 5:00 PM, but you may come 15 minutes earlier if you reserved the preferred seating (front of the program). This can be upgraded on the time of the event.

Bar opens at 5:30 PM and closes at 7:30 PM. The standard bar offers standard bar pours of Beer, Wine, Mai Tais, Fruit Punch, and Soft Drinks, whereas the Premium Cash Bar offers Mixed Tropical Drinks (Blue Hawaii, Chi-Chi, King Kamehameha Big Island punch, and Lava Flow), imported beer, and Wine by the bottle (Whites, Reds, and Piper Sonoma Brut Sparkling Wine).

All ages are allowed in this activity. It is wheelchair-accessible and if you plan on consuming alcoholic beverages, please bring a valid government ID.

This activity DOESN'T cancel and refund due to rain.

Programs, event time, and artists are subject to change.