With a lot of fishing charters operating in Oahu, it is admittedly difficult to choose which one to book for that unforgettable fishing escapade.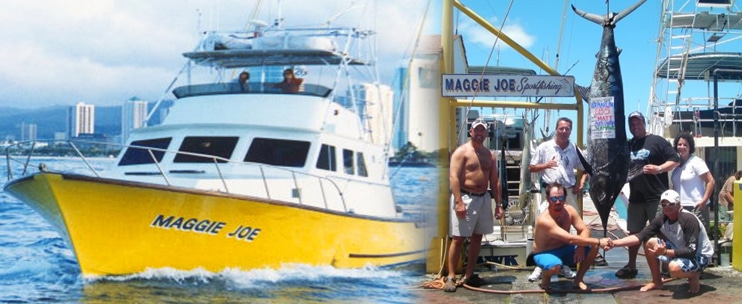 While all of these tour operators are licensed and guaranteed to adhere to the laws of the island, of course, you would want to join one that is reputable for providing quality sport fishing adventures for years. This is precisely what Inter-Island Sportfishing is known for. Come and join Inter-Island Sportfishing's Maggie Joe tour and have an extraordinarily memorable fishing adventure many others can attest to!
Inter-Island Sportfishing is one of the longest running fishing charter businesses in Oahu, and perhaps, the whole of Hawaii. Established in 1950 by an ocean-loving sibling duo, Inter-Island Sportfishing has since assured its guests a great time experiencing for themselves something that is central to the culture of the Hawaiians–deep sea fishing!
The Maggie Joe package tour, in particular, is an exciting big game fishing session on board the Maggie Joe, a 53' Custom Sportfisher, which guarantees a smooth and stable ride in the waters of Oahu. Designed by the founders themselves, the Maggie Joe's best feature is the spacious fishing deck and the engine room. As they envisioned a fishing boat that has plenty of room on the back deck for guests on-board to fully enjoy the water activities, the Maggie Joe now in fact has one of the largest fly bridges of any sport fisher boats on Oahu Island! The engine room is similarly spacious, with captains able to walk around both engines with complete access to all equipment. The Maggie Joe is USCG-certified, and can take up to 15 passengers per fishing tour, despite its actual space and capacity. Better reserve early as these 15 slots get booked pretty quickly!
The Maggie Joe, in fact, has recorded one of the largest fish ever caught from Kewalo–a huge Pacific Blue Marlin weighing more than 1,200 pounds! With Maggie Joe's state-of-the-art electronics and fishing gear, which you are free to use on-board, you might be the one who can top this 1993 fish catch! Aside from the Pacific Blue Marlin, other big game fish that you can possibly reel in are the Wahoo, Stripjack Tuna, or the Yellowfin Tuna, just to name a few. These creatures are quite elusive, but with Maggie Joe's fishing gear, its well-experienced crew who will readily assist you, and Oahu's waters so abundant with marine life, you and your companions will surely get to reel in something during this fishing tour! 
For those new to this activity, the feeling of hauling in your first fish catch is a thrilling experience you will never forget. Most fish usually put up a great fight when hooked, so when you triumphantly reel in your fish, make sure your camera is ready to capture the moment! The Maggie Joe fishing tour allows a certain weight and quantity of fish catch for guests to share equally and take home, so you can enjoy some fresh seafood after, too. Truly a perfect way to end a fun-filled day on Inter-Island's Sportfishing's Maggie Joe fishing tour!
Inter-Island Sportfishing's Maggie Joe
A 53' Custom Sportfisher that is equipped with:
GPS chart plotters

Fish finders

Radios

Fishing gear (Fenwick poles, Shimano and Penn reels, bait, and ice)

Murray Brothers fighting chair

Spacious fishing deck and engine room
Inter-Island Sportfishing Special Instructions
Check in at Kewalo Basin Harbor, located at 1125 Ala Moana Blvd., Honolulu HI 96814.

The boat departs at exactly 6:00AM, so make sure to check in before then.

Choose from the following tour durations:

Full-day (8-10 hours)

3/4-day (6-7 hours)

All equipment, bait, and ice will be provided. Guests are allowed to bring snacks and drinks.

Guests can keep half of the fish caught that are under 100 pounds. Fish above 100 pounds will be given to the captain of the boat.

For groups of 7 or more, prepare to pay a 20% gratuity (of retail) upon check-in.