Join the newest luau in Maui for an unforgettable evening celebration of Momi' O Ka Pakipika, Hawaii, the pearl of the Pacific, through music, dance, and delicious dinner!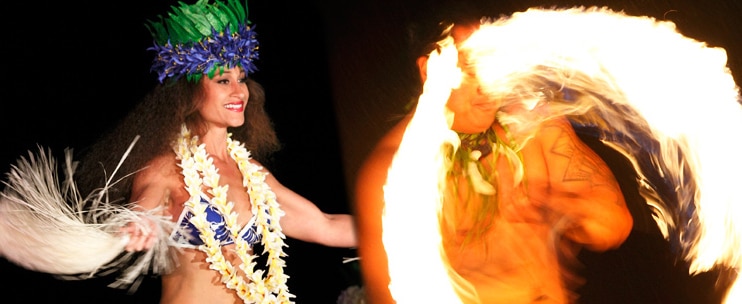 Held at the scenic oceanfront Kaanapali Beach Club with the jaw-dropping views of the Pacific Ocean and the island of Lanai from a distance, have a taste of ancient Polynesians' island life through traditional total entertainment and cuisine. Travelling with your kids? Don't worry! This is a family-friendly event, and at the same time, a perfect opportunity to let them appreciate the beauty of Polynesia's cultures and traditions. Plus, they get to take pictures with the beautiful and multi-talented performers in their vibrant, authentic costumes!
Huaka'i Polynesia aims to share Hawaii with visitors. Situated in the middle of the Pacific Ocean, isolated from the rest of the world, Hawaii is indeed the Pearl of the Pacific. Behind its beautiful and fragrant tropical flowers, warm climate, sandy beaches, lush rainforests, and towering cascading waterfalls are fascinating cultures, traditions, and rich history. On a special evening, hear their music and exciting story while sipping your favorite island-style cocktails.
When you get there, some friendly staff will welcome you with a warm lei greeting, one of Hawaii's ways to show guests hospitality. To liven up the evening's vibe, a live band plays in the background, performing traditional Hawaiian music. Music and rhythm have played a significant role in Hawaiian cultures. During the early times, mele or chant was important for native Hawaiian as it made them remember the myths of God. During those times, they told their stories through chants. In the nineteenth century, Hawaiian music had evolved when the Portuguese introduced stringed instruments, including the ukulele and slack-key guitar. These days in many luaus, you can have the opportunity to learn the ukulele, along with the hula.
With Huaka'i Luau, you can participate in hula while savoring the spectacular views, highlighted by the beautiful Maui sunset. Some guests who want to get into the real Aloha spirit wear their most traditional Hawaiian costumes, so it is perfect when taking pictures with the background. When it's time for dinner, you will feast on many island-style dishes, including kula greens, Lomi salmon, BBQ short rib, fried rice, desserts, and many more. There is even a buffet menu for your kids that they will surely love, as well as vegetarian choices for individuals who have some special dietary needs. What more can you ask for!
When your plates are clean, brace yourself for unique performances, showcasing Hawaiian cultures, as if their Hawaiian ancestors are in front of you telling their stories that should not be forgotten.

Huaka'i Luau Highlights
Warm shell lei greeting upon arrival

Live band playing music 

World-class oceanfront luau show

Fun audience participation in hula

Mouthwatering traditional luau-style food with a hot & cold buffet

Island dessert table

Limited full bar (no blended drinks)
Huaka'i Luau Menu
Kula Greens: Mixed Local Greens with Lilikoi, Ranch, or Papaya Seed Dressing **

Namasu **

Poi **

Ahi Poke

Lomi Salmon **

Pineapple, Papaya & Melon **

Taro & Hawaiian Sweet Rolls

Steamed Vegetables **

Luau Leaf **

Fried Rice **

BBQ Short Rib **

Seared Mahi **

Shoyu Chicken **

Kalua Pork **
KIDS BUFFET TABLE
Teriyaki Chicken Tenders **

Kalua Pig Sliders

Green Beans & Carrots **

Macaroni & Cheese

Fruit Salad **

Jello **
DESSERT TABLE
Toasted Coconut Haupia Cake
Pineapple Tiramisu
Chocolate Macadamia Madness Brownies
Lilikoi Bar **
** Subject to change without prior notice
DIETARY NEEDS
Gluten Free – Anything on the menu with a **.  There are several Gluten Free options.

Vegan Items – Local Salad, Vegetables, Poi, and Pineapple

Vegetarian Items – Taro Leaf and Coconut Milk, Molokai Sweet Potatoes and Steamed Vegetables
Special Instructions
Check-in Location and Time:

Ka'anapali Beach Club (Huaka'i performs on the Luau Lawn).
➤April to October: Check-in is at 5:00 pm. Doors open at 5:30 pm.
➤November to March: Check in is at 4:30 pm. Doors open at 5:00 pm.
Address: 104 Ka'anapali Shores Place, Lahaina, HI 96761 
*Note: Free parking is available at Ka'anapali Beach Club in the underground garage.
Restrictions:

There are no specific restrictions for this activity. Please call beforehand if someone from the party has an allergy.
Special Notes: Hours of operation and menu are subject to change without notice due to weather, seasonality of food, and others.
➤Infants (0-4) are able to have their own seat and plate of dinner.
➤Seating is on a first come first serve basis.
➤Please note, in the event of inclement weather, the luau will be moved to an indoor venue.
Operations:

Wednesdays

Duration:

Approximately 3 hours

Capacity:

275 guests