Fishing is truly an exciting outdoor activity you should at least try once in your life, especially if you're vacationing in Hawaii.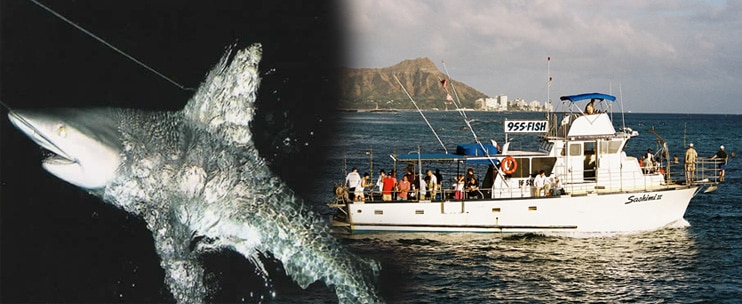 True, it may not sound as exciting as paragliding, for example, but actually, it gives a special kind of thrilling experience when you get to reel in your fish catch. The thrill lies in the challenge, such as when you stalk, successfully lure, and finally get to pursue an elusive fish. But do you know what makes this an even more exciting adventure? It's when you get to do it late at night, and possibly get to seize a Hawaiian reef shark! If you're a late night thrill seeker, go and try the Sashimi Midnight Shark Hunt!
This exhilarating midnight shark hunting experience begins at 10:00 PM, on board the Sashimi. A 65' custom-built Delta Sport Fisher, the Sashimi is well-equipped with exceptional facilities for your utmost safety and enjoyment.
 It has an air-conditioned cabin, comfortable seating area, a restroom and shower, and other appliances guests aboard are free to use during the tour. The Sashimi is a spacious vessel that can carry up to 49 passengers, but the Sashimi Midnight Shark Hunt is a special tour that is limited to a maximum of 15 people only per trip, so you better reserve your slots to this late night shark hunt early! 
In addition to these facilities, the Sashimi Midnight Shark Hunt package tour, of course, also includes all the fishing implements you will need to catch that big game shark. The boat's state-of-the-art electronics, designed to quickly spot these creatures lurking in the area, and as well as the reels, rods, and baits, are all set for your use on-board, so all you really need to bring is yourself and your adventure-loving spirit! Go and bring snacks and drinks with you, too, as Sashimi Midnight Shark Hunt allows guests to bring refreshments, just make sure to ask for specific restrictions as to what exactly you can and cannot bring upon check-in, which is at 9:30 PM at the Kewalo Basin Harbor. 
Once everything is set, go and catch that enormous reef shark! The waters of Oahu are home to different shark species, such as the Pacific Grey Reef Shark and the Tiger Shark. These huge creatures can weigh as heavy as 1,000 pounds, so make sure your body is ready, too, to put up a great fight with these pole-benders! Sashimi Midnight Shark Hunt's crew will also be ready to assist you throughout the tour, as they are all certified fishing experts who will not only familiarize you with the fishing equipment, but also with the different fishing techniques, and all other helpful information about the Hawaiian reef sharks. Hence, anyone and everyone, from beginners and seasoned anglers, will definitely enjoy the Sashimi Midnight Shark Hunt!
The Sashimi Midnight Shark Hunt is a catch and release program, as the Hawaiian local laws restrict the possession of these valued marine organisms. Thus, after successfully reeling in your catch, you are to release it back to its natural habitat. You are not disallowed to first take photos, though, so better get your cameras ready!
Go and have an adventure of a lifetime with Sashimi Midnight Shark Hunt! This is a great way to make your Oahu trip even more memorable, like being on your own nature show featuring one of the world's feared creatures!
Sashimi Midnight Shark Hunt Tour Boat
A custom-built 65' Delta Sportfisher that is equipped with:
Air-conditioned cabin

Shaded flybridge

Television and stereo

CD and DVD players

Comfortable seats

Microwave

Restroom

Shower

State-of-the-art electronics (GPS, fishfinder, plotter, and communication devices – cell phone and radios)
Sashimi Midnight Shark Hunt Special Instructions
The boat will depart at exactly 10:00PM, so make sure to check in before then.

Check-in is at Kewalo Basin Harbor, located at 1125 Ala Moana Blvd., Honolulu HI. Look for a sign that says

"955 FISH"

.

Tour duration is 3 hours, so return time is approximately 1:00AM.

Tickets are non-refundable.