Let Holo Holo Charters bring you to an underwater escapade that will captivate and exhilarate you with Na Pali & Niihau Snorkeling Super Tour! Away from the crowds to be surrounded by nature, this tour package lets its guests delight in the magnificent Kauai views above and below water.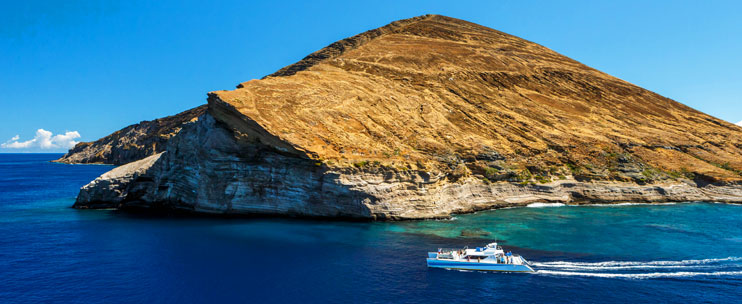 If you want to appreciate Kauai Island to its fullest, then you can never go wrong with Holo Holo Charters' Na Pali & Niihau Snorkeling Super Tour!
This tour departs early in the morning from Port Allen Harbor, which then heads to Kauai's scenic west shore. To jumpstart your day, thus, are the most spectacular sights of the island's pristine turquoise waters and breathtaking shoreline! What's great about this scenic cruise is not only the picturesque view but also the delicious breakfast that you will enjoyably consume while sightseeing. Truly a great way to prepare and energize you for the adventure that lies ahead!
Holo Holo Charters' Na Pali & Niihau Snorkeling Super Tour takes you to two top-rated destinations on Kauai Island. First is the Na Pali Coast, which features a long stretch of coastline with majestic emerald-hued sea cliffs, beautiful beaches and sea caves, and waterfalls that drop to the lush valley floors. Let Holo Holo Charters' expert guides enlighten you about this sacred place inhabited by early Hawaiian settlements centuries ago, and thus is rich in history, culture, and folklore. With these lovely views and meaningful stories, you will surely love the experience at Na Pali Coast!
Next on the list is Niihau Island, also referred to as Hawaii's Forbidden Isle. Aptly named because it is privately owned and not open to tourism, Niihau Island boasts crystal clear waters and untainted underwater topography, making it an especially great snorkel spot! That's right–it is in the Forbidden Isle that you will get to go on this tour's featured snorkeling adventure! With waters so clean, and also given the fact that Niihau is a non-commercial site, prepare to see an abundance of marine life, many of which are endemic to Hawaii.
You need not worry about your lack of snorkeling experience and knowledge, as Holo Holo's crew will be properly brief and assist you every step of the way.
After getting one with nature with that sightseeing cruise and snorkeling adventure, it's time to head back and look back on that unforgettable escapade… while enjoying some delicious gourmet lunch! Holo Holo Charters' Na Pali & Niihau Snorkeling Super Tour is also inclusive of a deli-style lunch–a perfect way to relax, replenish your energy, and cap off such a beautiful, jam-packed getaway. 
Tour Highlights and Inclusions
Go on a sightseeing cruise along Kauai's scenic west and north shores

Cruise at Na Pali Coast, a famous tourist spot located at Kauai's northwestern tip

Snorkel at a prime location on Niihau Island

Be provided with an instructive pre-dive briefing and snorkeling equipment (Feel free to bring your own gear!)

Get an up-close encounter with Kauai's abundant sea life
Breakfast Menu
Freshly baked pastries (either muffins, cinnamon rolls, fruit turnovers, and other similar baked goods)

Scrambled eggs 

Sauteed vegetables (spinach, mushroom, peppers)

Fresh fruits

Non-alcoholic beverages (water, fruit juices, tea, coffee, or soda)
Lunch Menu
An assortment of baked bread

A selection of deli meats and cheeses: turkey, ham, roast beef, salami, cheddar, and swiss

Fixins and condiments: tomatoes, lettuce, sprouts, pickles, carrots, onions, olives, and cucumber

Sides of pasta salad, vegetable crudite, and homemade spinach dip and hummus

Cookies 

Beverages (water, soda, fruit juices, beer, ginger ale, wine)
NOTE: Food options are subject to change without prior notice. Holo Holo Charters also reserves the right to amend tour inclusions in light of the COVID-19 safety measures and protocols in place at the time of the tour.
Special Instructions
Check-in time is 6:00 AM. Make sure to check in early as the tour will depart promptly as scheduled.

Check in at Port Allen Harbor, located at 4353 Waialo Rd., Eleele, HI 96705.

The following are the requirements and restrictions to join the tour:

Guests must at least be 6 years old.

All guests must be able to assist themselves onto the tour vessel. 

Prior to boarding, guests will need to remove their footwear, as all Holo Holo Charters tours are done barefoot.

Full-face snorkel masks are not allowed for health and safety reasons.

All swimmers and snorkelers must be able to comfortably swim in open water. Non-swimmers will not be allowed to partake of the in-water activity of this tour.

This tour is not recommended for pregnant women, those with back problems, those who have had recent injuries and surgeries, and those who suffer from severe motion-sickness. 

For those with health concerns but are nonetheless safe to join, make sure to bring your prescribed medication with you. This goes for people with seasickness, too.

This tour requires the use of reef-safe non-aerosol sunscreens. 

No smoking on board.

No drones or any unmanned aircraft on board.

Water and weather conditions will determine snorkeling and tour destination on the day of your tour. Should these conditions render the tour unsafe to push through, or should there arise any circumstance that would result in the cancellation of your booked tour, Holo Holo Charters will fully refund or reschedule your trip.

This tour operates daily.

Tour duration is approximately 7 hours. Tour is set to return to Port Allen Harbor at around 1:30 to 2:00 PM.