Go beyond the call to duty with this full Pearl Harbor experience tour.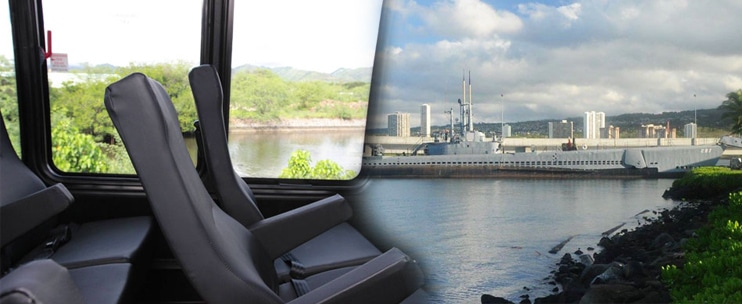 It is the most luxurious and detailed Pearl Harbor tour available! Embark on a luxurious mini-coach and enjoy a fully-narrated tour of Pearl Harbor, including all of Pearl Harbor's top visitor attractions – the Arizona Memorial, the USS Missouri battleship, the USS Bowfin submarine and the Pacific Aviation Museum.
Your professional tour guide will share tips and hints on what to look for when visiting the Memorial and the Pearl Harbor Visitor Center. After watching a documentary with original footage of the Pearl Harbor attack, a Navy shuttle boat will take you to the Arizona Memorial, which rests above the sunken battleship. Next, you'll tour the USS Missouri battleship, also known as the "Mighty Mo."
At the USS Bowfin submarine, one of the most celebrated war vessels in United States history, you'll be able to step into the life of a World War II sailor and learn what it took to patrol the corridors of the sub.
Your Pearl Harbor tour ends with a visit to the Pacific Aviation Museum for a unique look at the aviation history of the United States. See World War II planes as well as the new additions that are currently used by the United States Armed Forces. This luxury tour is complemented with a tour of downtown Honolulu's historic sights.
Tour Highlights
Be called to duty and visit Pearl Harbor
Pearl Harbor Visitors Center
View authentic film footage of the attack on Pearl Harbor
Visit the USS Arizona Memorial that rests above the sunken USS Arizona battleship to remember the 1,177 men still resting within (

Shuttle operations are subject to the schedule of the navy launch and may be subject to weather conditions or maintenance and repair schedules of the navy without notice.

)
Tour the deck of the USS Missouri, known as the "Mighty Mo," where World War II ended when the Japanese signed the surrender documents
Explore beneath the battleship to see what it took for such a grand ship to operate such massive gun turrets on the top deck
Visit the USS Bowfin submarine (admission fee included)
Visit the hangars of the Pacific Aviation Museum (admission fee included)
Professional World War II narration
See structures of Hawaii's monarchy on Honolulu city tour including Iolani Palace, King Kamehameha Statue and Kawaiahao Church
See the Punchbowl National Cemetery
Tour Inclusions
Bottled water
Breakfast pastry
Delicious lunch*
Cotton cloth towelettes
*Lunch Menu: Choose between a Turkey Sandwich, Tuna Salad Sandwich, Asian Chicken Salad and Caesar Salad. All choices are served with a fountain drink and chef's dessert of the day.
Special Instructions
Where and When
Pick-up: 5:50 am – Return 4:00 pm
Tour pick-up and return times are approximate. For Waikiki hotel pick-ups, due to hotel driveway and property restrictions your pick-up location may be at a centralized location within walking distance of your hotel. The exact pick-up time and location will be emailed to you.
Restrictions
Pearl Harbor is an active military base, therefore a "no bag" policy exists on location, prohibiting purses, handbags, fanny packs, backpacks, camera bags, diaper bags, luggage and/or other items that offer concealment (including unattended tour bus). Bags can be stored in a secure storage facility for a $3.00 fee. There are locations at Pearl Harbor where photos are prohibited. Please be aware of signs.
Arizona Memorial closed in late May due to needed structural repairs.  If it is still closed by your activity date, there will not be a visit to the Arizona Memorial or viewing of the documentary.
Shuttle Operations to the Arizona Memorial are subject to the Memorial's run time, maintenance, repair schedules and to weather.
Operation Days
Operates daily. Closed Thanksgiving, Christmas Day and New Year's Day.
Duration
10 hours
Equipment
Tours are conducted on board a luxury mini-coach. The interior of each vehicle is crafted with personal air flow vents, individual cup holders, plush leather reclining seats with folding art-rests, ample storage for personal items and windows that allow a 360-degree bay-view of the Hawaiian landscapes.