With most divers opting to go on a dive during the day, you have the choice to make things a little different, a little more unique, and a whole lot more thrilling.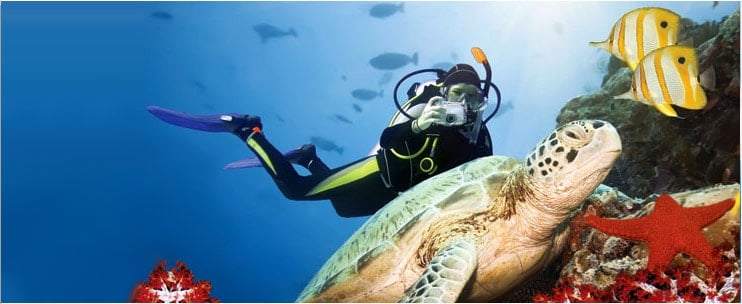 Bring out the adventure seeker  in you and go for a night dive with Hilo Ocean Adventures' Certified Beach Night Dive! With the help of special implements to enable you to effectively see and explore in the deep and dark waters, prepare to catch sight of underwater views you never would get to see during the day. Truly an extraordinary underwater adventure, Hilo Ocean Adventures' Certified Beach Night Dive is going to be the highlight of your trip to the Big Island!
What's so special about a night dive is not just the up-close encounter with Big Island's nocturnal sea animals, but, more importantly, it's the unique behaviors of these organisms in the evening that will leave you in awe. Get a glimpse of these sea creatures as they go on a nighttime hunting and feeding, with most of them swimming more freely and pleasurably during the night.
out Prepare to see marine organisms that emit bioluminescence, too, an amazing natural phenomenon which allows them to see, swim, and feed with ease despite the darkness. This is most definitely a sight to behold, a tour to remember, and ultimately an experience you will forever cherish!
With the aquatic world so beautiful and extraordinary after the sun sets, plus the company and guidance of Hilo Ocean Adventures' dive professionals, you will definitely enjoy the unique experience that this nighttime tour offers. If you are a certified diver, what are you waiting for? Go and book a slot to Hilo Ocean Adventures' Certified Beach Night Dive now!
Tour Highlights:
A certified scuba night dive in a prime dive spot in HIlo

An opportunity to get up close with Big Island's nocturnal sea creatures

The company of well experienced dive professionals

Local snacks and refreshments
Special Instructions:
For tours scheduled from April 2 to December 14, check-in time is at 6:00 PM. Tour begins at exactly 6:30 PM and ends at 9:30 PM.

For tours scheduled from December 15 to April 1, check-in time is at 5:30 PM. Tour begins at 6:00 PM and ends at 9:00 PM.

Check in at the Hilo Adventures Dive Shop, located at 1717 Kamehameha Avenue, Hilo, HI 96720. Transportation will be provided from the check-in to the dive site.

The following are the requirements and restrictions for this tour:
All participants must meet the Advanced Diver qualifications. Proof of certification is necessary, or you may provide a log book with proof of prior night dive/s.

Participants who are 15 years old and below must be accompanied by an adult.

Pregnant women are not allowed to participate.

All guests must be in good health and have not incurred serious injuries immediately prior to the tour. 

Guests should be able to swim unassisted in open waters.

Guests should know how to use a snorkeler regulator.

A minimum of two guests is required for this tour. The maximum number of guests for each booked tour is four. 
Scuba diving gear is not included in the tour price, but you can choose to rent for an additional fee. Hilo Ocean Adventures' scuba diving gear and equipment for rent are guaranteed safe and of top quality like the 2018 Atomic Z3 Regulators and Oceanic BCD's.
This tour operates daily.
As this tour is a 1-tank dive, tour duration is three hours. 
Feel free to visit our homepage here: Cheap Hawaiian Activities | The Place For You to Find Great Hawaiian Activities and Tours at A Discounted Price