This is not Hilo Ocean Adventures' top tour activity for nothing!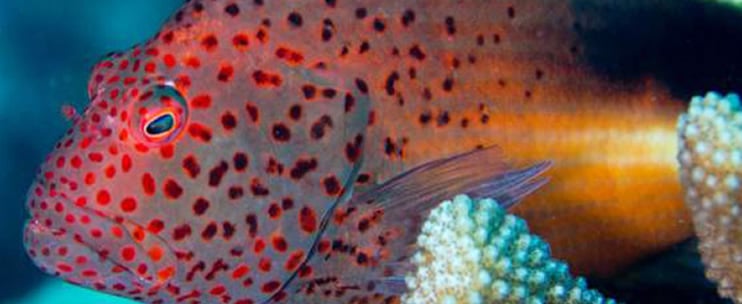 As this is the company's only commercial dive and snorkel boat, this is undoubtedly one of Hilo Ocean Adventures' top-rated and most sought after tours among travelers and locals alike. Come and join the 2-Tank Certified Boat Dive for a sightseeing experience and underwater adventure you and your companions will never forget!
For this tour, you and your tour group will be riding Hilo Ocean Adventures' 28-foot ocean faring vessel, a high-powered boat built with the necessary features and amenities for that easy and comfortable boat dive! This boat will bring you to two snorkel and dive sites outside the bay, where you will be treated to a tropical spectacle! In the cruise alone, you will already get to relish Hilo's beautiful seascape, with its crystal clear waters and lush coastlines in the background. 
As the boat has a wide view deck, you will get to feast your eyes on this breathtaking scene, as well as bask in the bright Hawaiian sunshine! This is not the highlight of the tour just yet, but this surely is an enjoyable moment on its own. 
Once the boat arrives at your designated dive location, which is just around 30 minutes away from the shore, the real adventure begins! Whether you opt to go snorkeling or scuba diving, you will most certainly enjoy the stunning views underwater. Prepare to catch sight of pristine and well preserved reef walls and rock formations, where green sea turtles, tropical reef fish, dolphins, and other precious marine animals frequent. As the reefs outside the bay are not as explored and usually accessed, the underwater life around this area is vibrant and very much thriving. Expectedly, you and your companions will practice responsible snorkeling and diving, so as to keep the place as clean, safe, and untainted.
After around 45 minutes of pure underwater fun, you will head on to the next dive site, where everything is just as beautiful and enjoyable! This is what's great about Hilo Ocean Adventures' 2-Tank Certified Boat Dive–twice the sightseeing, twice the fun!
Tour Inclusions:
Hilo Ocean Adventures' 2-Tank Certified Boat Dive is inclusive of the following:
An opportunity to explore two snorkel and dive sites outside the bay

An enjoyable cruise aboard Hilo Ocean Adventures' 28-foot vessel

A professional guide to accompany introductory divers, if any

Local snacks and other light refreshments
Special Instructions:
Check-in time is at 9:15 AM. Tour departs at exactly 9:30 AM.

Check in at the Hilo Adventures Dive Shop, located at 1717 Kamehameha Avenue, Hilo, HI 96720. Transportation will be provided from the check-in to the dive site.

The following are the requirements and restrictions for this tour:
All participants must be certified open water divers. Make sure to present your valid certification prior to the tour.

Introductory divers are allowed to join, but you will have to make a different booking to ensure that you will be accompanied by the appropriate dive guide.

Participants who are 15 years old and below must be accompanied by an adult.

Pregnant women are not allowed to participate.

All guests must be in good health and have not incurred serious injuries immediately prior to the tour. 

Guests should be able to swim unassisted in open waters, and must be able to properly use a snorkel or regulator.

For 1-tank divers, flying 12 hours before or after the dive is not allowed. 2-tank divers, on the other hand, need at least 18 hours.

A minimum of two guests is required for this tour. The maximum number of guests for each booked tour is six. 
Diving gear is not included in the tour price, but you can choose to rent for an additional fee. Hilo Ocean Adventures' scuba diving gear and equipment for rent are guaranteed safe and of top quality.
Use reef-safe sunscreen during this tour. Sunscreen that contains oxybenzone leads to reef stress and coral bleaching.
This tour operates daily.
Tour duration is approximately four hours. Tour will return at around 1:30 PM.
All tours go rain or shine, unless Hilo Ocean Adventures cancels due to unsafe water and weather conditions.