Intended for those who are not yet certified but would love to go on an introductory diving tour, Hilo Ocean Adventures' 1 or 2 Tank Introductory Beach Scuba Dive is the perfect activity for a morning of learning the fundamentals of scuba diving and applying these learnings in an actual dive into the beautiful waters of HIlo!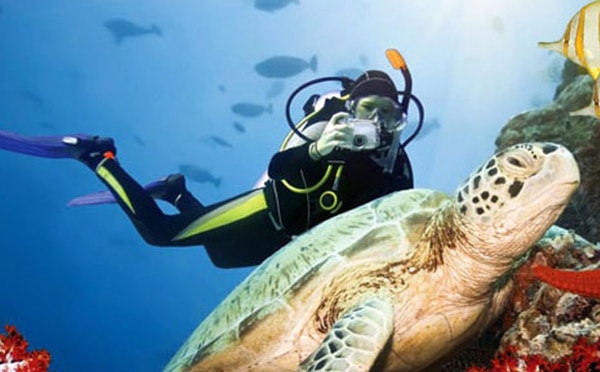 Here, you will not only know the basics of scuba diving from the best instructors, but you will also experience and be one with nature, particularly the lovely creatures and coral formations down under. Truly, this tour is an incredible way to explore and relish the beauty of Hawaii, particularly the Big Island!
What's impressive about Hilo Ocean Adventures' 1 or 2 Tank Introductory Beach Scuba Dive is that sufficient time will be alloted to ensure that you learn the basic scuba diving skills and acquire the necessary knowledge before actually going into the ocean. The first part of the tour is a 45-minute classroom instruction, where the basics will be taught and discussed. With Hilo Ocean Adventures' topnotch materials and competent dive instructors, you will surely get what you need from this portion of the tour alone! Before heading to the seas, you will first have a pool instruction, which is meant to give you a safe and easy opportunity to practice in water prior to your actual dive. This part of the tour is especially helpful, too, and will all the more excite you for the most-awaited portion of the activity!
Of course, the open water dive is what we are talking about! Here, you will not only get to apply and enhance your newly acquired diving skills, but you will surely have a grand time sightseeing underwater! Hilo's pristine waters, majestic coral reefs and other formations, and its precious marine life are most definitely worth the wait and the money spent in booking the tour. The sights are spectacularly splendid, the up-close animal encounter is especially amazing, and the overall experience is absolutely phenomenal. 
Without a doubt, this is a tour you will not regret booking. Learn, explore, and make the most out of your trip to the Big Island with Hilo Ocean Adventures – 1 or 2 Tank Introductory Beach Scuba Dive! 
Tour Inclusions:
Hilo Ocean Adventures' 1 or 2 Tank Introductory Beach Scuba Dive is inclusive of the following:
Instructional materials to be facilitated and complemented by a well-experienced dive instructor

All scuba diving gear and equipment

A 45-minute classroom instruction, 45-minute pool instruction, and at least a 45-minute ocean dive for a total of four hours of scuba diving fun! (If you want a longer time on the actual ocean dive, book the 2-tank dive for a total tour time of five hours.)

Hawaiian snacks, juices, and other light refreshments
Special Instructions:
Check in at the Hilo Ocean Adventures Shop, located at 1717 Kamehameha Ave., Hilo, HI 96720.

Check-in time is at 8:45 AM. 

Tour starts at exactly 9:00 AM. Transportation will be provided to the dive site, which will leave promptly at said time.

The following are the requirements and restrictions for this tour:
A minimum of two guests is required for each tour.

The minimum age is 10 years old to join.

Participants who are 15 years old and below must be accompanied by an adult at all times during the tour.

All guests must be able to understand and converse in English.

All guests must know how to swim unassisted in the open ocean and use a snorkel or regulator.

All guests must be in good physical condition to join. In relation with this, all guests must be able to carry 50lbs of equipment on your back unassisted.

Those with breathing problems or other major medical issues must contact Hilo Ocean Adventures before booking to avoid problems during the intended tour day.

To avoid altitude sickness and other health complications, participants must not fly 12 hours before or after the dive.
All guests will be required to accomplish a PADI/NAUI medical questionnaire at least 72 hours prior to the tour date.
Participants must pass the classroom and pool instructions of the tour before proceeding to the ocean dive. 
No refunds will be accepted or processed for unaccomplished medical forms and/or failure to pass the classroom and pool instructions.
For the preservation of the coral reefs and marine life, make sure to use reef-safe sunscreen for the tour.
Tour duration is 4 hours for the 1-tank dive and 5 hours for the 2-tank dive.
This tour operates daily, unless Hilo Ocean Adventures decides to cancel due to bad weather and water conditions.