The island's east coast is home to a great number of stunning underwater views, with its pristine waters teeming with marine life.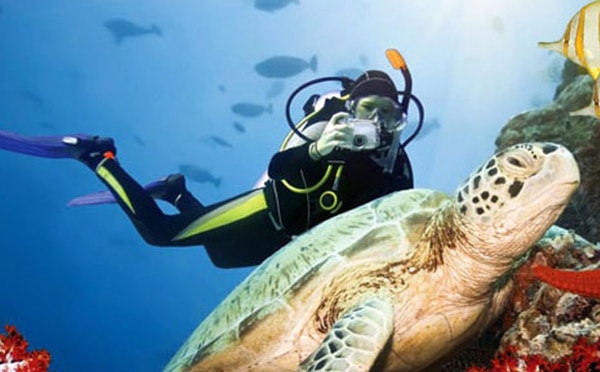 This is definitely a sight to behold, and fortunately for you, Hilo Ocean Adventures takes interested divers to a certified scuba shore dive in Sea Turtle Cove, one of Hilo's prime dive spots that offers a sightseeing adventure and animal encounter of a lifetime! If you are certified and are qualified to join this particular tour, you wouldn't want to miss out on this one. Come and join Hilo Ocean Adventures' 1 or 2 Tank Certified Scuba Shore Dive at Sea Turtle Cove, a tour package that will top off your Big Island vacation!
Owned by a family of passionate divers and ocean lovers, Hilo Ocean Adventures is your ticket to the ultimate Big Island experience. For this tour in particular, certified divers will be brought to the breathtaking Sea Turtle Cove. While the name already gives you an idea what you will get to catch sight of during the dive, there certainly are a whole lot more scenes you will be able to enjoy here!
 Apart from the Hawaiian sea turtles and many other sea creatures you will get up close with, you will also have the chance to relish the views of untouched reef walls, majestic rock formations, and crystal clear waters, all of which are well preserved for the welfare of Hawaii's marine organisms and the enjoyment of both locals and travellers. Of course, as a visitor, you will also be expected to show the same respect for the seas, especially since Hilo Ocean Adventures strives to impart Hawaiian values and culture to its guests, too. Truly, this is not an ordinary scuba diving adventure; it's a meaningful and illuminating experience with Hilo Ocean Adventures!
When you embark on this adventure, you and your companions will first undergo a safety briefing and a short discussion on Big Island's diverse marine life, which will be facilitated by Hilo Ocean Adventures' well-experienced crew and dive professionals. Do not hesitate to ask questions or raise any concern that you might have; they are guaranteed to be warm and people, too! At Hilo Ocean Adventures, your utmost comfort, safety, and enjoyment are top priority. With that, you are sure to bring home a wonderful experience underwater, lots of beautiful memories, and a ton of stunning photos, both above and undersea!
Tour Highlights:
A certified scuba shore dive with depth from 30-45 feet underwater

An underwater exploration at Sea Turtle Cove, a prime dive spot in Hilo

An opportunity to get up close with the Big Island's diverse marine life like Hawaiian green sea turtles, manta rays, tropical reef fish, and a lot more!

Local snacks and other light refreshments
Special Instructions:
Choose from the following tour times:
9:30 AM

1:30 PM
For the morning tour, check-in time is at 8:45AM. Check-in time for the afternoon tour is 1:15PM.
Check in at the Hilo Adventures Dive Shop, located at 1717 Kamehameha Avenue, Hilo, HI 96720. Transportation will be provided from the check-in to the dive site.
The following are the requirements and restrictions for this tour:
All participants must be certified open water divers. Make sure to present your valid certification prior to the tour.

Participants who are 15 years old and below must be accompanied by an adult.

Pregnant women are not allowed to participate.

All guests must be in good health and have not incurred serious injuries immediately prior to the tour. 

Guests should be able to swim unassisted in open waters.

A minimum of two guests is required for this tour. The maximum number of guests for each booked tour is six. 
Scuba diving gear is not included in the tour price, but you can choose to rent for an additional fee. Hilo Ocean Adventures' scuba diving gear and equipment for rent are guaranteed safe and of top quality.
Use reef-safe sunscreen during this tour. Sunscreen that contains oxybenzone leads to reef stress and coral bleaching.
This tour operates daily.
The 1-tank dive lasts for three hours, while the 2-tank dive lasts for five hours.
You can check out  Big Island's tour and packages here: Big Island Tours | Cheap Hawaiian Activities