If you are a beginner and have been looking forward to exploring Kauai by kayaking, join Outfitters Hawaii for a fun-filled 4-hour paddling along the gentle Huleia River to see one of the island's best-kept secrets - the Hidden Valley falls!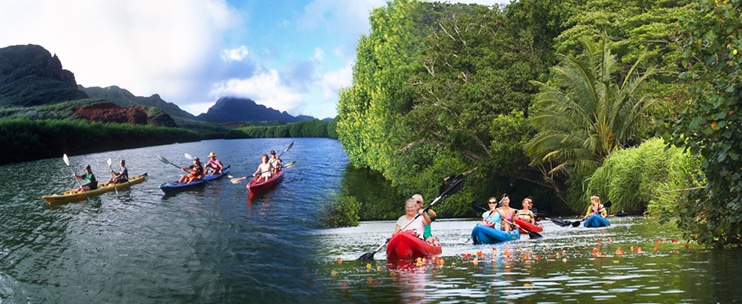 Before checking-in, make sure to bring your essentials to fully enjoy this trip. Participants are encouraged to wear swimsuits under their clothes. Some guests bring extra clothes, though. Others include towels, hats, sun glasses, rain gear, bug spray, footwear with straps, sunscreen, and of course your camera! You don't want to miss capturing the beautiful views ahead of you.
If you have seen the sci-fi adventure sequel Jurassic World, you might recognize Huleia, where it was filmed, along with other blockbuster movies called Raiders of the Lost Ark and Lost World. Your exciting journey begins here at the Huleia River, one of Kauai's treasures tucked under the majestic 2,000-foot Haupu Mountains, which also serve as the backdrop of the river. You paddle 2 miles through the Huleia National Wildlife Refuge, a preservation site for the endangered Hawaiian water birds, past the living archaeological site of Alekoko or Menehune Pond. 
Here's a little trivia about this place: Menehune Pond is bounded by a 900-foot long wall at a large bend in the Hule'ia River. It is deemed as the most important pond on Kauai, both in folklore and legend, in the eyes of the island's residents today. It is a very old construction that is believed to be inhabited by Menehunes before the ancient Hawaiians came to the island. According to the Hawaiian myth, Menehunes were dwarf people who lived in the deep forests and hidden valleys, away from human communities. The pond shows the fishing ways and aquaculture methods of the early Hawaiians that are still used these days.
As you paddle, enjoy the place's beauty and serenity before tying up your kayaks to a tree for a roundtrip 1.5-mile hike up to the falls through lush jungle trails, pristine deep forest, and fern-covered valleys, where you can see communities of various plants, birds, and aquatic life. While trekking, your guide will tell you interesting stories about the supernatural creatures that lived in the area many centuries ago. Upon reaching the Hidden Valley Falls, brace yourself for enchanting 3-pool drop waterfalls cascading over a black lava rock. You will stop by the swimming holes, where you can see swing ropes that some guests use to have a dramatic plunge into the holes. 
Near the captivating falls, you will be having a delicious picnic-style lunch, including turkey, sandwich, vegetables, and cold beverage. You can have photo sessions here or simply enjoy the scenery before going back to the river, where you will ride a double-hulled powered canoe back to your check-in location.
Tour Highlights
Enjoy a downwind paddle on the Huleia River through the Huleia National Wildlife Refuge

Get a taste of the ancients Hawaiians' old fishing ways and aquaculture methods as you pass by the Alekoko or Menehune Pond

Hike lush jungle trails through a fern-covered valley 

See a majestic 3-pool drop waterfall and swimming hole

Ride back on a motorized canoe
Tour Inclusions
Delicious lunch:

Your choice of either a turkey or veggie (roasted bell peppers) deli-style sandwich with provolone cheese and a build-your own buffet of condiments, including lettuce, onions, jalapenos, sprouts, tomato and black olives, along with mayo and mustard. Served with fresh garden vegetable pasta salad and a fresh-baked brownie. 
Note: Cold bottled water and Hawaiian Sun fruit drinks are available throughout the day.
Special Instructions
Check-in time and location:

Check-in time and location are based on your accommodation.
POIPU AREA AND WEST SIDE: Check in at 8:45 am at Outfitters Kauai, 2827A Poipu Rd, Poipu, HI 96756. 
EAST SIDE AND NORTH SHORE: Check in at 9:30 am at the Kayak Shack at Nawiliwili Small Boat Harbor. 
            Note: Returns are typically between 1:00 to 1:30 pm. 
Restrictions:

Participants must be able to walk 1.5 miles on a forest trail and kayak for 60-90 minutes with a partner.
Note: Over 260 lbs or 118 kgs are not allowed. Infants are not given a lunch plate and must sit on an adult's lap. 
Operations:

Monday-Saturday

Duration:

Approximately 4.5 hours
Equipment:

Outfitters Kauai uses tandem, open-cockpit, or sit-on-top style self-bailing kayaks with foot pedal controlled rudders to facilitate safety and ease of operation. You'll be given a lightweight fiberglass paddle with a tether, life vest and dry bag to keep your camera dry on your excursion.