Dreaming of an enchanting morning with Hawaii's precious dolphins and many other lovely sea creatures?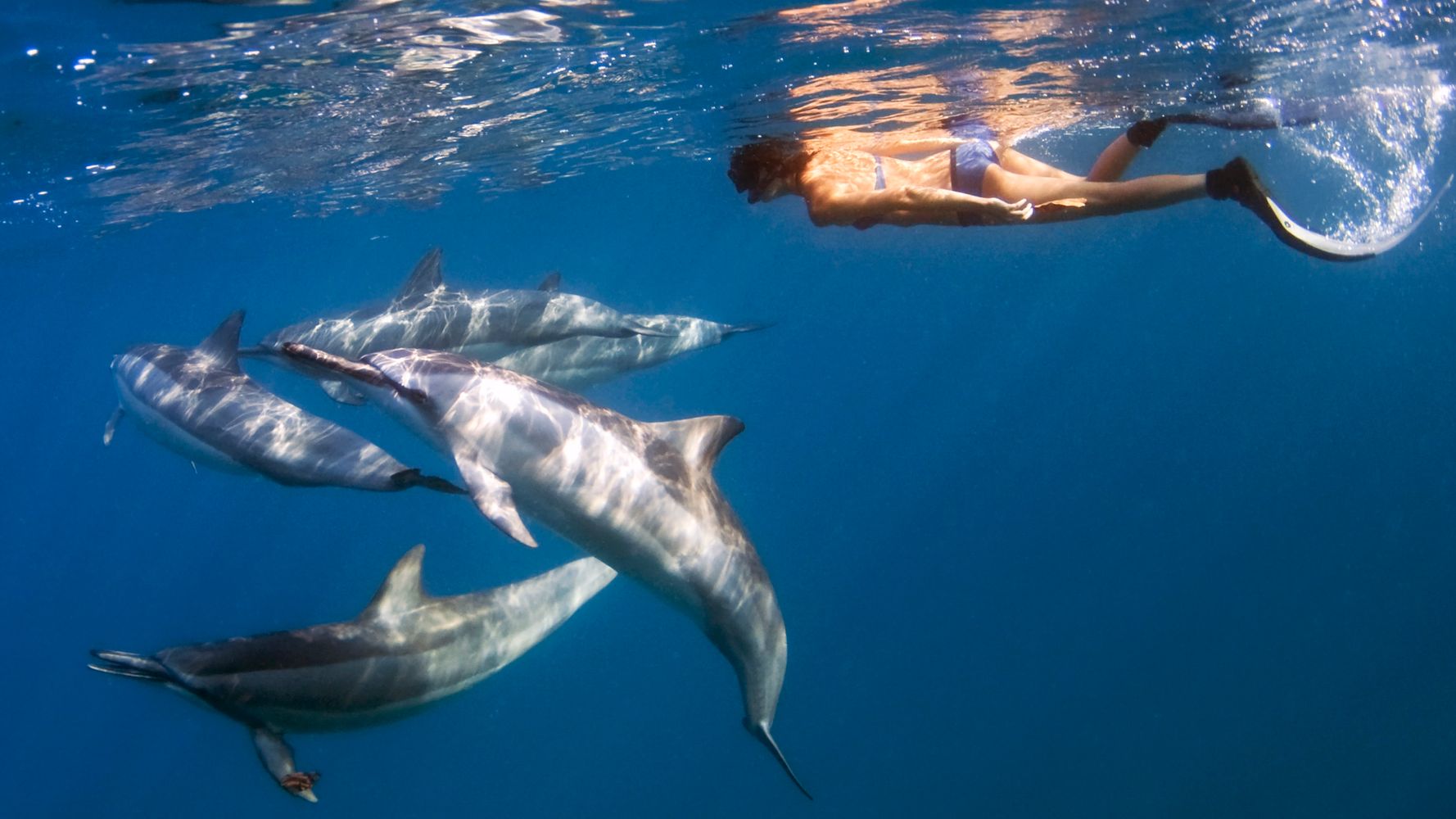 Then this is the perfect excursion for you! Hawaii Oceanic's Dolphin Dreaming Wild Dolphin Swim is a popular tour package in Big Island, which takes small-group tours to a scenic cruise and snorkeling expedition in the beautiful waters of Kona Coast. Hawaii boasts an exceptionally stunning underwater world, and what better way to savor this than by booking Hawaii Oceanic's Dolphin Dreaming Wild Dolphin Swim!
For this tour, you and your companions will either ride the 30-foot Pueo Kai or the slightly smaller 27-foot Pueo Kai 2, both of which are high-powered catamarans that are Lifeguard-certified for that guaranteed smooth and safe ride to your snorkeling destination. To ensure your utmost safety and enjoyment are also Hawaii Oceanic's expert captain and crew, whose knowledge on Hawaii's history, culture, and sea life will entertain you, too. With such amazing company on board an equally amazing power catamaran, the cruise along Kona Coast is an experience you will absolutely love and take pleasure in.
Without a doubt, the views above and below the water's surface are truly pleasurable, too! En route to your snorkeling destination, keep your eye out on Hawaiian spinner dolphins that love to leap out of the water and show off their charm and playfulness. Then, when it's time to get into the water for some underwater fun, prepare yourself for more breathtaking views! Apart from the many other marine organisms that you will get to catch sight of and swim with, you will also be captivated by the crystal clear waters, vibrant coral reefs, and the majestic underwater formations that Big Island prides itself in. A dream, indeed!
Trust us—Hawaii Oceanic's Dolphin Dreaming Wild Dolphin Swim is what you need to complete your Big Island getaway. Hurry and reserve your slots now for a fun, comfortable small-group Kona Coast adventure!
TOUR HIGHLIGHTS
Hawaii Oceanic's Dolphin Dreaming Wild Dolphin Swim is inclusive of the following:
High quality snorkeling gear (Guests are free to bring their own gear.)

Coffee, fresh fruit juices, and light snacks

Photos during the entire trip
Special Instructions
Check-in time is 6:45 AM. Make sure to check in early as the tour will depart promptly at 7:15 AM.

Check in at Keauhou Bay, Small Boat Harbor, located at 78-7138 Kaleiopapa St., Kailua Kona, HI 96740. 

The following are the requirements and restrictions to join this tour:

Children must at least be 3 years old to join.

Snorkelers must at least be comfortable swimming in open water.

Parents and/or adults traveling with young children may choose to swim with kids, for as long as the adult is able to comfortably swim in the ocean with the child.

This tour operates daily.

Tour duration is approximately 3.5 hours. Tour is set to return to Keauhou at around 10:30 to 11:00 in the morning.

Tour capacity is up to 12 passengers. A minimum of four persons is needed for the tour to push through.