Oahu's West Shore may not be as widely popular and talked about as the other parts of Oahu Island, but this does not make West Shore any less charming.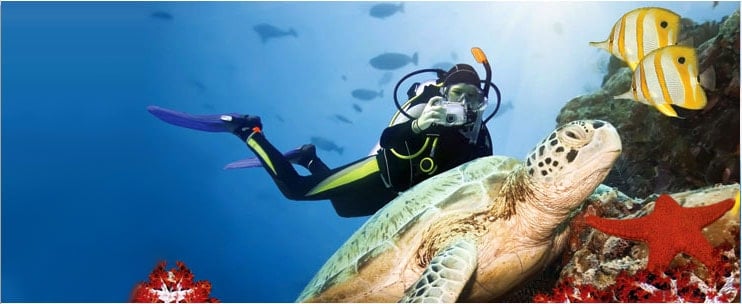 In fact, Oahu's West Shore also boasts quite a number of prime scuba diving spots, too, so if you're up for a thrilling underwater adventure in this rather unexplored part of the Island, let Hawaii Nautical be your passport to an unforgettable West Oahu getaway! 
Come to think of it, there actually are advantages of going on Hawaii Nautical's West Oahu Scuba Dive, albeit not as popular as the other portions of the island like the South Shore, for instance. As not many tourists flock Oahu's West Shore, prepare to dive into even more pristine Hawaiian waters, perfect for sightseeing underwater! With waters so clear, you will clearly see stunning sights down under, such as the majestic rock formations, coral beds, sea caves, and many other forms undersea!
Of course, Oahu's underwater topography is awesome, but wait until you get up close and personal with its abundant marine life–an even more awesome experience to say the least! Again, thanks to Oahu West Shore's clean and well-preserved waters, a great number of sea creatures frequent the area, such as green sea turtles, colorful reef fish, rays, and octopuses, just to name a few. Going on Hawaii Nautical's West Oahu Scuba Dive will more than complete your vacation, indeed!
Another advantage of going on this activity is that the dive sites are not too crowded, so you and your companions will have an even more enjoyable time exploring and sightseeing underwater! Such uncrowded scuba diving spots are more suitable for first-timers, so that they can feel more at ease, without having to worry about the multitude of tourists and divers around. Yes, Hawaii Nautical's West Oahu Scuba Dive is open to beginners, too! A participant need not have any experience or certification to join this tour. Subject to just a few restrictions, anyone and everyone can participate and have a safe, enjoyable, and altogether amazing time with Hawaii Nautical.
Leave your worries and apprehensions behind! This is not the right time to say no to an experience so spectacular! Experience Oahu like no other by booking Hawaii Nautical's West Oahu Scuba Dive.
Tour Highlights
This is a scuba diving adventure that lets you dive and explore uncrowded diving sites on Oahu's West Shore. 

This part of the island features spectacular underwater sights, including coral reefs, sea caves, other formations, and of course, the island's abundant marine life!

Tour is open to intro (beginner) and certified (expert) divers.

For intro (beginner) divers, experience or certification is not necessary. Beginners will be given an instructive lesson for scuba diving first-timers.

Prior to the dive, footwear will be collected for safekeeping, as all participants have to go barefoot on the cruise.
Tour Inclusions
Typically, all scuba diving gear will be provided to participants. However, in light of recent events brought about by COVID-19, guests are expected to bring their own masks and breathing tubes as a safety measure.

Snacks and drinks will be provided during the cruise.

A safety briefing will be conducted for all participants. Intro (beginner) divers will have a hands-on dive lesson before the scuba diving proper. This will include familiarization of the scuba gear and instructions on proper usage.

Guests who do not wish to go scuba diving (ride-along guests) may choose to do some limited snorkeling.
Special Instructions
The boat departs at exactly 9:00 AM, and will return to shore at 12:00 PM.

The boat departs from Waianae Boat Harbor, at 85-491 Farrington Hwy, Waianae, HI 96792.

For those who will drive to Waianae Boat Harbor, make sure to check in at least 30 minutes before departure time (or at least 8:30 AM).

Round-trip shuttles from select Waikiki hotels are available for an additional fee. Please indicate if you are availing of this add-on, and if you are, note that the shuttle leaves Waikiki at 7:00 AM.

Complimentary shuttles are available from select Ko Olina hotels, which depart at 8:15 AM. 

The following are required to be able to participate:

Must be at least 10 years old

English fluency for intro (beginner) divers

Certification card or number for certified (expert) divers, which shall be presented or verified prior to the boat's departure

Has not flown within 24 hours before the dive, and will not fly 24 hours after

If the company has not yet decided to lift the rule for all participants to bring their own masks and breathing tubes, make sure that you have your own gears with you prior to departure. Sets will also be available for purchase at Waianae Boat Harbor.

This tour operates daily.

This tour lasts for 3 hours (9:00 AM to 12:00 PM).