Have a lavish time in Kona Coast's enchanting waters with Hawaii Nautical's Luxury Dolphin Sail and Snorkel!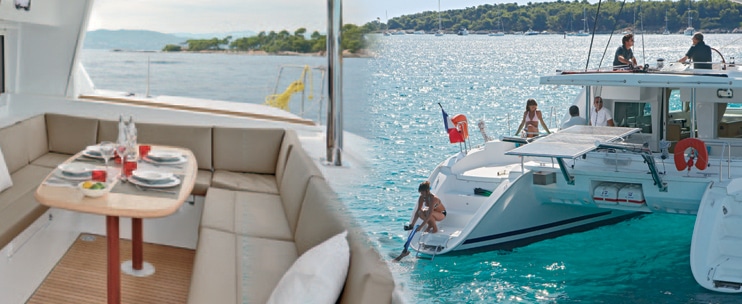 One of Hawaii Nautical's most sought-after tour packages, this luxury tour sets sail in the morning via a deluxe catamaran, complete with all the amenities to enhance your overall ocean adventure experience. If you are looking for something grand to highlight your Hawaiian getaway, then Hawaii Nautical's Luxury Dolphin Sail and Snorkel is the perfect option!
This tour departs from Honokohau Harbor on board the No Wiki, a 50-foot luxury sailing catamaran yacht equipped with air conditioning, spacious viewing decks, resting cabins, dining and lounging areas, restrooms, freshwater showers—a deluxe ride, indeed! What's great about this cruise is that while the vessel offers plenty of room, Hawaii Nautical limits the guests to only six passengers per tour, giving you a private and exclusive luxury boat ride to your snorkeling destination. With Kona's picturesque seascape, this sightseeing cruise is surely going to be hard to top!
Your tour's snorkeling location will depend on the water and weather condition on the day of your trip, but of course, your preference will also be taken into consideration—so don't forget to communicate your preference to the captain! A possible snorkeling spot is Pawaii Bay, a Kona Coast jewel that is well-known for its underwater caves, arches, and swim-throughs. Makalawena is another option, which also is home to breathtaking coral formations and other underwater features. Of curse, no matter where it is this tour takes you, your snorkeling experience will feature an amazing marine life encounter, what with Big Island's abundant sea life! Get ready to catch sight of vibrant colored fish, green sea turtles, dolphins, and many other marine organisms, most of which are endemic to Hawaii. Without a doubt, this visit to Big Island's stunning aquatic world is an adventure of a lifetime!
Hawaii Nautical's Luxury Dolphin Sail and Snorkel runs for approximately four hours—the best four hours of your Big Island getaway, guaranteed. What are you waiting for? Hurry and reserve your slots now!
TOUR HIGHLIGHTS
Cruise along the scenic Kona Coast via a luxury catamaran yacht

Snorkel at a prime snorkeling location at Kona, which features stunning underwater views and an abundant marine life

Feast on a deliciously prepared lunch meal inclusive of the tour price
TOUR INCLUSIONS
Hawaii Nautical's Luxury Dolphin Sail and Snorkel is inclusive of the following:
High quality safety vests and fins, all sanitized after use *

A Picnic Style or Bento Box lunch with unlimited non-alcoholic beverages **

Picnic Style: Choose from deli sandwich (either ham or turkey), island-style curried chicken wrap, or garden vegetable spinach wrap. Each set includes potato chips, potato macaroni salad, salted edamame, fruit cup, and chocolate chip cookies.

Bento Box: Each box includes grilled fresh seafood, rice with furikake, Korean-style chicken, salted edamame, tamagoyaki, grilled vegetables, and chocolate chip cookies.
* In light of the COVID-19 safety measures and protocols, guests on this tour are required to bring their own snorkel masks and breathing tubes. They may also choose to purchase from Hawaii Nautical, with Adult Snorkeling Sets priced at $23 each and Child Snorkeling Sets at $20 each. Prices are subject to change without notice. No refunds will be given once the purchased sets are opened. 
** Lunch options are subject to change without prior notice. Kindly inquire regarding alcoholic beverages on-board.
Special Instructions
Check-in time is 8:30 AM. Make sure to check in early as the tour will depart at exactly 9:00 AM.

This tour departs from Slip #38 at Honokohau Harbor, located at 74-380 Kealakehe Pkwy, Kailua-Kona, HI 96740.

In compliance with COVID-19 safety measures and protocols, an online Health Clearance Form must be completed by all guests 24 hours prior to the tour and before departing the hotel.

There are no specific requirements and restrictions for this activity, but it is advisable that snorkelers are comfortable to swim in open water.

This tour operates daily except on Wednesdays.

Tour duration is 4 hours. This tour is set to be back at Honokohau at around 1:00 in the afternoon.

Maximum capacity for this tour is 6 passengers.