Let Hawaii Nautical take you to a fun-filled afternoon of unforgettable underwater exploration and marine life encounter with Ocean Playground Afternoon Snorkel at Waianae!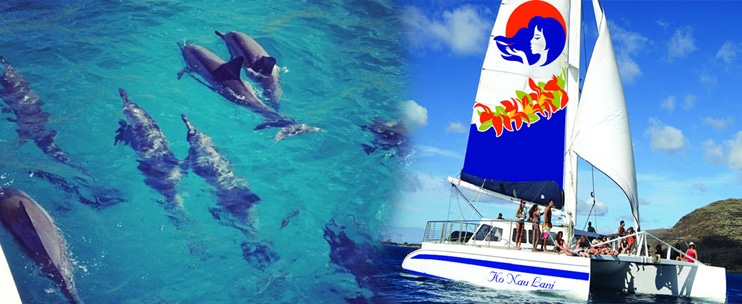 While the beauty of Oahu above water cannot be denied, this Hawaiian island surely has a spectacular underwater world that you should not miss out on, too. This tour package promises the prettiest sights and the most amazing up close encounter with Hawaii's marine life, making your trip to the island one that you will forever cherish and love looking back on.
Oahu's west shore boasts pristine waters and untainted coral and rock formations, and this is precisely what you will get to explore and enjoy on Hawaii Nautical's Ocean Playground Afternoon Snorkel. Perfect for travellers who are staying in Ko' Olina because of its proximity to the departure point, this tour departs specifically from Waianae Harbor, which is also just a stone's throw away from the top snorkel spots on the West of Oahu! Thus, once you and your tour group have boarded your tour powerboat or sailboat and have kicked off the cruise, you will not have to wait long for your much anticipated underwater adventure!
At Hawaii Nautical's Ocean Playground Afternoon Snorkel, you will have a magnificent time gazing at and swimming with a wide range of sea creatures teeming in the area. With Oahu's well-preserved waters and formations, the abundance and diversity are nothing to be surprised with! For this tour, prepare to catch sight of different species of tropical reef fish, as well as dolphins and sea turtles, and whales, too, if you are travelling during the whale season. What's great about this tour is that you get to experience them in their natural habitats, where they are blissful and free! That said, Hawaii Nautical, of course, will be giving you helpful tips and insightful information, too, so that you are able to tour the site responsibly and snorkel comfortably while the animals similarly enjoy your visit. Do not hesitate to ask questions because with Hawaii Nautical, your safety, comfort, and enjoyment matter.
This tour is most certainly bound to give you the best afternoon of your stay in Oahu. There's nothing to be hesitant about! Go and book your slots to Hawaii Nautical's Ocean Playground Afternoon Snorkel now!
Tour Inclusions:
Hawaii Nautical's Ocean Playground Afternoon Snorkel is inclusive of the following:
Snacks and other light refreshments

Unlimited non-alcoholic drinks

Two complimentary bar/alcoholic drinks *
* If you wish to consume more than two, you may be allowed to do so, but for an additional fee. Kindly make the inquiry on-board.
Special Instructions:
Check-in is at 1:00 PM. Make sure to check in on time as the tour will promptly depart as scheduled.

Departure is at 1:30 PM. This tour will depart from Waianae Harbor, located at 85-491 Farrington Hwy, Waianae HI 96792.

All participants are required to accomplish an online Health Declaration Form 24 hours prior to the tour and before departing from the hotel. Hawaii Nautical has the right to refuse guests who do not comply with this safety protocol.

As a safety measure, this tour will temporarily stop providing snorkel gear to guests. All participants are thus expected to bring their own snorkel gear to the tour. You may also choose to purchase upon check-in, where snorkel sets for both kids and adults are available for sale.

This tour operates daily from the month of May to November.

Tour duration is approximately two hours. Tour will return to Waianae Harbor at around 3:30 PM.
For travel bookings feel free to visit our homepage here: Cheap Hawaiian Activities | The Place For You to Find Great Hawaiian Activities and Tours at A Discounted Price