Do you want to spice up your Saturday evening while vacationing on Big Island?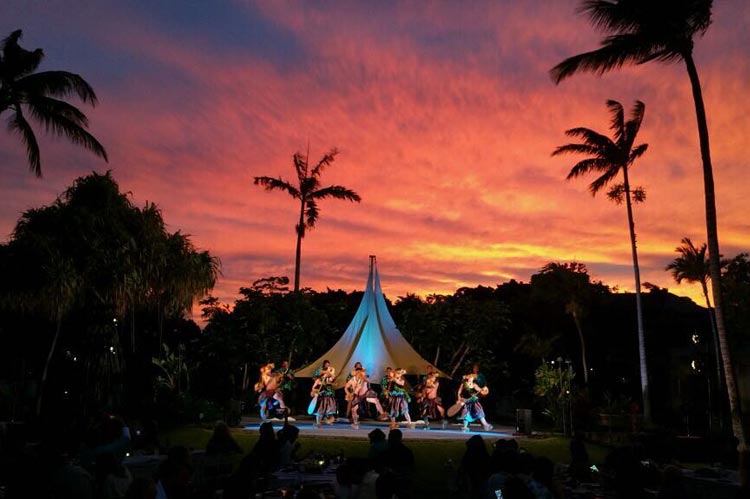 Join Hawaii Loa Luau for an unforgettable evening full of fun, laughter, food, drinks, and a genuine Aloha experience! 
A Hawaiian luau is probably one of the top activities that you must see while on the land of Aloha. It is a perfect opportunity to hear legendary Hawaiian stories, learn about traditional Hawaiian arts and crafts, and know more about the island's culture and traditions. Depending on the luau, you will also get to know other Polynesian islands' traditions, including Samoa, Tahiti, New Zealand, and others. With Hawaii Loa Luau, you will discover how different cultures influenced Hawaii into what it is now.
Held in a stunning oceanfront resort perched upon the scenic Kohala Coast where old Hawaiian kings used to gather and feast, your luau experience here is surely one that you'll never forget. It starts with a warm lei greeting and a chance to meet their multi-talented performers to take souvenir pictures before they escort you to the luau grounds.
The open bar also starts to open, where you could order your favorite beverages, including beer, wine, cocktails, and Mai Tai. Before your eat-all-you-can buffet, you can wander around the area and try some traditional Hawaiian games. See their beautiful and artistic cultural displays, showing how excellent Hawaiian artists were. Did you know that Hawaiians were some of the best artists in Polynesia before?
As soon as the skies turn dark, it's time to feast on your Hawaiian-style dishes, including poi, teriyaki BBQ chicken, kimchi cabbage, taro rolls, desserts, noodles, and many more! If you come with your children, there is a station that specially serves a menu for keikis (kids). When your plates are clean, prepare for a top-notch Polynesian show. Listen to interesting storytelling about how Polynesian voyagers braved the gigantic waves of the Pacific Ocean to reach and establish Hawaii while hula dancers and musicians perform on stage. 
Be amazed by the Tahitian performers as they share their story on how they arrived in Hawaii to the dynamic beat of the traditional toere drum. After which, the hosts will be telling you the story of Hawaii, a place they call home, through the hula dance. In the early times, hula was a religious dance performed before the king or ordinary people to honor the gods or praise the chiefs. It was basically accompanied by instruments and chants. When you look at the dancers, you will see an evolution of costumes and hula motions as they share the history of their beloved home.
To complete your evening, you will be watching a breath-stopping, hair-raising, and thrilling Samoan fire-knife dance wherein the stage is literally set on fire. Be mesmerized by the dancer's skills as he displays acrobatic tricks at a breathtaking speed using a burning, sharp knife.
Luau Highlights
Experience the Kohala Coast's most recent luau (formerly known as Gathering of the Kings Luau)

Held in a jaw-dropping beautiful orchard, next to Kalahuipua'a, a site where the old Hawaii kings would gather and feast

Meet and take souvenir photos with the performers before the show and learn about the traditional games and cultural practices of the people

Enjoy a spectacular luau show with the lively beat of the traditional toere drum, exotic hula dances, and the spectacular fire-knife dance

Luau buffet features succulent island dishes

Open bar serving standard cocktails and tropical drinks
Luau Buffet Menu
POKE STATION ICED COLD STATION
Poi

Ahi Limu Kohu

Ahi Avocado

Spicy Shellfish

Surimi Crab & Broccoli

Garlic Sesame Edamame Soy Beans

Lomi Lomi Salmon

Cucumber Namasu

Molokaʻi Sweet Potato Salad

Kimchi Cabbage

J.A Farms Spinach Leafs & Heirloom Lettuces
HOT FOOD STATION
Teriyaki BBQ Chicken

Miso Glazed Hawaiian Butterfish

Stir-Fried Vegetable Noodles

Calrose Rice Furikake

Taro Rolls
FROM THE GRILL
Kalbi Style Hawaiian Low Line Beef w/Ginger Soy Glaze

Sugar Cane Skewered Shrimp Yakitori
KEIKI (CHILDREN'S MENU)
Mini Hot Dogs

Macaroni & Cheese

Grilled Chicken Tenders
DESSERT STATION
Hawaiian Dark Chocolate Lava Cake w/Tahitian Vanilla and Raspberry Sauces

Pineapple Pie w/Macadamia Nut

Streusel

Molokai Banana Bread

Big Island Fruit Salad w/Lychee

Stir Fry Vegetables
Special Instructions
Check-in Location and Time:

Check-in is at 5:30 pm.
➤Location: Fairmont Orchid, 1 N Kaniku Dr, Waimea, HI 96743 
➤The Hawaii Loa Luau reservations desk is located at the Plantation Estate at the Fairmont Orchid. Vouchers must be turned in for luau tickets at the reservations desk. Both complimentary valet parking and self-parking are available at the Fairmont Orchid.
Restrictions: T

here are no specific restrictions for this activity. Please contact us if anyone in your party has special need

s.
COVID MEASURES:
➤All guests must wear a mask unless seated at their assigned table.
➤Please maintain acceptable social distancing standards from other parties and staff whenever possible.
➤If you are feeling unwell, showing symptoms, or experiencing fever, please refrain from attending the luau.
➤Hand Sanitizing stations are available.
➤Seating is restaurant-style, and tables are spread 6 ft apart and seat a maximum of 10 guests to comply with county regulations. Larger parties will have to split into different tables.
➤The buffet features attendants to serve food, and tables are called up to the buffet to avoid lines and allow spacing.
➤All staff are temperature and symptom checked.
Special Notes:

Children age five and under are provided their own seats and plate.

Operations:

Saturdays and additional days throughout the summer

Duration:

3 hours