Learn about the tales, beauty, and romance of Hawaii, Tahiti, New Zealand, and Samoa through music and dance at a beautiful location at the Grand Hyatt Kauai!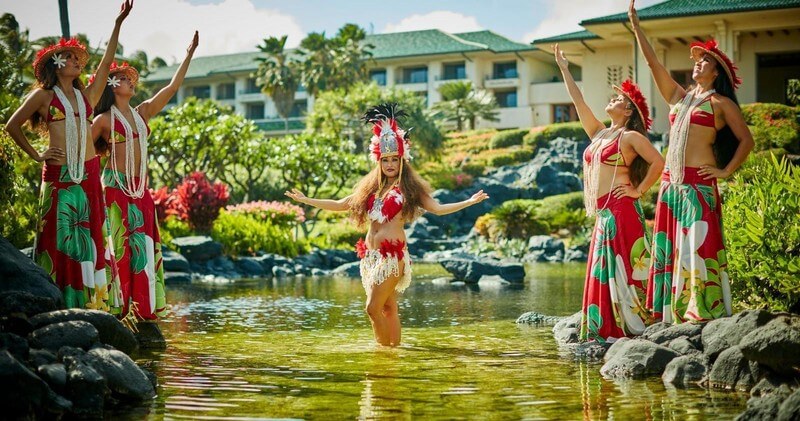 Take away all your worries and emerge yourself in a fascinating journey through Polynesia where a Royal feast and festivity nourish both body and soul with a mouthwatering eat-all-you-can buffet and magical stories.
Luau is a unique opportunity to get a glimpse of the beautiful Hawaiian traditions and culture through a mix of costumes, dances, music, storytelling, and feasting. Depending on the location, guests will have an unforgettable experience of genuine Aloha spirit in a luau. You've come all the way to Kauai, so why not take your holiday to the next level? Join Havaiki Nui Luau for a remarkable evening of fun, laughter, and satisfaction! 
Meaning "A Journey to New Lands," Havaiki Nui Luau is held on Kauai's scenic south shore. Upon arrival, you will be welcomed with a warm shell lei greeting and a refreshing tropical drink. At that moment, the magic of Hawaii begins. Leis have been a part of the Hawaiian tradition for centuries that symbolize love, celebration, the honor of greeting, and friendship. The program starts with spectacular torch lighting. Did you know that torch lighting at the beginning of a festival wasn't famous in the early times until the 1950s? Ancient Hawaiians did use torches as a source of light when walking or fishing at night. But it was in the 1950s when Grace Guslander, the manager of Kauai's Coco Palms Hotel, invented the ritual.
Before dinner, take the opportunity to see a display of Hawaiian crafts that early Hawaiians were known for, including lei making, wood carvings, weaving baskets, and hats, making Kapa. Kapa is a fabric made out of certain trees, colorfully dyed with plant materials, and hand-painted with patterns before being scented with oils or flowers. The ancient Hawaiians were, indeed, one of the most artistic people in the world. You will also watch a fashion show showcasing early Polynesia's vibrant costumes. Generally, in the past, the men's lower body was covered with loincloths while women wore tapa skirts. 
Like any other luaus, you will also witness the uncovering of the kalua pork from the imu, an underground oven that early Hawaiians used to steam pork and other dishes during big celebrations. The larger the pig, the longer hours to cook, from six to eight hours. When it's time for your eat-all-you-can buffet, feast on lavish traditional Hawaiian delicacies as well as modern Hawaii's favorites like grilled teriyaki steaks, kalua pork, Lomi Lomi salmon, grilled Huli Huli chicken, a variety of salads with dressing, desserts, and appetizers.
After your plates are cleaned, sit back, relax, and be entertained with a world-class Polynesian revue, featuring music and dances of Hawaii and other Polynesian islands. Your evening will end with an extraordinary Samoan fire knife dance where the stage is literally set on fire while the dancer shows unforgettable tactics using a burning knife.
Luau Highlights
Experience a piece of Hawaiian culture, history, and tradition

Watch as their multi-talented performers gracefully dance the exotic dances of Polynesia

Enjoy a live musical entertainment

Scrumptious all-you-care-to-eat luau buffet dinner with a wide variety of delicacies
Luau Menu
PUPUS (APPETIZERS) AND SALADS
Fresh Sliced Tropical Fruits with Lychee and Papaya

Garden Isle Baby Greens with Macadamia Nuts, Croutons, Papaya Seed and Balsamic Dressing

Watercress & Kauai Asparagus Salad with Citrus Ponzu Vinaigrette

Pickled Maui Onion and Tomato Salad

Local Style Potato Salad

Lomi Lomi Salmon

Poi Sesame Seared Mahi Mahi Kaffir Lime Ponzu Sauce on Baby Bok Choy
ENTREES
Marinated Grilled Huli Huli Chicken, Tropical Guava Sauce, and Fresh Pineapple

Imu Style Cooked Kalua Pig

Grilled Teriyaki Steaks

Wok-Cooked Fresh Vegetables

Roasted Hawaiian Sweet Potatoes Steamed Coconut Lemongrass Island Rice

Taro Rolls and Whipped Butter
DESSERTS
Coconut Cream Cake

Macadamia Nut Cream Tart

Haupia (Coconut, Pineapple, Mango Pudding)

Pineapple Upside-Down Cake

Guava Mousse Cake

Banana Cream Pie

Freshly Brewed Kona Regular and Decaffeinated Coffee

An array of Specialty Teas
SPECIAL MENUS
Dec 24th: Traditional Luau Menu plus Slow Roasted and Carved Prime Rib, Whipped Yukon Potatoes, Yule Logs, and Holiday Treats

Dec 25th: Traditional Luau Menu plus Slow Roasted and Carved Prime Rib, Whipped Yukon Gold Potatoes, Coconut Cream Pie, Warm Hawaiian Salted Caramel Chocolate Chip Bread Pudding, Warm Apple Cranberry Crisp, Chocolate Christmas Yule Log, Warm Spiced Malasadas, and Christmas Cookies

Dec 31st: Traditional Luau Menu plus Slow Roasted and Carved Prime Rib, Whipped Yukon Gold Potatoes, Petit Fours, and Holiday Treats

Jan 1st: Traditional Luau Menu plus Slow Roasted and Carved Prime Rib, Whipped Yukon Gold Potatoes, Hawaiian Kulolo, & Butter Mochi
Special Instructions
Check-in Location and Time: Check-in at Grand Hyatt Kauai 1571 Poipu Road at 5:15 pm.
          *Note: This luau continues rain or shine. If it rains, it will be held inside.
Restrictions:

There are no specific restrictions for this activity. Please call beforehand if anyone in your party has special needs.

Special Notes:

Infant pricing (children four and under) allows children to have their own seat and plate.

Operations:

Wednesday and Sunday

Duration:

Approximately 2.5 hours