Take your vacation to Oahu up a notch by going on an underwater exploration at Hanauma Bay!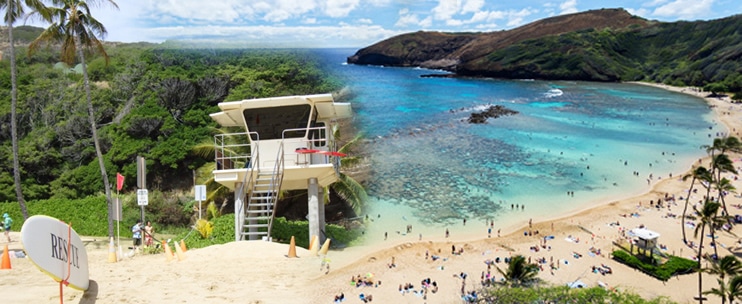 Located just nine miles from Waikiki, Hanauma Bay is an adventurer's paradise, precisely because of its well-preserved coral reefs and marine life. This truly is one of Hawaii's natural wonders that as early as 1967, Hanauma Bay was declared a protected marine life conservation area and underwater park. Until now, it has maintained its pristine waters, untainted underwater formations, and healthy and diverse marine life, all of which you can get to experience with Hanauma Bay Snorkel. Regardless whether you are a beginner or a snorkeling pro, you are most definitely welcome to join this underwater adventure–the perfect highlight of your trip to Oahu!
From Waikiki, you will not have to wait long, as the drive to Hanauma Bay takes just about 25 to 30 minutes. Less wait, more fun, indeed! At the park, the adventure kicks off with a short video, which will thoroughly brief you about Oahu's marine life, actions for preservation, as well as safety rules for your utmost comfort and enjoyment during the tour.
You will also be reminded about the proper behavior during your up-close encounters with the precious sea creatures at Hanauma Bay, so that they will equally enjoy your visit as well. Certainly, Hanauma Bay Snorkel is not just about the adventure, but it is also a learning experience as you drop by at a protected marine life conservation area. These bits of information will most definitely ensure your safety and pleasure during your exciting underwater adventure!
With Hanauma Bay's warm, crystal clear waters, you are guaranteed the best underwater views and encounters! The Bay is home to a wide number of different species such as sea turtles and tropical reef fish, many of which are endemic to Hawaii. What's great about the Hanauma Bay Snorkel tour is that it is inclusive of top-notch snorkeling equipment, which will enable you to enjoy the experience all the more. Of course, these implements are properly sanitized, too, for everyone's protection and well-being!
A tour that is educational, thrilling, breathtaking, and completely safe and reliable, that is the Hanauma Bay Snorkel package tour for you. What are you waiting for? Book now before slots get full!
Tour Highlights:
An underwater exploration at Hanauma Bay, a protected marine life conservation area and underwater park

An opportunity to get up-close with Oahu's abundant marine life, many such species are endemic to Hawaii

An educational experience as you learn about Hawaii's marine life and actions for ocean protection and conservation
Tour Inclusions:
Hanauma Bay Snorkel is inclusive of the following:
Round-trip transportation from select Waikiki hotels

Well-maintained air-conditioned vans, operated by professional drivers

Sanitized snorkeling equipment (snorkel, mask, and fins)

Educational and safety briefing, which will include snorkeling safety tips and familiarization on the use of snorkel equipment

Excursion along Oahu's coastline
* Note: The regular entrance fee at Hanauma Bay Park is priced at $7.50 per guest over the age of 12 years old. This fee is not inclusive in the tour price and will be paid directly upon arrival at the Park. Price is subject to change without notice.
Special Instructions:
Choose from the following tour times:
Pick-up from Waikiki at 7:15 AM and departure at Hanauma Bay at 12:00 PM.

Pick-up from Waikiki at 8:45 AM and departure at Hanauma Bay at 1:30 PM.

Pick-up from Waikiki at 10:15 AM and departure at Hanauma Bay at 3:00 PM.
The drive from Waikiki to Hanauma Bay takes approximately 25 minutes. Upon arrival at the Hanauma Bay Park, you may have to wait for your turn before entry into the park proper, as the management allows only a certain number of people at a time.

For groups of 8 people and above, please be informed that only 8 people can be transferred to the Park at a time. Some will then have to wait outside the gates before being allowed entry.

Lockers are available for storage of heavy, bulky items. Small lockers and large lockers are both for rent, with prices varying depending on the locker size.

This tour operates daily except on Tuesdays.

Tour duration is approximately 4 hours.