Nothing compares to spending a fine Hawaiian day while enjoying many unique land and water activities in one tour!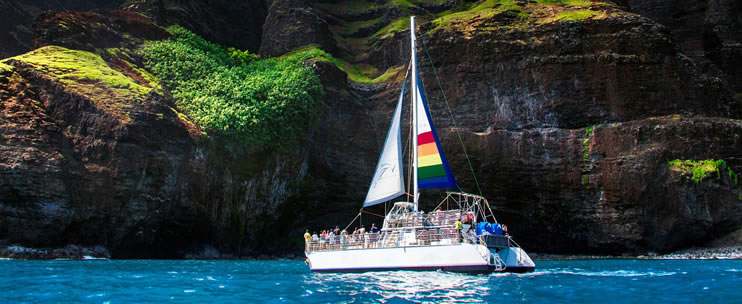 Book your tickets now and hop in the North Shore Beach Bus, bringing you a perfect tour combo – the Hanauma Bay and North Shore Beach Tour.
Are you headed to the land of Aloha? Or perhaps you travelled so far just to relax in a paradise? If this is your first time on the island and looking for some genuine fun, we definitely have some for you! If this is your second, third or tenth time coming here because you can't resist the beauty of Hawaii, we are sure you would love to try this activity, too!
To get the best of Oahu, you will be visiting two of the world's most beautiful seas: the Hanauma Bay and the North Shore Beach, along with other spots. North Shore Beach is famous for many water activities such as snorkeling, surfing, scuba diving, shark cage diving, and dolphin tours. You will see why when you get there, as it will be your first destination in this tour. After you leave the busy streets of Waikiki, get intimate with nature as you head straight to the middle of the island towards the North Shore.
Here, you are allowed to swim, body board, or simply relax without too many people around. Right after, you will stop for an hour at Waimea Bay, one of the filming locations of the TV series "Lost." During the winter season, the bravest and most skilled surfers dare to challenge their skills in this bay's towering 30-foot waves. In summer, the water gets more generous and becomes calm to allow snorkeling and diving enthusiasts to experience its beauty. Your next destination is the Banzai Pipeline, another filming site of a surfing movie called "Blue Crush." You can relax, watch, and take pictures here for an hour before feasting on your lunch.
After lunch, North Shore Beach Bus maneuvers back to Waikiki, where you will have a 30-minute stop at the world-famous Dole Pineapple Plantation. When you go inside, make sure to taste their mouthwatering "Dole Whip" pineapple ice cream. It is included in your package anyway. Also, take advantage of your short visit here, and walk around their awe-inspiring garden filled with many varieties of pineapple plants. If you are curious about the history and growth of pineapple in Hawaii, you can read it here, too.
Continuing your exploration, you will go back down to the center of the island, crossing the other side via the H3 freeway in order to witness the beauty of the back portion of Oahu: along the Kailua and Kane'ohe towns. Enjoy the stunning views of the small town of Waimanalo as you pass by towards your snorkeling destination – the Hanauma Bay State Park. Before returning back to the city between 4 to 5 pm, savor two hours of snorkeling at the crystal clear waters, getting closer to the vibrant and gorgeous coral reefs – home to the most colorful and beautiful tropical fish in the world.
TOUR HIGHLIGHTS
20-30 minute-stop at Banzai Pipeline Beach 

45-60 minutes of stay at the Waimea Bay 

Stop at Turtle Beach (if time permits)

30-minute tour at the Dole Pineapple Plantation

90 minutes of snorkeling at the Hanauma Bay
TOUR INCLUSIONS
Transportation from and to Waikiki

Knowledgeable and professional tour guides

Pineapple Ice Cream at Dole Pineapple Plantation

Snorkel gear at Hanauma Bay is provided, including mask, fins and snorkel. You have to pay for your admission fee at the Hanauma Bay ($7.50).
TSUE FARMS LUNCH MENU (Not included in your tour price)
Garlic and Butter Shrimp $15

Coconut Shrimp $15

Spicy Shrimp $15

Teriyaki Chicken $15

Kalua Pork w/ Cabbage $15

Noodles and Veggie Stir Fry $12

Fresh Green Garden Salad $6

Tuna Sandwich (for kids) $4

Peanut Butter and Jelly Sandwich (for kids) $3

Chips $1

Drinks $1
ADDITIONAL INSTRUCTIONS
Pick up time (major Waikiki hotels):

7:30 am (exact time and locations will be provided in your voucher)
Return to Waikiki: 4:30 pm
Restrictions:

All ages are allowed in this tour and all guests must watch a 9-minute safety video.

Operations:

Daily
Duration: 9 hours