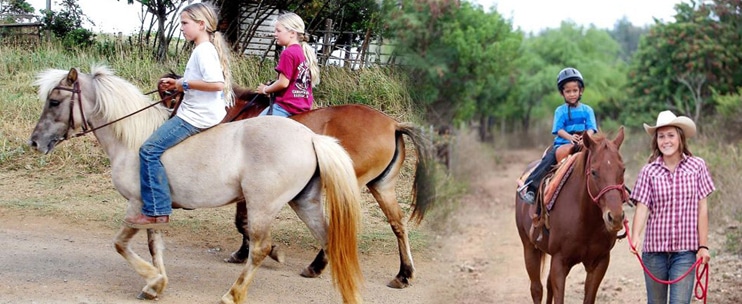 Gunstock Ranch is a 400 acre working ranch located near Turtle Bay on Oahu's North Shore at the base of the beautiful Ko'olau Mountain Range. The Ranch offers a variety of horseback riding tours, as well as pony rides for kids that allow a young child the opportunity to ride a horse in a safe and controlled setting. This "horse experience" is ideal for children between the ages of 2-7 years old. Older children or even adults are welcome to enjoy one of these experiences too if they want to ride a horse alongside their child. Children may pet and brush their horse before they are put in the saddle and taken on a 20-minute walk out on the ranch. Parents can walk along to take pictures.
Special Instructions
Where and When:
Ride times: 9:30 am and 12:15 pm. Other ride times available by request.
Check in 30 minutes prior to scheduled ride time.
Gunstock Ranch is located at 56-250 Kamehameha Hwy, Kahuku, HI 96731. View Map
Restrictions:
Children must be at least 2 years old.
During COVID Measures
If the answer is yes to any of the following questions, we kindly ask you to reschedule or cancel your reservation for the safety of everyone involved:
Are you experiencing a cough, shortness of breath, or sore throat?
Have you experienced a fever in the last 48 hours?
You will be required to wear a mask during check-in, mounting, and unmounting. If needed masks are available for purchase on site. Only during the tour will masks be allowed to be removed so guests can hear/be heard by the guide.
CDC guidelines for social distancing will be followed.
During check-in you will be assigned a picnic table private to your party. Please wait there until you are called to mount your horse.
Special Notes
During COVID Measures:
Staff will have temperatures taken at the beginning of each shift. Staff has been instructed to stay home if experiencing any COVID like symptoms.
Staff will wear masks & gloves during check in, loading guests, when guests need help from staff, and unloading.
Staff will only take guest photos from their phones.
Tack is sanitized between rides.
Reins and helmets are sanitized before and after each use.
Operation Days:
Available daily except Sundays and major holidays.
Duration:
30 minutes
Capacity:
private tour groups
ALL FEES INCLUDED
Operates daily
If booking Friday night, please call for availability.
Reception Plans require 24 hours notice to book.
Please see our Holiday Cruises for Valentines, Easter, Father's Day, July 4th, & New Year's Eve.
Special Instruction
Special Instructions not available