An hour is certainly not enough to take in the beauty of Oahu Island.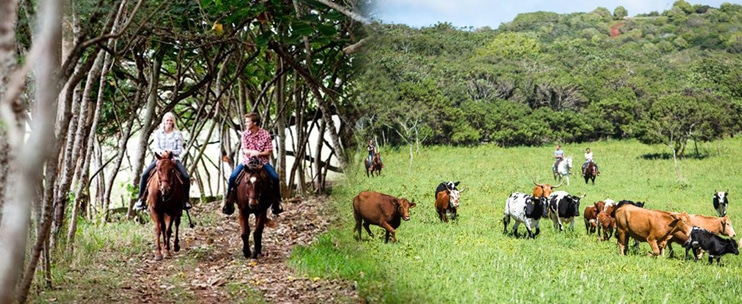 However, you can choose to spend an hour of your vacation in Oahu by exploring a different side of the Island from an exciting new perspective–through a scenic horseback riding adventure, that is! Come and join Gunstock Ranch's Scenic Horseback Ride, and have an hour of thrill, amazement, and experience you will happily look back on! 
Situated on Oahu's North Shore, Gunstock Ranch is a renowned tour company on Oahu that offers an authentic Hawaiian experience far from the big crowds gathering by the waters, and instead closer to the Island's beautiful mountain scenes.
Its tours aim to emphasize that while Oahu, indeed, has lovely beaches, it is also home to picturesque mountainscapes that you should also explore and not miss out on during your trip! Gunstock Ranch offers a fun way to discover these views, and that is to go on an exciting horseback riding adventure. Don't worry about having no experience in riding before, as Gunstock Ranch's Scenic Horseback Ride is a walk-only ride, so it is guaranteed fun and safe even for those who have never gone horseback riding previously. It will be led by a friendly and well-experienced tour guide, which, again, guarantees that first-timers, and experienced riders even, are secure and guarded throughout the duration of the excursion. Go ahead and bring the kids, the elders, the entire family, because with Gunstock Ranch, you are in good hands!
Gunstock Ranch's Scenic Horseback Ride will take you through lovely pastures and mountain trails, overlooking Oahu's North Shore, its crystal clear waters and white sandy beaches. Trust us, the panoramic views from the mountain are a wonderful sight to behold and a remarkable way to appreciate Oahu's seascapes! Apart from these sights from afar, the scenes within reach are also just as exciting. By the horseback riding trails, prepare to see lush greenery and even some grazing cattles–the usual sights in the countryside, but perhaps not so usual in Hawaii. You will also get a sneak peek of the Hidden Cave, another Oahu treasure featured in the movie Hawaii Five-O! Gunstock Ranch's Scenic Horseback Ride definitely offers a unique sightseeing experience, something possibly you never imagined to have in The Aloha State. It may be far different from the notion of a tropical paradise, but it certainly is an equally wonderful experience nonetheless!
As earlier noted, Gunstock Ranch's Scenic Horseback Ride is a walk-only ride, which means that trotting or cantering will not be allowed, and will remain reserved for the advanced trails. This being so, Gunstock Ranch's Scenic Horseback Ride is just a steady, relaxed horseback riding adventure, ideal for all skill levels. In fact, Gunstock Ranch's Scenic Horseback Ride accommodates children riders as young as 7 years old! Thus, if you're looking for a fun family bonding activity, perhaps one that is relaxing and far from the typical, Gunstock Ranch's Scenic Horseback Ride is your best bet.
This one-hour excursion is something you will never regret booking, especially with all the sights you get to encounter as you ride your way into the Ko'olau Mountain Range. Don't pass up on this unique sightseeing opportunity! Reserve your slots now to the Gunstock Ranch's Scenic Horseback Ride!
Gunstock Ranch's 1-Hour Scenic Horseback Ride Special Instructions
Check in at Gunstock Ranch, located at 56-250 Kamehameha Hwy, Kahuku, HI.

Check in 30 minutes prior to your scheduled ride time.

This tour is available daily except Sundays and major holidays. Choose from the following tour times:

9:00 AM

11:00 AM

2:00 PM

5:00 PM

Riders must at least be 7 years old, and must not be more than 240 lbs.

Riders aged 7 to 17 years old must be signed for by their parents or guardians.

Pregnant women are not allowed to ride.

All riders must abide by the trail guide instructions, and as well as the guidelines on horse care and handling.

This tour requires a minimum of two riders to book. If there is only one guest, you may be contacted to reschedule, or you may choose to pay an additional fee to make it a private tour.

Make sure to pack lightly, as there are no lockers or storage for your valuables. As much as possible, bring only those that can fit your pocket and small bag.

Tour will push through, rain or shine. In the event that

Gunstock Ranch

cancels the tour due to unsafe conditions, a full refund will be issued.