Hawaii, as most of us imagine, is a tropical paradise of pristine waters, white and golden sandy beaches, and vibrant sunsets.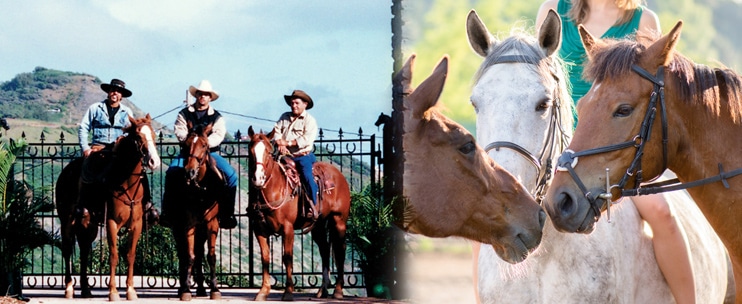 While this image is very much accurate, what we fail to realize is that Hawaii, or Oahu in particular, is also home to a beautiful countryside of lush greenery, forest trails, and wide open pastures. The Hawaiian countryside is just as relaxing as the ocean views, and what better way to explore than through an exciting horseback riding experience! Lika a true paniolo (the local name for a Hawaiian cowboy), come and join Gunstock Ranch for a 1.5 hour of scenic horseback riding adventure!
Gunstock Ranch, located on Oahu's North Shore, is an esteemed tour company that offers an authentic Hawaiian experience far from the big crowds gathering by the waters, and instead closer to the Island's relaxing countryside.
 Its tours aim to emphasize that while Oahu, indeed, has lovely beaches, it is also home to picturesque mountainscapes that you should also explore and not miss out on during your trip! Gunstock Ranch's 1.5 Hour Scenic Horseback Ride is a great way to experience this other side of Oahu. You and your horse will travel through shady forest trails and hike across wide open pastures, giving you a glimpse of Oahu's countryside–perhaps not as popular as its seascapes, but actually just as relaxing and breathtaking.
As Gunstock Ranch's 1.5 Hour Scenic Horseback Ride offers an exciting change of scenery, this horseback riding experience also lets riders spot some cattle grazing on grassland, island birds soaring in the air, and possibly a family of wild pigs roaming freely in the wood–things you don't get to see when you hang out at Oahu's usual spots by the beach. This is not to say, however, that going on this riding adventure completely detaches you from the ocean. In fact, the grand finale of Gunstock Ranch's 1.5 Hour Scenic Horseback Ride is the lookout over the stunning coastline of Oahu's North Shore and the peaceful town of Laie, perfectly nestled on the edge of the sea. This is a great spot to take photos, relax, and just marvel in awe at the panoramic views of the ocean and the lush greenery around you. Truly, an ending to an exciting horseback riding experience cannot get any more perfect than this!
Gunstock Ranch's 1.5 Hour Scenic Horseback Ride is a walk-only ride, which means that trotting or cantering will not be allowed, and will remain reserved for the advanced trails. This is then just a steady and relaxed horseback riding adventure, ideal for all skill levels. In fact, children riders as young as 7 years old are more than welcome! Thus, if you're looking for a fun family bonding activity where everyone is welcome and sure to have fun, Gunstock Ranch's 1.5 Hour Scenic Horseback Ride is the best option.
Gunstock Ranch's 1.5 Hour Scenic Horseback Ride is surely worth every penny, and will no doubt be the best 90 minutes of your vacation on the island. Go and book your slots now!
Gunstock Ranch's 1.5-Hour Scenic Horseback Ride Special Instructions:
Check in at Gunstock Ranch, located at 56-250 Kamehameha Hwy, Kahuku, HI.

Check in 30 minutes prior to your scheduled ride time. Each rider must also attend a 15-minute safety briefing before the tour.

This tour is available daily except Sundays and major holidays. Choose from the following tour times:

9:00 AM

10:30 AM

3:00 PM

For the 9:00 AM tours, transportation to Gunstock Ranch from Waikiki will only be available on Wednesdays and Thursdays. Pick-up points are at select Waikiki hotel locations. Exact pick-up time will be sent along with the confirmation email.

Riders must at least be 7 years old, and must not be more than 240 lbs.

Riders aged 7 to 17 years old must be signed for by their parents or guardians.

Pregnant women are not allowed to ride.

All riders must abide by the trail guide instructions, and as well as the guidelines on horse care and handling.

This tour requires a minimum of two riders to book. If there is only one guest, you may be contacted to reschedule, or you may choose to pay an additional fee to make it a private tour.

Make sure to pack lightly, as there are no lockers or storage for your valuables. As much as possible, bring only those that can fit your pocket and small bag.

Tour will push through, rain or shine. In the event that

Gunstock Ranch

cancels the tour due to unsafe conditions, a full refund will be issued.