So, you purchased all your equipment, and you wanted to learn surfing, but you don't know how to start.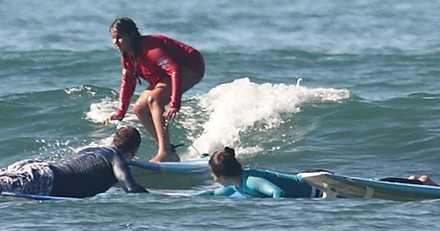 Maybe what's missing is motivation. We are right, aren't we? Then try group surf lessons. Sometimes, all you need is the motivation to get out in the water. 
Both one-on-one and group lessons in surfing have benefits. While the first is desirable for children and beginners for a customized lesson and undivided attention from the surf instructor, the latter is preferred for more fun and motivation it provides. Plus, you and your family or group of friends take this opportunity to bond and support each other. Or perhaps if you're alone, they find you some company with other people from all over the globe, who have the same surfing mindset and goals.
At Manawale'a Surf School, they understand each student's needs. That is why their knowledgeable and skilled surf instructors designed unique teaching strategies that target your difficulties, which are also based on personal experiences. On top of this, they make sure that the number of learners per group is enough to take care of your safety, and at the same time, teach you well on how to surf and able to confidently let you get out in the water on your board.
Founded by a passionate and expert surfer, Manawale'a Surf School specializes in Surfing and Stand Up Paddle Surfing. You might have already heard the differences between the two. However, if you are still confused, surfing uses a surfer's body (hands) to paddle, while SUP surfing utilizes a paddle to move in the water. You might again ask, "which one is better?" Well, depending on your skills, needs, and surfing goals, both are designed for different reasons. So, scroll down to see what's in store for you at Manawale'a Surf School.
What to Expect?
Like their private lessons, group lessons are held at Waikiki beach, where you can also watch the stunning seascape. Lessons start from 7:00 AM to 5:00 PM, so make sure to arrive there with your equipment at least 15 minutes earlier than your booked schedule. They could supply beginners' equipment if you didn't bring any.
Before starting your group lesson, your knowledgeable and friendly surf instructor shortly explains the safety measures and essential information about surfing and SUP surfing, including the proper care and usage of your equipment. By the way, all group surf lessons only cater to 7 years old and up due to safety reasons. For your younger kids, you may opt for the private lesson.
The best thing about their instructors is that they explain the dynamics clearly, and demonstrate right away. After that, they let you do it and support you all the time while looking after your safety. They are more than happy to repeat instructions, as well as answer your questions. They teach you both surfing and SUP surfing. With Manawale'a, there's not a lot of talking. Instead, they let you apply instructions, of course, with their hands-on guidance.
Initially, your teacher finds the perfect spot as a starter. He will look for smaller waves, especially if you are all beginners. In case you don't know, SUP surfing is more accessible than surfing, and small waves are enough to feel the thrill, compared to the latter. However, it needs a step-by-step guide so you can finally ride on your board correctly.
The first step would be catching a backside wave, which should not be difficult. So, your teacher demonstrates first and then let you and the group glide down to the shore and let the waves carry you away. As versatile as he is, he ensures everybody's safety, while checking you and the other members one by one if you did it right. The lesson continues, finishing it until you can ride on your first wave.
Just remember that when paddling forward, keep your bottom arm straight and still. Pull your upper arm towards your body to allow the paddle to extend forward. And then rotate your top shoulder forward, extending your reach. Insert the paddle into the water forward (as far as you can) and then bury the paddle into the water. It's best to pull your paddle past it, rather than to pull through the water. Ultimately, never forget to always change your arms' position when switching sides while paddling.
Choosing a SUP Surfing Board
For those who haven't purchased their boards yet, these tips may help you when buying. When choosing a board, there are many factors you have to consider. It's significant to ask yourself, what is your skill level, where you are surfing, and how are you going to use it. Not to mention, its physical characteristics, like the weight, length, capacity, overall size, and of course the price. Hull types are said to be the most popular ones, especially for beginners and intermediate. It has two types, which are planing hulls and displacement hulls. 
Planing hulls are an excellent choice for fun paddling, surfing, whitewater, and SUP yoga for their flat and wide attributes. On the other hand, displacement hulls are a better choice for fitness paddling, racing and SUP touring for their pointed nose.
WHAT TO BRING AND WEAR:
Surfing equipment 

Swimming suit

Sunscreen cream or lotions

Shorts and Tops for surfing

Changing clothes

Swimming goggles (especially for people wearing contact lenses for protection)

Spectacles straps

Flip Flops or sandals

Towels when you shower and basic toiletries
Rates
Person (Ages 7+): $80
Duration
One Hour
About
Best deal! Learn with your family/friends or if you alone we'll put a group together for you.
A great way to make new friends.
Ages 4-6 Years Old are not allowed in Group Lessons due to our safety standards, please book Private Lesson