Spend a remarkable evening exactly where ancient Maui's royal family would feast and entertain their guests!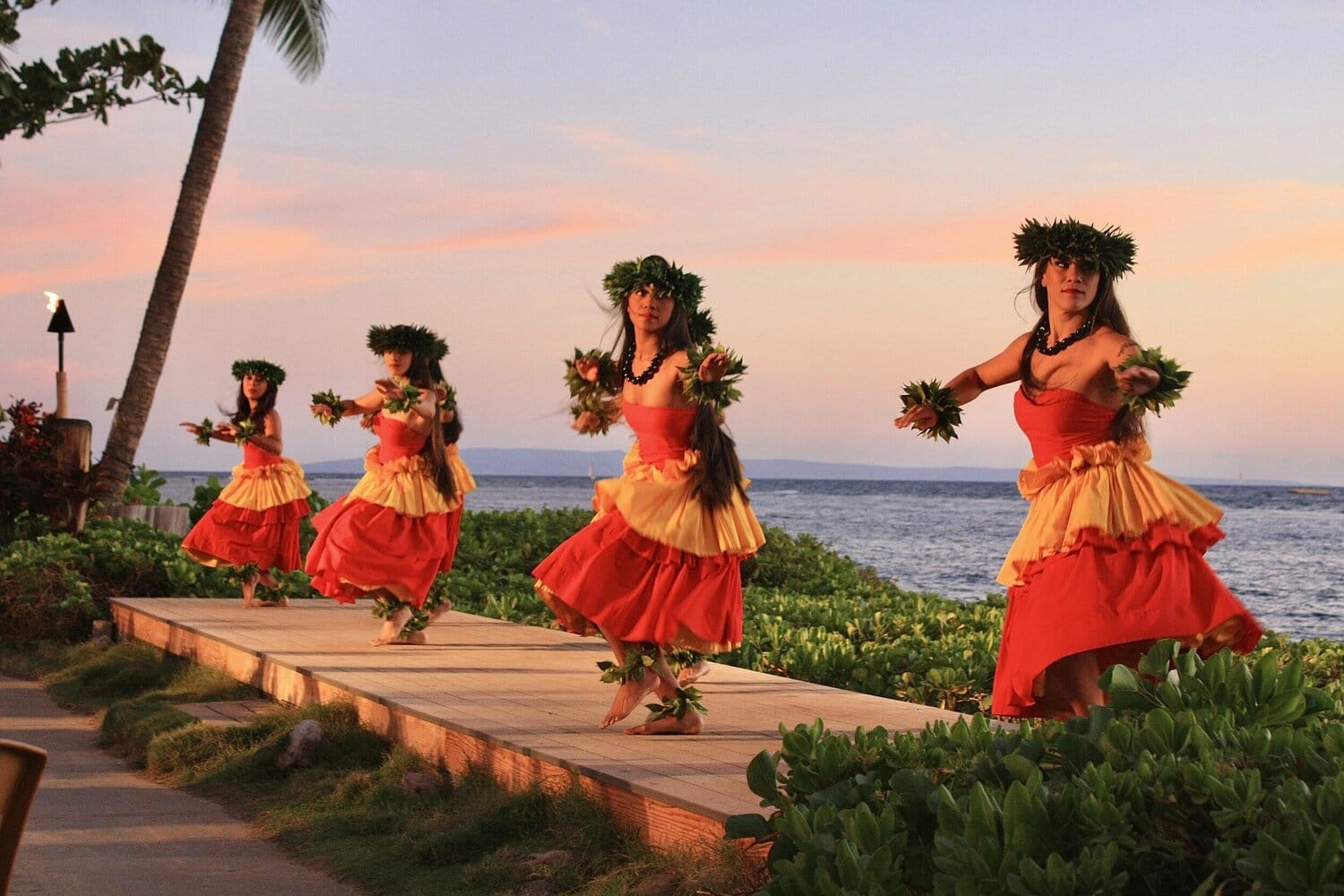 Forget everything for a while and travel back to the past through traditional Polynesian music, dance, and cuisines while enjoying panoramic views of the beach as you sip your favorite cocktail. 
Taking place right on the beach off the main street of Lahaina every night, Feast at Lele Luau treats you with authentic Polynesian entertainment, featuring four exotic Pacific islands, including Hawaii, Samoa, Tahiti, and New Zealand. Here's a little trivia for you: Lele is the ancient name of Lahaina, the most populated place in Maui known for its long history and the so-called gateway to the majestic Kapalua and Kaanapali beach resorts.  As soon as you arrive, some friendly staff in their colorful Polynesian outfit will meet you with fresh flowers lei greeting, and a welcome Mai Tai from the open bar. You can also order extra drinks, including cocktails, beer, wines, and spirits.
To get you into a real ancient Polynesian vibe, traditional music will be played in the background while enjoying the scenic West Maui sunset. Notice the intimate table setting with a candlelit and crisp white table cloth. When it's time for dinner, the first Hawaiian course will be served, including Poi, imu-roasted Kalua Pua'a or pig, fresh fish, and some others. While you are feasting on your Hawaiian dishes, Hawaiian locals will entertain you with oli (chant), mele (song), and hula (dance), honoring the beautiful land of Hawaii ('aina), as well as its royalty (ali'i).
After which, the second course, which is the Aotearoa, New Zealand-inspired cuisine, will be served while performers from the place will mesmerize you with their unique presentation. Also known as present-day New Zealand or the Land of the Long White Cloud, Aotearoa was home to Maori people who travelled from some of the most remote land masses in the world. It is believed that they have migrated from the Marquesas, Cook, and Society Islands. You can see that the dancers have facial tattoos or moko, which symbolize a person's genealogy and personal identity. They will perform a war dance called Haka that was used in the past to intimidate their enemies. In addition, you will see them do an exciting dance using Poi balls, imitating the actions and rhythms in nature.
The next course is a Tahitian-inspired menu, including chicken wrapped in a taro leaf and baked scallops, while Tahitian performers will entertain you with their traditional dance. Watch their hips sensually swing to the pulsing rhythm of the ancient drums. Tahiti is no doubt a land of romance and intrigue that captures the imagination. With the verdant majesty of its lush mountains that rise out of the mist to the startling clarity of its coral lagoons, Tahiti is the tropical image of Polynesia.
Before indulging in your delightful dessert, allow the Samoan dancers to entice you with their performance of the famous and thrilling Samoan fire-knife dance. Hold onto your seats as they literally set the stage on fire while twirling their weapon, displaying some acrobatic tricks at an unimaginable speed. Also called the "cradle of Polynesia," Samoa boasts lush jungle-shrouded islands home to nature.
Luau Highlights
Majestic beachfront location with the beautiful sunset

Three-hour luau

Learn about Polynesian culture and music

Traditional Polynesian cuisine

Fresh flower lei greeting upon arrival

Welcome Mai Tai drink
Luau Menu
POLYNESIAN STAPLES: Banana and Sweet Potato Chips served with Tropical Ginger and Ogo Seaweed Salsa
FIRST COURSE FROM HAWAII
Imu Roasted Kalua Pua'a: Pork Seasoned with Hawaiian Salt, cooked in an underground oven, shredded and served on Steamed Cabbage

Pohole Fern Shoots & Heart of Palm Salad tossed in a light Vinaigrette Dressing

Seared I'a: Fresh Fish with Mango Sauce & Fruit Salsa

Poi
2ND COURSE FROM AOTEAROA, NEW ZEALAND
Rakiraki Salad: Duck Tenderloin, Kula Greens, Bean Sprouts & Carrot with Poha Berry Dressing

Miti Hangi: Hangi cooked Steak in Kiwi Fruit, Soy and Ginger

Harore Kumara: Roasted Mushrooms, Sweet Potato & Onion, sautéed in Soy and Garlic
3RD COURSE FROM TAHITI
Fafa: Chicken wrapped in Taro Leaf, steamed in Coconut Milk, Lemongrass & Ginger

E-iaota (Poisson Cru): Raw Fish marinated in Lime Juice & Coconut Milk with Tomatoes, Carrots, Onions, Cucumber & Cilantro

Baked Scallops: Scallops with Sweet Potato & Spinach in Lobster Cream topped with Bread Crumbs
4TH COURSE FROM SAMOA
Palusami: Braised coconut cream corned beef w/baked ulu wrapped in young taro leaf

Stew Figota: Fresh island fish/mussels, calamari, clam, and shrimp stew

Third Samoa Menu: Chef's special creation, specials change daily
5TH COURSE DESSERTS
Carmel Mac Nut Tart topped with Haupia (Coconut Pudding)

Hawaiian Chocolate Truffles

Fresh Exotic Tropical Fruits
*Note: Feast at Lele Luau reserves the right to make substitutions without notice, as some produce is seasonal. Fish selections change daily depending on what is caught fresh that day.
Special Instructions
Check-in Location and Time:

Located oceanfront at 505 Front Street in Lahaina

View Map

(2 blocks south of Lahaina Harbor)
➤Summer schedule (April 1-September 30): 6:00 pm to 9:00 pm
➤Winter schedule (October 1-March 31): 5:30 pm to 8:30 pm
*Note: Times are subject to change.
Restrictions:

There are no specific restrictions for this activity. Please contact us if anyone in your party has special needs.
COVID: 
➤Any cancellations due to COVID-19 related reasons will be assessed on a case-by-case basis.
➤Due to COVID-19, certain inclusions, meal options, and capacities may be changed to adhere to local mandates and current safety & health guidelines.
Special Notes:

Includes full open bar and/or wine pairings.
➤Infant pricing (children under 2) do not get their own plate and must sit in an adult's lap. If you would like a seat and plate for children under 2, you will need to book children (2-12) pricing.
➤If booking a party of 10 or more, gratuity will be required prior to luau date. You will be provided the phone number to the luau to make payment as Hawaii Discount does not collect this amount.
Operations:

Opens daily, except on Christmas (December 24th and 25th)

Duration:

3 hours
Capacity: 250 guests