Are you interested in exploring the rich history and culture of Hawaii? If so, you won't want to miss the chance to visit Bishop Museum, the largest museum in Hawaii. This incredible museum houses the world's largest collection of Polynesian cultural artifacts and natural history specimens. From the evolution of the Hawaiian Islands to Polynesian navigation and even the challenging of scientific racism, you'll find a wealth of fascinating exhibits to explore. In this article, we'll dive into more detail about what you can expect to see at the museum and how you can make the most of your visit.
Located at 1525 Bernice Street in Honolulu, Bishop Museum offers a self-guided tour with general admission, allowing you access to all of its exhibits and the planetarium. Whether you choose to take the Waikiki Trolley's Historic Honolulu Purple Line or the Honolulu city bus, transportation options are easily accessible. Good news for those with mobility concerns – the museum is wheelchair accessible. And if you're driving, parking is available for just $5.00 per car.
Now that you know the basics, let's dive into the incredible experiences that await you at Bishop Museum. The exhibits cover a wide range of topics, including the history of the Hawaiian Islands, Polynesian navigation techniques, the significance of surfing in Hawaii, and even the important work of challenging scientific racism in the region. With such a diverse and enlightening selection, you'll leave the museum with a deeper understanding and appreciation for the rich heritage of the Hawaiian Islands.
At CheapHawaiian Activities and Tours, we're proud to offer you the best experience in Hawaii. Our commitment to Unbeatable Value, extensive selection, experienced guides, and customer satisfaction sets us apart from the rest. We believe in providing intimate, personalized tours that allow you to fully immerse yourself in the beauty and culture of Hawaii. With our locally-rooted knowledge and eco-friendly practices, you can trust that your experience with us will be unforgettable. Book your dream vacation with CheapHawaiian Activities and Tours and discover why we're the best tour provider in Hawaii!
Explore the Largest Museum in Hawaii at Bishop Museum
Bishop Museum is the largest museum in Hawaii, featuring the world's largest collection of Polynesian cultural artifacts and natural history specimens. As you step into the museum, you embark on a journey through time, immersing yourself in the rich history and vibrant culture of Hawaii. With its vast collection and compelling exhibits, the Bishop Museum offers a truly unforgettable experience that will leave you with a deeper appreciation for the islands.
Self-Guided Tour and General Admission
Upon entering the Bishop Museum, you have the option to embark on a self-guided tour. With general admission, you have access to all exhibits, allowing you to explore at your own pace and delve into the topics that interest you the most. From the moment you step inside, you'll be captivated by the beauty and diversity of the artifacts on display.
In addition to the exhibits, a visit to the planetarium is a must. Sit back and relax as you are transported to the depths of outer space, learning about the wonders of the universe through captivating visuals and informative narration. The planetarium shows provide a unique and immersive experience that is both educational and entertaining.
Exhibits Covering Various Topics
The exhibits at the Bishop Museum cover a wide range of topics, offering something for everyone. Whether you're interested in the geological history of the Hawaiian Islands, the traditional art of Polynesian navigation, or the significance of surfing in Hawaiian culture, you'll find it all here.
One of the museum's highlights is the exhibit on the evolution of the Hawaiian Islands. Learn about the volcanic origins of the islands and how they have transformed over millions of years. Discover the diverse ecosystems that make Hawaii a unique and unparalleled destination for nature lovers.
The Polynesian navigation exhibit provides fascinating insights into the ancient art of wayfinding. Explore the skills and techniques used by Polynesian voyagers to navigate the vast Pacific Ocean and discover new lands. Marvel at the intricacy of their knowledge and the precision of their navigation methods.
Surfing, a beloved pastime in Hawaii, is celebrated in a dedicated exhibit. Learn about the history and cultural significance of surfing in the islands, from its ancient roots to its modern-day popularity. Discover how surfing has become an integral part of Hawaii's identity and why it continues to captivate people from all around the world.
The Bishop Museum also delves into the challenging topic of scientific racism in Hawaii. Explore the impact of these theories on the islands' indigenous population and learn about the efforts made to challenge and dismantle discrimination. Gain a deeper understanding of the complexities of Hawaii's history and the resilience of its people.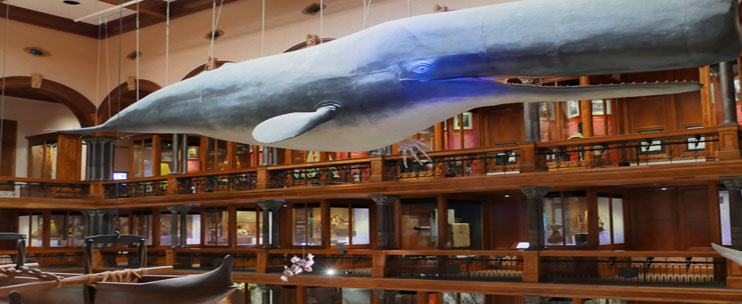 Location and Transportation
Located at 1525 Bernice Street in Honolulu, the Bishop Museum is easily accessible from various parts of the city. If you're staying in Waikiki, the Waikiki Trolley's Historic Honolulu Purple Line provides convenient transportation directly to the museum. Hop aboard and enjoy a scenic ride while learning about the historical landmarks along the way. Another option is the Honolulu city bus, which offers affordable transportation to the museum.
Accessibility and Parking
The Bishop Museum is committed to providing an inclusive and accessible experience for all visitors. The museum is wheelchair accessible, ensuring that everyone can navigate through the exhibits with ease. Additionally, ample parking is available for a fee of $5.00 per car, making it convenient for those traveling by private vehicle.
Admission Prices
Admission prices to the Bishop Museum vary based on age. Children aged 4-12 can enjoy all the museum has to offer for just $14.26, while adults aged 13-64 can experience the wonders of the museum for $20.99. Whether you're visiting with your family or exploring as an individual, the Bishop Museum offers an affordable and enriching experience.
Why Choose CheapHawaiian Activities and Tours?
At CheapHawaiian Activities and Tours, we are dedicated to providing exceptional value and a wide selection of experiences that cater to all interests. We understand that a trip to Hawaii is a dream come true for many, and we strive to make it a reality for everyone. Here's what sets us apart:
Unbeatable Value: We believe that everyone should have the opportunity to explore the beauty of Hawaii without breaking the bank. That's why we offer competitive prices without compromising on the quality of our services.
Extensive Selection: Whether you're seeking thrilling adventures, cultural explorations, or serene escapes, we've got you covered. Our diverse range of activities and tours caters to all interests and preferences, ensuring that there's something for everyone.
Experienced Guides: Our team of knowledgeable and friendly guides are passionate about Hawaii and eager to share their expertise with you. They go the extra mile to ensure you have a truly enriching and insightful experience, providing you with fascinating insights and stories about the islands.
Small Group Advantage: We believe in providing an intimate and personalized experience for our guests. By keeping our tour groups small, we ensure that you receive individual attention and have the opportunity to make new friends along the way. Our small group tours also allow for flexibility and customization, ensuring that your experience is tailored to your preferences.
Customer Satisfaction: Your satisfaction is our top priority. We continually strive to exceed your expectations and ensure that your time with us is nothing short of remarkable. We take pride in providing exceptional customer service and creating unforgettable memories for our guests.
Safety First: Your safety is paramount to us. We adhere to strict safety standards and guidelines to guarantee a worry-free and secure journey for you and your loved ones. Our experienced guides are trained in first aid and are prepared to handle any situation that may arise.
Local Insights: As a locally-rooted tour provider, we have an in-depth understanding of Hawaii's rich culture, history, and hidden gems. We take pride in showcasing the best of the islands, off the beaten path. Our knowledgeable guides provide local insights and recommendations, ensuring that you have an authentic and immersive experience.
Eco-Friendly Practices: We are committed to preserving the natural beauty of Hawaii for generations to come. Our tours are designed with eco-friendly practices in mind, minimizing our environmental impact. We strive to leave a positive footprint, ensuring that Hawaii's pristine landscapes are preserved for future generations to appreciate.
Join us for an Unparalleled Adventure in Paradise
Whether you're a solo traveler, a couple, or a family, CheapHawaiian Activities and Tours invites you to join us for an unparalleled adventure in paradise. Immerse yourself in the beauty of Hawaii's landscapes, experience the warmth of its people, and create memories that will last a lifetime. Book your dream vacation with us and discover why we are the best tour provider in Hawaii!