Are you ready for a breathtaking adventure over Oahu's South Shore? Picture yourself soaring above the pristine beaches, lush rainforests, and iconic landmarks of Hawaii's most vibrant island. At Rainbow Helicopters, we offer a 30-minute helicopter tour that will take you on an unforgettable journey through the beauty of Oahu. Departing from Honolulu International Airport, you'll be treated to aerial views of downtown Honolulu, Waikiki Beach, Diamond Head, and Hanauma Bay. But that's not all – the tour continues along the windward coast, passing by Lanikai Beach and Mt. Olomana, before flying through the Nu'uanu Pali cliffs and ending with a tour over Pearl Harbor. It's a panoramic adventure you don't want to miss!
What sets Rainbow Helicopters apart from the rest? Well, we give you the option to fly with doors on or doors off, allowing you to fully immerse yourself in the experience. Our fleet of helicopters, including the Airbus AStar and Robinson R44, are piloted by experienced and knowledgeable professionals who go above and beyond to ensure your safety and satisfaction. We operate daily with multiple departure times, so you can choose the time that suits you best. Plus, we offer secure online booking with a low price guarantee, so you can easily reserve your spot without the hassle.
Experience the beauty of Oahu from a whole new perspective with Rainbow Helicopters. Get ready to create memories that will last a lifetime as you witness the stunning landscapes and breathtaking views of Hawaii's South Shore. Book your tour now and get ready for an adventure like no other!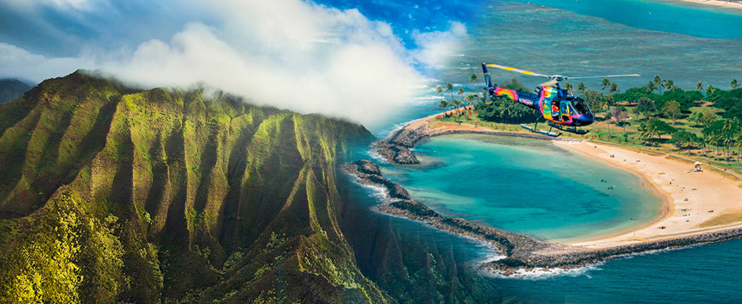 Explore Oahu's South Shore on a 30-Minute Rainbow Helicopter Tour
Rainbow Helicopters offers a 30-minute helicopter tour of Oahu's south shore, providing a unique and thrilling way to experience the beauty of the island. Departing from Honolulu International Airport, this exhilarating tour takes you on a scenic adventure over some of Oahu's most iconic landmarks.
From the moment you take off, you'll be treated to breathtaking aerial views of downtown Honolulu, where you can admire the bustling cityscape and its vibrant energy. As you soar higher, you'll witness the sparkling waters of Waikiki Beach, with its golden sand and palm-lined shores, stretching out before you.
One of the highlights of the tour is getting an up-close look at the majestic Diamond Head, a volcanic tuff cone that has become an iconic symbol of Hawaii. Its impressive size and unique shape are best appreciated from the sky, where you can truly grasp its grandeur.
Continuing along the windward coast, you'll have the opportunity to admire Lanikai Beach, renowned for its powdery white sand and turquoise waters. The sight of this pristine beach from above is truly awe-inspiring and will leave you longing for a day spent basking in the sun.
As the helicopter passes by Mt. Olomana, a set of three peaks that dominate the landscape, you'll be struck by their sheer beauty and the sense of serenity they evoke. The lush greenery surrounding the mountains creates a picturesque scene that is a feast for the eyes.
The tour then takes you through the legendary Nu'uanu Pali cliffs, where you'll marvel at the dramatic cliffs and lush rainforests. This area is steeped in history and offers a glimpse into the rich cultural heritage of Hawaii. As you fly through this magnificent landscape, you'll feel a sense of connection to the land and its people.
The tour concludes with a visit to Pearl Harbor, a place of great historical significance. From the helicopter, you'll be able to appreciate the magnitude of the USS Arizona Memorial and pay tribute to the fallen heroes of World War II. This somber yet incredibly important stop on the tour serves as a reminder of the sacrifices made by those who fought for freedom.
One of the unique features of the Rainbow Helicopter tour is the option to fly with doors on or doors off. Whether you prefer the security of enclosed doors or the exhilaration of feeling the wind in your hair, this choice allows you to tailor your experience to your comfort level.
Rainbow Helicopters operates daily with multiple departure times, making it easy to fit this unforgettable adventure into your schedule. The fleet consists of the Airbus AStar and Robinson R44 helicopters, known for their safety and reliability. Rest assured, your journey will be in capable hands.
To ensure the safety and comfort of all passengers, there are restrictions on age and weight. It is important to review these requirements before booking your tour. Additionally, reservations must have at least two guests to be confirmed, as this allows for optimal group dynamics and a more enjoyable experience for all.
When booking with CheapHawaiian Activities and Tours, you can expect secure online booking with a low price guarantee. Our friendly support team is always ready to assist you and answer any questions you may have. We aim to provide a stress-free booking process, allowing you to focus on the excitement of your upcoming adventure.
At CheapHawaiian Activities and Tours, we believe that experiencing the beauty of Hawaii shouldn't be a luxury reserved for a select few. That's why we are proud to offer unbeatable value, with competitive prices that don't compromise on quality. Our extensive selection of activities and tours ensures that there is something for everyone, whether you're seeking thrilling adventures, cultural explorations, or serene escapes.
Our experienced guides are not only knowledgeable and passionate about Hawaii, but they also go above and beyond to provide an enriching and insightful experience for our guests. Their expertise and genuine love for the islands shine through in every tour.
With our small group advantage, you can expect an intimate and personalized experience. Our commitment to keeping tour groups small allows for individual attention and the opportunity to make new friends along the way. We believe that forming connections and sharing experiences with fellow travelers adds an extra layer of enjoyment to your journey.
Customer satisfaction is our top priority. We strive to exceed your expectations and create a remarkable experience that will leave you with cherished memories. Your safety is paramount, and we adhere to strict safety standards and guidelines to ensure a worry-free and secure journey.
As a locally-rooted tour provider, we have a deep understanding of Hawaii's rich culture, history, and hidden gems. We take pride in showcasing the best of the islands, both the well-known attractions and the lesser-known treasures. Our tours are designed with eco-friendly practices in mind, minimizing our environmental impact and preserving the natural beauty of Hawaii for future generations to enjoy.
Join us at CheapHawaiian Activities and Tours for an unparalleled adventure in paradise. Whether you're a solo traveler, a couple, or a family, we assure you a memorable experience that will leave you with a deeper appreciation for Hawaii's enchanting landscapes and warm hospitality. Book your dream vacation with us today and discover firsthand why we are the best tour provider in Hawaii. You won't be disappointed!