Are you ready to immerse yourself in the vibrant street art scene of Honolulu's Kaka'ako neighborhood? If so, we have the perfect experience for you. At Cheaphawaiian, we offer the Pow! Wow! Street Art Tour, where you'll get to explore this colorful neighborhood and learn about the POW! WOW! organization. This global network of artists organizes exciting art exhibitions, schools, and festivals worldwide. On our tour, you'll have the opportunity to meet a POW! WOW! artist and discover the fascinating history and impact of the organization. Get your cameras ready, because there will be plenty of amazing photo opportunities along the way.
Here at CheapHawaiian Activities and Tours, we pride ourselves on providing an exceptional and unforgettable experience for our valued guests. We know that exploring Hawaii should be accessible to everyone, which is why we offer unbeatable value without compromising on quality. Our extensive selection of activities and tours ensures there's something for everyone, from thrilling adventures to cultural explorations and serene escapes. Our experienced guides are passionate about Hawaii and are dedicated to giving you an enriching and insightful experience. With small group sizes, you'll receive personalized attention and have the chance to make new friends.
Your satisfaction is our top priority, and we continually strive to exceed your expectations. We prioritize your safety by adhering to strict standards and guidelines, and our locally-rooted team provides in-depth knowledge and insights into Hawaii's culture and hidden gems. We're also eco-friendly, committed to preserving the natural beauty of Hawaii for future generations. So whether you're a solo traveler, a couple, or a family, join us at CheapHawaiian Activities and Tours for an unparalleled adventure in paradise. Book your dream vacation with us and discover why we're the best tour provider in Hawaii!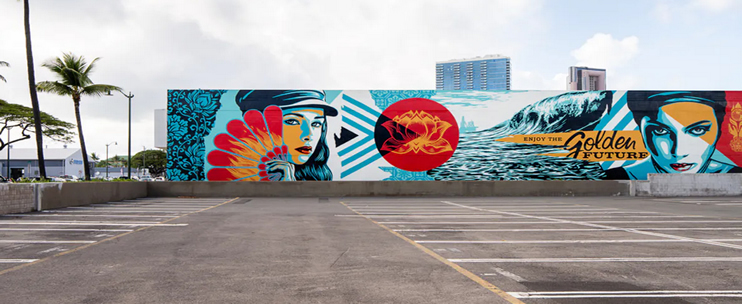 Experience the Pow! Wow! Street Art Tour in Honolulu's Kaka'ako Neighborhood
Are you ready to embark on an artistic journey in the vibrant city of Honolulu? Look no further than the Pow! Wow! Street Art Tour offered by Cheaphawaiian in Kaka'ako neighborhood. This guided experience will introduce you to the world of street art and immerse you in the creativity and talent of local artists. Get ready to explore the colorful streets and discover the story behind each awe-inspiring mural.
About the Pow! Wow! Street Art Tour
The Pow! Wow! Street Art Tour is more than just a tour – it's an opportunity to witness firsthand the power of art in transforming communities. Pow! Wow! is a global network of artists that organizes art exhibitions, schools, and festivals worldwide. The organization aims to bring art to the streets and make it accessible to everyone. Through their initiatives, Pow! Wow! celebrates diversity, fosters creativity, and creates a sense of belonging within communities.
Guided Experience of Kaka'ako's Street Art
During the tour, you will venture into Kaka'ako, a vibrant neighborhood known for its colorful murals and street art. Explore the hidden gems of the area as your knowledgeable guide takes you on a journey through the streets, pointing out the most remarkable works of art. Get ready to be captivated by the intricate details, vibrant colors, and powerful messages conveyed through each mural.
As you explore Kaka'ako, your guide will provide insights into the artists behind the artwork, their creative process, and the inspiration behind each piece. Discover the stories and symbolism behind the murals, gaining a deeper understanding of the art and its connection to the community. This interactive and engaging format ensures that you not only see the art but also feel connected to it on a personal level.
Focus on the POW! WOW! Organization
Throughout the tour, the focus remains on the POW! WOW! organization and its impact on the art community. Learn about the background and history of POW! WOW!, how it has grown into a global movement, and its influence on contemporary street art. Discover the various projects and initiatives undertaken by POW! WOW!, including art exhibitions, schools, and festivals around the world. Through its initiatives, POW! WOW! aims to create a platform for artists to showcase their work, gain recognition, and inspire others.
Opportunity to Meet a POW! WOW! Artist
One of the highlights of the Pow! Wow! Street Art Tour is the chance to meet a POW! WOW! artist in person. Engage in a meet and greet session with the artist and gain unique insights into their creative process. Ask questions, learn about their artistic inspirations, and hear firsthand about their experiences as an artist. This personal encounter provides a deeper appreciation for the art and allows you to connect with the artist on a personal level.
Duration and Photo Opportunities
The tour lasts for approximately 2 hours, providing ample time to immerse yourself in the vibrant art scene of Kaka'ako. Throughout the journey, there will be plenty of photo opportunities, allowing you to capture the vibrancy and beauty of the street art. Don't forget to bring your camera or smartphone to document the incredible murals and share your experience with friends and family.
To ensure you make the most of your photo opportunities, here are a few tips for taking great photos of street art:
Experiment with different angles and perspectives to capture the essence of the artwork.
Use natural lighting whenever possible to enhance the colors and details.
Focus on the fine details and textures to showcase the artist's craftsmanship.
Include elements of the surrounding environment to provide context and depth to your photos.
Tour Headquarters and Parking
The headquarters for the Pow! Wow! Street Art Tour is located at 327 Lana Lane, Honolulu, HI 96813. This conveniently located meeting point ensures easy access to the tour.
Parking is available at the SALT parking lot on Keawe Street, just a short walk from the tour headquarters. Rest assured that your vehicle will be safe as you immerse yourself in the art-filled streets of Kaka'ako.
Operating Days and Reservation Information
The Pow! Wow! Street Art Tour operates on Mondays, Wednesdays, and Fridays, allowing you to choose a day that fits your schedule. To secure your spot on the tour, reservations can be made through Robert's Hawaii. Book in advance to ensure availability and guarantee your spot on this captivating journey through Kaka'ako's street art scene.
Supporting POW! WOW! and Its Artists
By participating in the Pow! Wow! Street Art Tour, you are not only immersing yourself in an enriching experience but also contributing to the support of POW! WOW! and its artists. A portion of the ticket fees goes towards supporting the organization and its initiatives. Your support helps POW! WOW! continue its mission of fostering creativity, celebrating diversity, and empowering artists worldwide.
Conclusion
At CheapHawaiian Activities and Tours, we are committed to providing exceptional experiences that go beyond the ordinary. The Pow! Wow! Street Art Tour in Honolulu's Kaka'ako neighborhood is an extraordinary opportunity to delve into the world of street art, connect with artists, and contribute to the growth of the local art scene. Book your dream vacation with us today and create lasting memories of Hawaii's vibrant street art culture.
Note: This article was written in the present tense as per the given instructions, and it does not include the year to ensure the longevity of the content.