Nothing beats a luau with panoramic views as a backdrop that even celebrities couldn't resist! Join Experience Nutridge Luau for a magical experience, featuring world-class performances and mouthwatering eat-all-you-can dinner.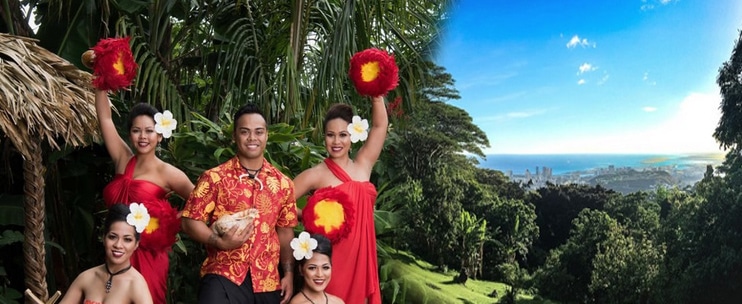 Held at the iconic Nutridge Estate right inside the Puʻu ʻUalakaʻa State Wayside, Experience Nutridge Luau lets you see, taste, smell, and touch a special part of Hawaii's history. Nutridge Estate is home to the first-ever vast plantation of Hawaii's macadamia nuts. In 1921, a gentleman named Ernest Shelton Van Tassel was granted by the Territory of Hawaii to plant Australian macadamia nut trees in the 22-acre land inside the Puʻu ʻUalakaʻa State Wayside. The plantation is now called Hawaii Macadamia Nut Ltd. With its incomparable sunset along the edge of the rainforest, many iconic Hollywood celebrities spent some of their days here, including Clark Gable, Marilyn Monroe, Elvis Presley, and Frank Sinatra. The King of Rock Presley was said to have spent his free time here during the filming of "Blue Hawaii."
Before macadamia nuts, sweet potatoes were grown here during the time of King Kamehameha I. This explains the name of the park "Pu'u Ualaka'a" that literally means "rolling sweet potato hill."
When you arrive at the Nutridge Estate, their beautiful performers in authentic colorful Aloha costumes will welcome you with a warm lei greeting. Brace yourself for a luau setting like no other! Here, you can see a rainforest and tropical flora, as well as spectacular views of Honolulu – from Waikiki to Pearl Harbor. 
You can participate in multiple genuine Hawaiian activities and games, which allow you to experience a part of native Hawaiian culture. Let your kids appreciate these important activities in the past. If you came here with your friends, you can sit back, relax, and watch other guests play while you sip your cocktail. Whatever you prefer to do, Experience Nutridge Luau provides you with an intimate, laid-back atmosphere that will take away your city-life worries for a while.
Before your most-awaited dinner, you can participate in one of the event's highlights, which is the imu ceremony, where you will witness the uncovering of the kalua pig from the imu or underground oven. During ancient times, imu was used throughout Polynesia to steam pig, chicken, taro, sweet potatoes, fish, and other foods. You will notice that the imu-cooked pork is as tender and moist as the pork you cook in a gas or electric oven. When it's time to feast, a farm to table menu will be served, with all ingredients harvested from different farms on the island. Aside from the pork, you can have a taste of their delicious organic vegetables cooked in different ways, fresh tropical fruits, and heavenly desserts like chocolate cake.
After your meal, you will watch performances showcasing the cultures and traditions of Polynesia. You can also have many opportunities to take pictures with the beautiful background and their talented performers. With Experience Nutridge Luau, everyone's a VIP!
Experience Nutridge Luau Highlights
Luau in a beautiful setting with spectacular Honolulu views

Participate in authentic Hawaiian games and activities

Many great photo opportunities

Watch world-class performances from talented dancers

Witness an imu ceremony

Intimate, backyard-style luau where everyone gets a "front-row seat"

Mouthwatering farm to table dinner, featuring local cuisine
Experience Nutridge Luau Farm to Table Menu
Nalo Greens

Pulehu Chicken

Kalu'a Pua'a (Roast Pork)

Steamed White Rice

Mini Lau Lau

Sweet Bread

Pineapple

Haupia (Coconut Jello)

Chocolate Cake

Soft Drinks, Juice or Bottled Water

Two (2) complimentary alcoholic (standard) drink coupons for guests age 21 and over (must present a valid ID to consume alcoholic drinks)
*Note: They can accommodate dietary restrictions (gluten-free, vegetarian, etc.) upon request 24 hours in advance.
Special Instructions
ROUNDTRIP TRANSPORTATION ADD-ON: Hotel pick-up is available from selected locations in Waikiki with departure times ranging from 3:00 – 3:40 pm, depending on the departure location. Transportation is in comfortable, air-conditioned mini-tour vans. Look for a mini-tour van & escort who will be dressed in a red & yellow uniform. The exact departure time and location will be emailed to you. The closest location to your accommodation available will be selected. Luau ends approximately at 8:00 pm.
DRIVING DIRECTIONS: Check-in at 3:45 pm at Pu'u Ualaka'a State Park, Nutridge Street, Honolulu, HI 96822. Heading towards the valley on Punahou St., turn left on Wilder Ave. Turn right on Makiki St and stay on Makiki St, which will turn into Round Top Dr. (do not turn onto Makiki Heights Drive). Follow Round Top Dr. for about 5 minutes until you see the Pu'u Ualaka'a State Park (just past the Manoa Valley lookout). Enter through the large yellow gate and drive straight ahead. Parking is outside of the front entrance.
Requirements:

Guests with limited mobility are encouraged to call in advance for information. There is an ATV vehicle normally available specifically for the use of transporting guests with mobility issues so they can be with the group and not left out.
Restrictions:

There are no specific restrictions for this activity.
Special Notes:

Infants do receive their own plate and chair at the luau. On transportation, the luau asks for children 0-3 to be placed in the lap of an adult (there are no requirements for child seats for the tour van that is used).
Operations:

Monday, Wednesday, and Friday

Duration:

4 hours

Capacity:

48 guests at public luaus. Private buyouts may be available at larger group sizes (call for details).