Held at the historic Nutridge Estate inside of the Pu'u 'Ualaka'a Wayside Park, Experience Nutridge Luau offers a truly magical 5-star experience.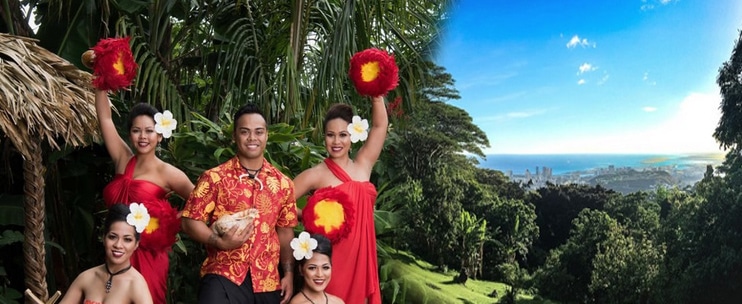 This Hawaiian luau boasts a unique setting unlike any other – it is situated on Mount Tantalus, surrounded by a rainforest and tropical flora and features spectacular views of Honolulu, all the way from Waikiki to Pearl Harbor.
In the Hawaiian language, "Pu'u Ualaka'a" (the name of the state park) literally means "rolling sweet potato hill." Under King Kamehameha I, sweet potato was grown here. Later in 1921, a man named Ernest Shelton Van Tassel was granted the lease by the Territory of Hawaii to begin planting Australian macadamia nut trees on the 22 acres of land within the Pu'u 'Ualaka'a Wayside Park creating Hawaii Macadamia Nut Ltd., the island's first macadamia nut plantation. At its height, the company had approx. 2,000 macadamia nut trees growing in the Nutridge grove.
Due to its scenic location, overlooking breathtaking sunsets and a large stretch of Oahu's south shore, the Nutridge Estate has even entertained iconic guests in the past, including Clark Gable, Frank Sinatra and Marilyn Monroe. Elvis spent some of his free time here during the filming of "Blue Hawaii."
Special Instructions
Where and When
WAIKIKI TRANSPORTATION ADD-ON
Hotel pick-up is available from select locations in Waikiki with departure times ranging from 3:00 – 3:40 pm depending on the departure location. Transportation is in comfortable, air-conditioned mini-tour vans. Look for a mini tour van & escort who will be dressed in a red & yellow uniform. The exact departure time and location will be emailed to you. We will select the closest location to your accommodation available. Luau ends approximately at 8:00 pm.
DRIVING OUT
Check in at 3:45 pm at Pu'u Ualaka'a State Park, Nutridge Street, Honolulu, HI 96822 View Map
Driving Directions
Heading towards the valley on Punahou St. turn left on Wilder Ave. Turn right on Makiki St and stay on Makiki St which will turn into Round Top Dr. (do not turn onto Makiki Heights Drive). Follow Round Top Dr. for about 5 minutes until you see the Pu'u Ualaka'a State Park (just past the Manoa Valley lookout) Enter through the large yellow gate and drive straight ahead. Parking is outside of the front entrance.
Requirements
If you have limited mobility please be sure to let us know. There is a ATV vehicle normally available specifically for the use of transporting guests with mobility issues so they can be with the group and not left out.
Restrictions
There are no specific restrictions for this activity.
Special Notes
Infants do receive their own plate and chair at the luau. On transportation the luau does ask for children 0-3 to be placed in the lap of an adult (there are no requirements for child seats for the tour van that is used).
Operation Days
Monday through Friday
Duration
4 hours
Capacity
48 guests at public luaus. Private buyouts may be available at larger group sizes (call for details).