Providing an authentic luau twice a week, join the longest-running luau in Maui right on the spectacular Kaanapali Beach at the Hyatt Regency Maui!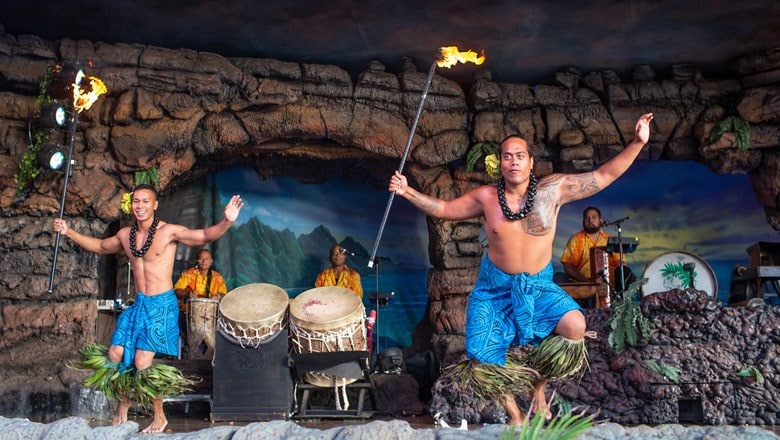 Enjoy Polynesian dances, songs, chants, drums, imu ceremony, thrilling Samoan fire-knife dance, island-style cocktails, and delicious eat-all-you-can buffet.
Drums of the Pacific Luau has been entertaining visitors for 40 years now with the vision of imparting an understanding of the distinctions and connections between Polynesian cultures. True to their commitment, they have been performing authentic chants, songs, and dances of Hawaii and its neighboring Polynesian nations that have played significant roles in the Land of Aloha's customs and cultures for centuries. 
When you get there, the beating of the drums and the sounds of the conch shells welcome you to a sunset terrace, a few steps from the waves of the Kaanapali Beach. Right there and then, you will feel genuine hospitality that all islands in the entire Polynesia have taught from generation to generation. Step into a beautiful tropical garden while sipping your complimentary Mai Tai, and watch the lighting of the torch as the event begins. You can order extra drinks from the bar if you wish to awaken your partying mood.
Pioneered by Tihati Productions, Ltd, you will witness a world-class hula show before the uncovering of the Kalua pig in an imu ceremony. Meaning "to cook in an underground oven," kalua is a traditional Hawaiian cooking method that uses an imu (underground oven). During the early times, Hawaiians used an imu to steam not only pigs but also sweet potatoes, taro, fish, bananas, chicken, and others. Due to its time-consuming process, cooking through an imu was utilized during religious ceremonies, feasts, or festivities during those times. After the ceremony, it's time for your buffet dinner, featuring exotic flavors of Hawaiian cuisine. You can feast on the shredded roasted pig, Huli Huli chicken, local Pacific Ahi Poke, taro rolls, desserts, and more!
When the meal is over, the drum beats fill the air again, telling you to prepare yourself for performances second to none! Be mesmerized with the graceful dancers as they shake their hips to Tahitian music and dance. Did you know that the Tahitian dance is an image of vibrant flowers, rich music from conch shells and nose flutes, and full-body movements? To the Tahitians, it is not just a form of entertainment but also with many meanings, including charming a lover, challenging an enemy, and even to pray.
You will also witness the warrior dance of the Maori people or also known as Haka. Many centuries ago, Maoris performed the Haka on the battlefield to physically and mentally prepare the warriors during an encounter. Interestingly, it was also performed when groups came in peace. Other world-class performances from Fiji, Rarotonga, and Tonga will also be highlighted. As the finale, you will get a chance to watch the hair-raising and fun Samoan fire-knife dance or Siva Afi. As the stars take over the sky when darkness fills the spectacular beach, you will go home with a joyful heart and stomach, plus you get to take home a kukui nut lei souvenir. 
Drums of the Pacific Luau Packages
STANDARD TABLES: These tables are forward-facing and socially distanced located behind the VIP Tables.
VIP TABLES: These tables are forward-facing and socially distanced closest to views of the show. VIP tables will also be the first tables escorted to the buffet.
*DURING COVID (The following measures and conditions are being followed)
Select a Standard or VIP Table rate, which includes 2 adult tickets and then any additional guest tickets needed.

Tables seat up to 6 guests within 1 party/reservation for proper social distancing standards.

Children who are 3 years old and under are free but must be counted in each booking.

The Buffet will be served by Drums of the Pacific team members.
Drums of the Pacific Luau Highlights
A Mai Tai cocktail or fruit punch greeting

World-class show by their multi-talented performers

Impressive torch lighting ceremony

Authentic imu ceremony – the unveiling of the main dish, Kalua Pua'a

Polynesian fashion show featuring the islands most exotic pareaus (sarong) in creative styles

All-you-can-eat luau dinner

Authentic dances and music of the old Hawaii, Samoa, Fiji, New Zealand, Tahiti, Tonga and Rarotonga

Unforgettable fire-knife dance finale
Drums of the Pacific Luau Menu
BUFFET
Kalua Pork

Huli Huli Chicken

Baked Island Fish with Pineapple Salsa

Polynesian Fried Rice

Seasonal Vegetables

Fresh Sliced Tropical Fruit

Pancit Noodle Salad

Local Pacific Ahi Poke

Locally Sourced Tossed Green Salad

Papaya Vinaigrette

Taro Rolls

Mac & Cheese for Keiki (Kids)
BAR
Mai Tai

Beer, Wine, Standard Cocktails

Tropical Fruit Punch

Juices and Sodas
DESSERT BAR
Haupia with Toasted Coconut

Pineapple Cake

Bread Pudding
*Note: Menu subject to change without prior notice.
Special Instructions
Check-in Location and Time:

Check-in is at 5:15 pm for preferred seating and at 5:30 pm for general seating.
          NYE 1st Show: Check-in at 4:45 pm.
Address: Hyatt Regency Maui, Ka'anapali, 200 Nohea Kai Drive 
*Note: Valet parking is $10.00. Self-parking is complimentary. Take your ticket at the gate and validate with the luau bartender.
Restrictions:

There are no specific restrictions for this activity. Please call beforehand if anyone in your party has special needs.
Special Notes:

One free child (ages 6-12) per two paying adults valid for General Seating only. Does not apply to holiday luaus or from 12/20 – 12/31.
Infant pricing (children 5 and under) includes their own seat and plate.
Hours of operation and menu are subject to change without notice due to weather, seasonality of food, and others.
Operations:

Sundays and Wednesdays
Duration: 3 hours