Certainly, a trip to Oahu will not be complete without having to wholly enjoy the warm, crystal clear waters of the Hawaiian Islands.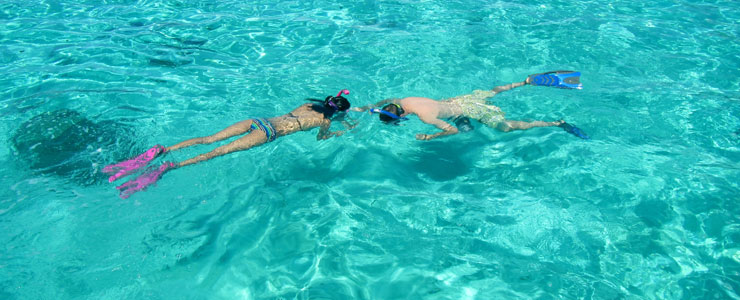 Sure, wading in the waters by the shore is already a fun and relaxing activity in itself, but you can actually only get to experience the beauty of Oahu's seas to the fullest when you partake of an ocean adventure tour package away from the crowds on the beach, and closer to the precious animals that call this pristine ocean home. Come and join Dolphins and You for such an activity, particularly its Swim with Wild Dolphins Tour!
 As can be gleaned from the tour name, Dolphin and You – Swim with Wild Dolphins Tour is an exceptional tour package that lets you and your companions get an up-close encounter with precious dolphins! Dolphins are gentle marine mammals that love to enjoy themselves in the water, and that said, make sure you keep your safe distance so that they continually enjoy your visit and not feel alarmed by your presence. The trained crew, guides, and life savers and free divers of Dolphin and You will surely share with you helpful tips for when you go snorkeling and swimming with these creatures, and will also be with you every step of the way.
In Dolphin and You – Swim with Wild Dolphins Tour, you are definitely in good hands, and in the most thrilling Oahu adventure there is!
 Of course, this tour offers not only a one-of-a-kind dolphin encounter, but it also lets you in on the most breathtaking underwater views of the island. After swimming with the dolphins, you and your companions will be brought to the next location, where many other marine animals such as green sea turtles and tropical reef fish frequent! Here, prepare to see Oahu's well-preserved coral reefs and rock formations, apart from the sea creatures enjoying themselves down under. Truly, this is a sight that you don't get to experience everyday and thus should not be passed up on!
 What's also great about this tour is that it has a lot of other inclusions, as if the snorkeling adventure and marine life encounter are not enough! The vessel has a 20-foot slide that you will definitely enjoy sliding in, straight to the open water! Apart from this, you also get to sit back, relax, and enjoy Hawaiian cultural entertainment on board, as well as a delicious Hawaiian lunch. What a treat Dolphin and You – Swim with Wild Dolphins Tour is!
Tour Highlights:
A sightseeing cruise along Oahu's west shore

A snorkeling adventure at two prime snorkel sites on the island

An animal encounter with Oahu's abundant marine life *

A traditional Hawaiian ceremony, live entertainment, and a delicious lunch on-board

A ride in

Dolphin and You

, a 55-foot power boat that features a water slide, kayaks, and paddle boards
* Note: While dolphins are abundant and teeming in the area, dolphin sightings are not always 100% guaranteed. This is a tour that takes you to the dolphins' natural habitat and not to a zoo where animals are contained, so please manage your expectations. Don't worry though; dolphins are spotted around 80% to 90% of the time!
Special Instructions:
Choose from the following tour times:

7:00 AM

11:00 AM

For the 7:00 AM tour, check in at 6:45 AM. For the 11:00 AM tour, check in at 10:45 AM. Be on time for check-in, as the boat will depart at exactly 7:00 or 11:00.

Round-trip transportations are provided from select Waikiki hotels and the Disney Aulani Hotel, via a luxury, air-conditioned coach bus. If you choose this option, please wait for your confirmation email regarding exact pick-up time and location.

Children under 2 years of age are not permitted to join in this tour.

Professional photography and videography are available both on board and underwater for an additional fee. The all-photos package is priced at $60, while the photo-and-video package is priced at $100.

Fins, mask, snorkel, and flotation devices will be provided. Wetsuits are also available for rent, but for an additional fee.

This tour operates daily. Snorkeling takes place only when the water and weather conditions are clear for everyone's security and safety.

Tour duration is around 4 to 6 hours.
 You can visit our Oahu Tours page here: