With the number of tour operators running in Oahu, of course, you would want to go for one that's tried and trusted, reputable, established.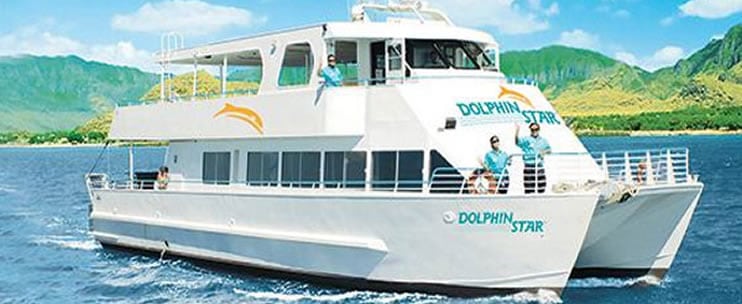 That is, precisely, what Dolphin Star is all about. A well-known tour operator in Hawaii that guarantees a delightful time exploring the island and all the great things it has to offer, from the sights, culture, to the delicious grub, Dolphin Star is the perfect choice to complete your Hawaiian getaway! To go all out, experience the island to its fullest, and have an adventure to remember, you can never go wrong with Dolphin Star and its top-rated activity, the Wild Dolphin, BBQ, and Snorkel tour package!
Dolphin Star's Wild Dolphin Watch, BBQ, and Snorkel starts off with a relaxing cruise along Oahu's leeward coast, on board its high-powered catamaran especially built for sightseeing and dolphin watching. During this tour kick-off, you will be surrounded by nothing but the clear blue seas and majestic mountain views in the background–a sight to behold, indeed! 
As if the view is not already spectacular enough, the presence of spinner dolphins is going to leave you even more awestruck! These precious marine mammals are known for their acrobatic displays every time they spin and leap above water, and with the catamaran's spacious 360° observation deck, you are sure to fully enjoy this dolphin watching and sightseeing experience.
As can be gleaned from the tour name, Dolphin Star's Wild Dolphin Watch, BBQ, and Snorkel offers plenty more adventure and fun! Inclusive in this tour is a delectable Hawaiian barbecue feast, which you and your companions will get to enjoy on board, while relishing the sights, the sun, and the breeze. After that glorious lunch, the catamaran will make a stop at one of Oahu's finest snorkeling locations, where you will get a beautiful opportunity to see different sea creatures in their pristine natural habitat, such as sea turtles, tropical fish, and even more dolphins. You need not worry about your safety and protection, as Dolphin Star will be providing you with the complete snorkel gear, as well as instructional guides, to ensure a safe and enjoyable time while snorkeling. With Dolphin Star, you are certainly in good hands!
Dolphin Star's Wild Dolphin Watch, BBQ, and Snorkel is a complete tour package that promises the best three hours of your Oahu getaway. This is a tour you should not miss out on, so go and book now!
Tour Highlights:
Relaxing cruise along Oahu's Wai'anae coast

Great seascape and mountainscape (Wai'anae Mountain Range) photo opportunities

Guaranteed dolphin sightings (Return for free if you don't get to see dolphins!)

Snorkeling at Oahu's finest snorkeling spots

Underwater encounter with different marine organism

Hawaiian barbecue lunch on-board (build-your-own premium burgers freshly grilled on board; vegetarian menu available with at least 24 hours notice)
Special Instructions:
This tour departs from Wai'anae Boat Harbor, located at 85-491 Farrington Hwy, Wai'anae, HI 96792.

The cruise proper is approximately 3 hours, from 12:00 PM to 3:00 PM. Below are the exact tour durations:
From Waikiki: 6.5 hours (9:50 AM to 4:30 PM)

From Ko Olina: 4.5 hours (11:00 AM to 3:45 PM)
If you will not be availing of the pick-up service and will be arriving through your own transportation, make sure to check in at Dolphin Star at least 15 minutes prior to tour departure.
The optional round-trip transportation is via a deluxe Royal Star bus, which features comfortable seats, an on-board restroom, and other amenities.
Dolphin Star guarantees dolphin sightings for this tour. Should your tour group not chance upon these dolphins, receive a "dolphin check" for a free return until dolphins are sighted. This return, however, is not inclusive of transportation and lunch. You may choose to avail these add-ons for a certain fee.
This tour operates daily except on certain special days and holidays: Father's Day weekend, Thanksgiving, December 13, Christmas Day, and New Year's Day.