Kayaking and snorkeling are just two of the most exciting water activities that Hawaii can offer, along with a multitude of things that you can do in this paradise.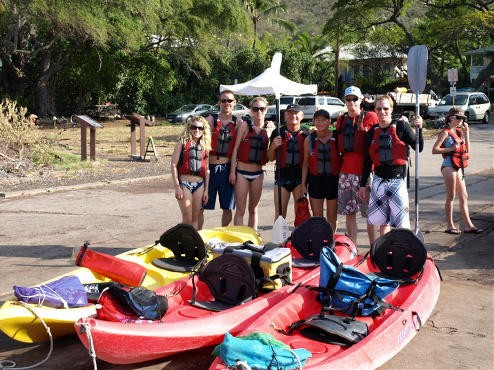 This tropical island indeed is blessed with the gift of nature, which locals and visitors are relishing up to these days.
If you're in the big island, a deluxe morning kayak and snorkel at the Kealakekua Bay is a must-try. Whether you're a real kayaking and snorkeling enthusiast or a newbie, this combined water adventure surely highlights your holiday on the island. What's special about it is that you are going to paddle along the beautiful sea and snorkel at the largest coral reef in Big Island and the iconic Captain Cook Monument. Since it is abundant with marine life, chances are, you get to see these beautiful sea creatures up close! 
Book your tickets now and experience a once in a lifetime adventure that even your children can enjoy!
Kayaking at the Kealakekua Bay
Upon booking, all necessary information is indicated in your confirmation email, including meet up time and location. Arrive at the meeting place at least 15 minutes before your trip, because you have to sign liability waivers, fit PFDs and snorkel gears, as well as receive a short briefing by your guides.
Your day begins when you paddle your kayaks along the Kealakekua Bay. But before that, you might as well want to apply some sunscreen lotion or cream on your skin.
 Just make sure it is eco-friendly to protect the ocean and its living creatures. Wearing a wide hat may do if you don't have it. Though your morning trip is from 7 AM to 11 AM, the sun in Hawaii shines brightest from 10 AM to 4 PM, where the UVR can cause damage to the skin. So, it's best to use it. This is the reason why some guests prefer to have this adventure in the morning. Plus, not many people are in the water at this time, so it's all yours.
If your team consists of your family or friends, this is a good time to have fun in the water together. Otherwise, you can also meet people from all over the globe, if you are paired with other guests. While you paddle on your wide and stable kayaks, your attentive guide always ensures your safety.  And also share some informative facts about this place along the way.
About 70-80% possibility, you'll see some dolphins swimming around you (we hope they'll be there on your trip). Sometimes in winter at 20 yards or so from you, a mother whale and her calf may also be playing. Green sea turtles are usually in sight while you are kayaking, as well. Thankfully, the water here is calm, and you can slow down for a bit to gaze at them and take pictures, too. If you get lucky, you also get a chance to see manta and eagle rays. You will continue to paddle for approximately 35 minutes (1.5 miles) before you reach the Awili Cove, where you will make a landing. 
Snorkeling at the Captain Cook Monument
From the Awili Cove, you will walk to the Captain Cook Monument and receive safety briefings, snorkeling instructions, and tips. When you're ready, you enter the water with your complete gear and enjoy up to 1.5 hours. This place is not famous for nothing. With its clear water, you can visibly watch and be amazed at the stunning colorful coral gardens and get intimate with different kinds of bright-colored fish. To protect the ecosystem and its marine lives, you are instructed to exercise extreme caution not to cause damage and disturb them. We suggest capturing this beautiful experience with your camera or video cameras because you never know when you will do it again.
After snorkeling, you will have your snacks and drinks while watching the spectacular scenery. On top of this, your knowledgeable guide continues narrating stories on the history of Kealakekua Bay and Captain Cook Monument. Here's a little Hawaiian trivia for you: the British named Captain Cook Monument as such to honor the site of Captain Cook's death. He is a British navigator, explorer, and cartographer, who was the first European to reach the Hawaiian island. He was mistaken as a God by the native Hawaiians at first but killed him when they realized how a God like him gets his ship wrecked by bad weather.
At almost 11 AM, you will paddle back at the Kealakekua Bay, and on your way, there's a chance that you can watch the sea creatures for the second time. What an unforgettable tour, indeed!
TOUR HIGHLIGHTS:
This combined kayaking and snorkeling journey takes you along the beautiful Kona coast shoreline.

Snorkel at the Cook Monument in Kealakekua Bay to see colorful coral gardens and different kinds of beautiful fish.

An opportunity to gaze at dolphins and turtles.

Have a close bonding with your family and friends, or get to know other people from all over the globe, while enjoying this trip.

Feast on your snacks and beverages while watching the magnificent seascape.
TOUR INCLUSIONS:
Certified lifeguard and guide

State permits to land at the Kealakekua Bay State Park and to snorkel at the Captain Cook Monument

Wetsuits (notice them ahead of time)

Kayak and snorkel equipment
KNOW BEFORE BOOKING:
You Should bring sunblock, water shoes, an extra t-shirt, hat, and sunglasses. Please note that you are not allowed to bring anything harmful to the water.
Individuals from 5-75 years old are allowed to participate, who are able and without risky physical and medical conditions.
*Children can be easily paddled by an adult.
The maximum weight of a guest is 250 pounds, or a combined weight of 400 pounds per kayak.
*All kayaks have a capacity of 2 persons.