Not many people are aware that you can kayak and snorkel without knowing how to swim.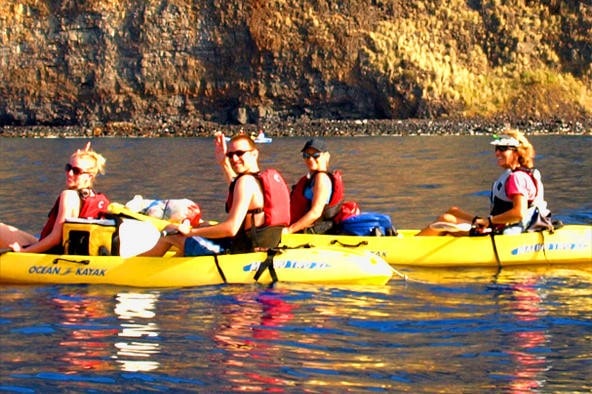 If you hesitate to kayak and snorkel because you are not able to swim, forget it. Well, it's better if you do, but if you couldn't, you can still enjoy these exciting water activities. 
Why don't you try the Deluxe Afternoon Kayak and Snorkel by Adventures in Paradise? This is a unique adventure, combining kayaking and snorkeling at none other than the iconic Kealakekua Bay and the historical Captain Cook Monument. Adventures in Paradise takes pride in their certified and knowledgeable guides who ensure your safety and enjoyment from the start to the end of your tour. 
So, what happens on this trip? Firstly, you paddle along the stunning Kealakekua Bay for about 35 minutes, heading to the Captain Cook Monument to snorkel. But of course, many things happen along the way, including wildlife sightings and listening to your guide's exciting stories about the place. You can take pictures if you want to, which we highly recommend. Capture the stunning seascape, as well as the sea mammals that may appear a few yards from your kayak. Plus, you get to munch on delicious snacks with the spectacular seascape in sight!
Kayaking Along the Kealakekua Bay
The best thing about this afternoon trip is you get to bask in the beautiful Hawaiian afternoon sunshine. But before that, don't forget to apply sunblock to your skin. Just make sure the product is ecosystem-friendly to avoid causing damage to the sea and its marine life and coral gardens. Well, it is a general rule that whenever you go out in the sun, especially if you stay out from 10 AM to 4 PM. Since your trip begins at 11:30 AM, arrive at the meeting area at least 15 minutes beforehand. Anyways, additional information will be indicated in your confirmation email upon booking. Personally, we suggest wearing a wide hat as additional protection to your skin.
Just like the morning version of this trip, they will provide you with kayak and snorkel equipment. Arriving earlier gives you time to fit PFDs and snorkel gears, as well as sign a liability waiver. In addition, your guide provides short safety briefings and instructions. Their kayaks are stable and wide, allowing a maximum of 2 individuals. And when you look at their quality mask, snorkel, and fins, you can say they care about their guests' satisfaction and safety.
You start to paddle at exactly 11:30 AM as a team, with your guide. Along the way, he narrates stories and the history of this place. It's a good thing that the water here is calm and not so windy, so you could slow down a bit and take time to gaze at the magnificent surroundings. You can take pictures while your partner on your kayak paddles. Perhaps you could take turns paddling each time one of you takes photos. Watch out for some spinner dolphins and whales (in winter) swimming just a few yards away. There's a chance you could also spot green sea turtles. Many guests have already had the luck to see them, while kayaking. And if luck cooperates, you can surprisingly sight manta and eagle rays!
After paddling the 1.5-mile distance towards the Kealakekua Bay State Park, where you will make a landing at the Awili Cove, walk towards the Captain Cook Monument for your next activity.
Snorkeling at the Captain Cook Monument
You might have heard about the Captain Cook Monument if you frequent Hawaii. This is known as a perfect spot to snorkel because it is abundant in brightly-colored fish and colorful coral gardens. Moreover, the water is crystal clear and warm that you could visibly see a gem below –  distinct, beautiful coral reefs commonly seen in Hawaii. 
You can snorkel for 1.5 hours for your ultimate pleasure. With their high-quality snorkeling equipment, you don't need to worry about your safety. Besides, your attentive guide takes care of you, and so do the sea creatures and coral reefs. While enjoying the scene, always remember to exercise precautions to protect them, too.
For the remaining time before heading back, you and the group share a snack and beverages. At the same time, your guide takes you back to the early times through narrating the story of Captain Cook and the history of this area. You can bring out your camera once again and take snapshots of the awe-inspiring scenery. You can even have a group picture as a souvenir of this unique adventure. You end your trip with a paddle back to the Bay, and maybe this time, you can view more wildlife.
TOUR HIGHLIGHTS:
Kayak with your family, friends, or other people from all over the globe along the beautiful Kealakekua Bay.

Watch large mammals, including spinner dolphins and humpback whales (in winter), and green sea turtles. 

Snorkel at the Captain Cook Monument and get intimate with colorful fish, as well as witness stunning coral gardens.
TOUR INCLUSIONS:
Snacks and beverages

Certified lifeguard and guide

State permits to land at the Kealakekua Bay State Park and to snorkel at the Captain Cook Monument

Wetsuits (notice them ahead of time)

Kayak and snorkel equipment
KNOW BEFORE BOOKING:
You Should bring sunblock, water shoes, an extra t-shirt, hat, and sunglasses. Please note that you are not allowed to bring anything harmful to the water.

Individuals from 5-75 years old are allowed to participate, who are able and without risky physical and medical conditions.
*Children can be easily paddled by an adult.
The maximum weight of a guest is 250 pounds, or a combined weight of 400 pounds per kayak.
*All kayaks have a capacity of 2 persons.