It's the perfect time to catch some surf, check out the impressive Kilauea Volcano or take it easy on a secluded Oahu beach. With our Cruiser Windward Oahu and North Shore equipment rental package, you can soak up all of the sun de-wrinkling rays while you hang out with your toes in the sand. The set includes:
Two folding beach chairs.

One umbrella.

Two sets of snorkel gear.

A fabulous dry bag for when it starts to rain.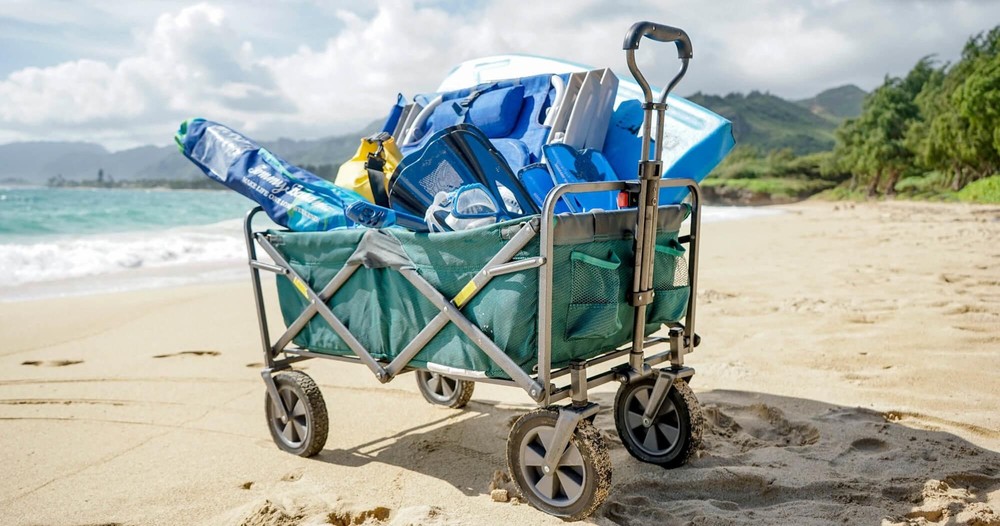 Get ready for the vacation of a lifetime with this Oahu Beach Package from Cruiser Windward. Join us for a break on Oahu and two neighboring islands. Whether you're taking a single-day trip or spending an entire week, we've got everything you need to enjoy the sand, surf, and sun – at unbeatable prices. Throw this package in the suitcase, and you'll be good to go on your next Hawaii vacation. With our Cruiser Windward Oahu & North Shore Beach Equipment Rental, you get all of the car essentials like beach chairs, umbrellas, snorkel gear, as well as more active necessities for a day at the beach, such as boogie boards. If it rains? Don't sweat it! Our exclusive dry bags will save your valuables from getting wet while enjoying this Hawaii weather.
Get the perfect Oahu beach equipment rental package for enjoying your vacation. You'll feel right at home with everything you need to relax, enjoy the sun and surf! Indulge in two sets of snorkel gear so you can explore underwater worlds all day long without getting bored, or spend an afternoon boogie boarding your way around a secluded cove. When it's time to get barefoot again, fold up the chairs and umbrella and tuck them into one of our included dry bags, then take off across the sand – we've even added a convenient wagon to make sure your stuff is never too far away from where you are lounging on our sun-kissed shores. 
You don't need to be relaxing in Waikiki Beach drinking a cocktail to feel like you're enjoying the finer things in life. You can hang out at some of Hawaii's most famous and secluded beaches with this kit that has all you'll need for sun, surf, sand, and beach fun. Say goodbye to expensive hotels and give yourself space and comfort, perfect for families or solo travelers. Our Cruiser Windward Oahu & North Shore package is excellent for exploring Hawaii's best beaches like Kailua and Waimea Bay. For your next beach trip adventure, experience all that the island of windward Oahu has to offer with a set-up that includes two folding chairs, one umbrella, two sets of snorkel gear, two dry bags, plus boogie boards. They say you can't win them all. This deal wins! Please sit back, relax and enjoy your Hawaiian getaway for less with our unlimited rental package. You'll save by renting instead of buying everything separately – so go ahead and order that drink-included-all inclusive dining plan while you're at it; we'll deliver the gear on the day of your arrival to make sure everything fits in your budget.
Offering amenities such as free umbrellas, chairs, boogie boards, and snorkels, it's perfect for families looking to soak up some sun and revel in the beauty that Oahu has to offer. Now available at weekly rates.