Treat yourself to this 3-hour kayak tour where you'll be meeting right next to the beach. Explore Mokoli'i while paddling at your own pace and ask any questions back with our local guide. You've never felt closer to heaven than when you're standing on Chinaman's hat. Please take a look up at the sky, thinking about the people below, and think about how small they feel and how big you are. Paddle around Mokoli'i, soak in all that it has to offer and then paddle back to reality with some fantastic memories of your time on one of Hawaii's most iconic landmarks. Duration: 3 hours Pickup location: Right next to downtown Honolulu Meeting spot for all gear: "Meet me by the beach"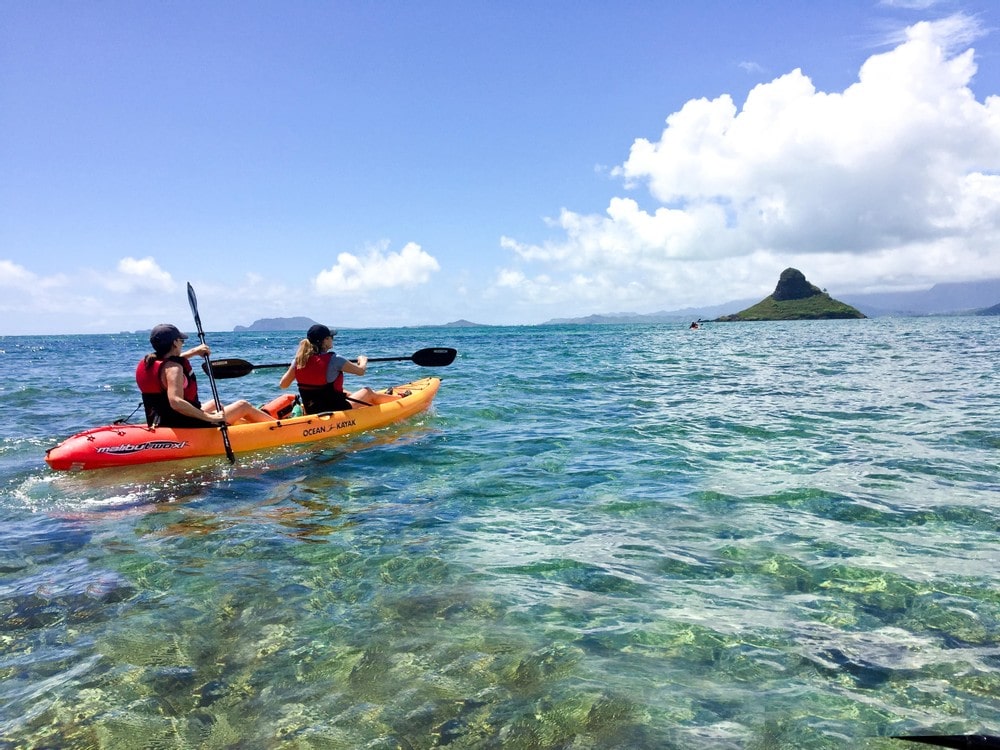 Wow! Sign up now for your Chinaman's Hat Self-Guided Kayak Tour Experience! Explore at your own pace while paddling from mokoli'i to chinaman's hat or hike out on the beach – whichever adventure you choose. Your sea self-guided tour starts with a quick demo, safety talk, and kayak orientation. 
You'll be meeting right next to the beach, so we'll help you get set up in your kayaks, give you all the gear you need, and plenty of time to explore before heading back in. Let us know if there are any questions by contacting our local guide today (or anytime). You will head out on a self-guided adventure to Mokoli'i, Chinaman's hat, for some great paddling and incredible views. In this 3 hour experience, you'll be able to go at your own pace and have plenty of time to explore. You'd be surprised what you'll see out there: whales breaching in the distance; nesting seabirds squawking overhead; turtles sunning themselves on rocks just below the surface – it's always better to watch them from afar, though, as they're protected species! And don't forget your sunscreen!
Imagine having a private kayaking tour in Hawaii while rowing by some of the most famous landmarks in Oahu. Fit for beginners and experts alike, our one-hour paddling tours operate every day and are designed for you to get out on the water with your friends or family. Take an easy-going morning paddle; stop at any time to savor waterfalls, bodysurf waves, or watch dolphins play and enjoy lingering lunch on sun-splashed rocks. This self-guided kayaking tour is a great way to experience some of Maui's coastline! Bring your equipment or rent from our store and set off on your adventure. 
We're about to take you on a 3-hour self-guided kayaking experience for some fantastic views of Mokoli'i, Chinaman's hat. The best thing about this tour is that you get to go at your own pace and have plenty of time to explore the lagoons, caves, and waterfalls thanks to our safe facilities and guide, as well as an introductory talk on safety tips before you head out into the water. Feel free to ask any questions or say "aloha" – we promise it will be one helluva good time.
Don't forget to ask the local guide any questions you have before you start. You'll be paddling for 3 hours at a time, so make sure you're comfortable with that, but this is a fantastic opportunity for exploring Mokoli'i (Chinaman's hat) without being tied down with other people. This allows everyone to enjoy their own 2 hour plus adventures, and we help by meeting next to the beach and leading beach tours too!