Experience the old Hawaii and Polynesia with an authentic luau in a picturesque setting on the island of Oahu, surrounded by palm trees with leaves dancing with the warm breeze of tropical winds with the stars overhead illuminating lights!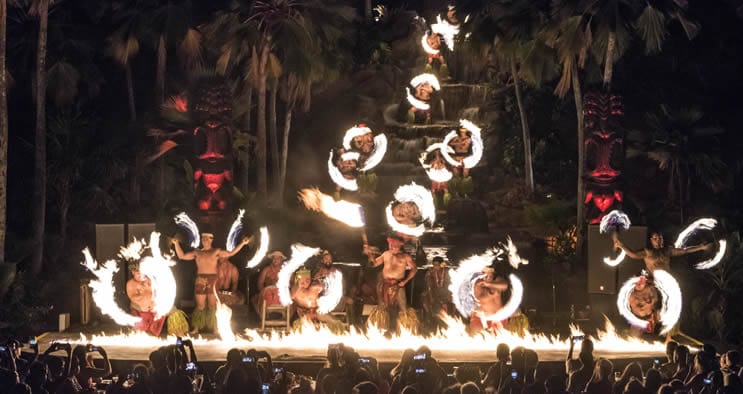 Held at a brand new multi-million dollar facility at Oahu's famous water park called Wet' n Wild Hawaii, which Chief Sielu himself custom-designed, Chief's Luau is like any other. Did you know that Chief Sielu is a world champion fire-knife dancer and Polynesian comedian? Being regarded as the best and funniest Polynesian entertainer in the South Pacific, he appeared on several TV shows, including Late Night with David Letterman, Travel Channel, The Late Night Show, Discover Channel, MTV, BBC, and Oprah Winfrey.
There's no particular dress code when attending a luau. But if you want to get into the Aloha spirit, you can wear an Aloha outfit like Hawaiian printed shirts and shorts or pants for men and floral-designed skirts for women. You can pair it with a coconut bra if you feel like dressing up for the night. Some women also wear a grassy skirt paired with a swimsuit top and then head accessories. For your footwear, sandals, flip-flops, or slippers are the most preferred, or better yet, go there with bare feet as the early Hawaiians did. The best thing about this festivity is that you can bring even your infant child.
When you get to Wet 'n' Wild Hawaii, where Cutter's Island used to stand, you will be amazed at a jaw-dropping backlit 50-foot cascading waterfall in the background. The friendly ohana of your hilarious host Chief Sielu will welcome you and locals in their authentic costumes, drape a lei around your neck and escort you to the luau grounds. There, you will be entertained by genuine traditional Hawaiian music and Polynesian and Hawaiian dances such as Hula, Haka, and Polynesian fire dance. You can learn how to hula and challenge your spear-throwing skills before witnessing the imu ceremony, where the slow-roasted kalua pig will be uncovered from the underground oven.
Before continuing the show, you will feast on a lavish eat-all-you-can Hawaiian meal, including the kalua pig, taro rolls, steamed white rice, lomi lomi salmon, desserts, and others that come along with one free Mai Tai. You can order an extra alcoholic beverage if you wish, which you can enjoy all throughout the evening. After dinner, rhythmic drum beats fill the air as their talented performers show their dances, taking you on a journey through the South Pacific. Chief Sielu will perform the most entertaining, thrilling, and daring spectacle, probably even the most ambitious fire knife dance in the entire Hawaii, highlighting the evening. You will go home with a satisfied stomach and hearts with a souvenir gift, depending on your package.
Chief's Luau Menu
Mixed Island Greens
Diced Pineapple
Taro & Assorted Rolls
White Rice
Hawaiian Sweet Potato
Succulent Butter & Garlic Braised Vegetables
Vegetarian Chow Mein
Slow Cooked Kalua Pork
Roasted Tropical BBQ Chicken
Asian Style Island Fish (Shoyu, Ginger)
Pineapple Cake
Poi & Lomi Lomi Salmon are served during the activities portion of the luau
Coffee, Tea, Tropical Punch
Cash bar available (Mai Tais, Wine, Beer, Soda)
Special Needs Menu
Mixed Island Greens
Island Vinaigrette
Taro Rolls – Contain gluten
Steamed White Rice
Okinawan Sweet Potatoes
Fresh Cut Sauteed Vegetables – From butter-flavored vegetable oil, soybean oil, barley, possible trace of dairy/egg
Fried Noodles garnished with Char Siu & Green Onion – Contains pork, gluten, egg, oyster sauce, MSG from oyster sauce, cornstarch, soybean oil, vegetable oil, garlic, soy sauce
Slow Cooked Kalua Pork – Contains pork
Chicken Thighs w/ Pineapple-BBQ Sauce – Contains chicken, Worcestershire contains anchovy, gluten, corn syrup, garlic, soy, "spices"
Sweet Soy Braised Fish – Contains fish, gluten, egg, MSG from soy sauce, cornstarch, fresh ginger, soy sauce
Pineapple Cake – Contains gluten, dairy, egg, corn syrup, starch, soy flour, soybean oil
Diced fresh Pineapple
Poi
Lomi Lomi Salmon – Contains fish, tomatoes, salmon, green onion, salt
Chief's Package
Aloha Experience: Seating in Aloha section, all-you-can-eat Hawaiian luau buffet, shell lei greeting and 1 adult beverage.
Paradise Experience: Seating in Paradise section, Kukui nut lei greeting, 2 adult beverages, and all you can eat Hawaiian Feast.
Royal Experience: Seating in the Royal section, fresh flower lei greeting, Mai Tai greeting and 3 adult beverages, all you can eat Hawaiian Feast, and a souvenir gift.
Special Instructions
Location and Time:

Gates open at 5:00 pm, and Luau starts at 5:30 pm and ends at about 7:45 pm. The address is Wet 'n' Wild Hawaii, 400 Farrington Hwy, Kapolei, HI 96707.
*Roundtrip motorcoach transportation from Waikiki is temporarily not available.
DIRECTIONS: If you're driving from Waikiki, take H-1 Freeway West. Follow signs to Waianae, then take Exit 1E, merge onto Farrington Hwy, go right at the light, and then right into Wet 'n' Wild parking lot at $8 (cash only).
➤No professional videos or photos are allowed.
➤Infant pricing for four years old and under; they can have their own seat and plate.
➤Photos are not included in the packages. They may be purchased at the luau or you can visit the photographer's website: www.mytouristphoto.com for downloading.
Operations:

Mondays, Wednesdays, Fridays, and Sundays. Also open on Christmas Day and Thanksgiving Day.

Duration:

3.5 hours

Maximum Capacity:

300 guests