What kind of a sunset adventure would it be if you didn't catch anything?
That's why on Captain's Sunset + Tasting cruises, we allow you to lure in dinner–with some help from our captain and crew! Start with an appetizer platter or split one of Captain Scott's signature dishes. Then stick around—as soon as the sun dips below the horizon, we'll switch roles and give everyone onboard a turn at reeling in tonight's meal. Whether it's your first time fishing or not for us here at Wild Fish Adventures, this evening cruise will have plenty of ocean life that are dying to be caught.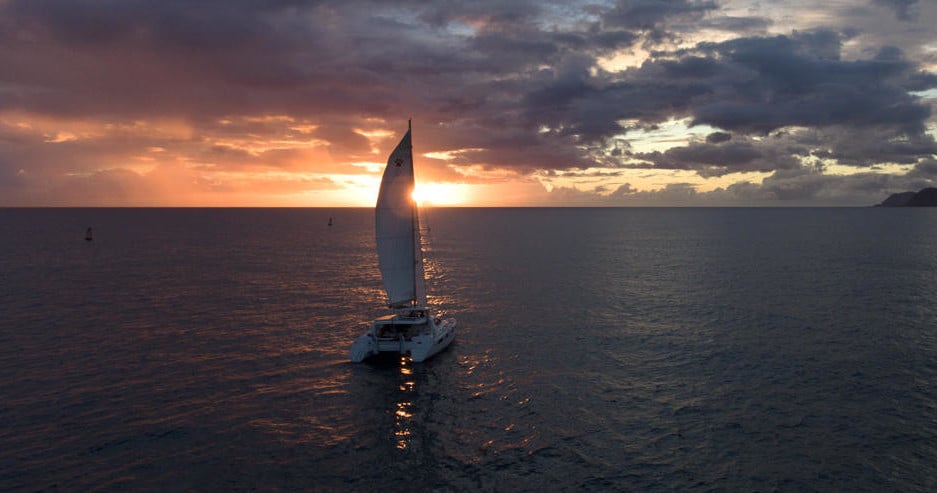 Step aboard and make your way to the horizon! 
We'll set out to tour our beloved Captain's Sunset + Tasting cruise, an excellent chance for those looking for an outgoing South Shore adventure. The sparkling trade winds await! Choose from one of your favorite tasty pupu foods, complete with fresh fruit pates, roasted tomatoes, or Coconut Braised Ribs. Then finish your evening with one of 16 signature cocktails as you soak in our expansive view: views of Oahu and Molokai combined with a bright sunset – perfect scenery for celebrating life. Welcome to the island life!
Let yourself be whisked away as the Hawaiian sunset turns into twilight and stars start to shine. The long day is over, and with its passing comes an opportunity to have more personal time amid a world of captivating beauty. Kick back on our historic sailing ship m/s Lāʻau Kūkou II or take in the waterfront views from any of our many interior spaces, all decked out to capture your imagination. Feel like more adventure? We can hook you up with other adventures like back-country hikes that'll make you feel closer than ever before to nature's magnificence, campfires under waterfalls, spa treatments customized for each person's needs.
Get in touch with your inner captain and set sail on Hawaii's most prominent charter boat. Sail into the sunset with Captain's Sunset + Tasting Ko Olina, HI and enjoy a private Pupu tasting menu as you watch the color of the sky turn from oranges to purples-all aboard! There is a rail at every seat for optimal viewing of all around you and space enough for groups up to 12. Expect the tiki torches to burn bright if you catch a summer evening cruise or just a perfect oasis when cruising past island nightfall. With Pupus that flows like waves crashing against your chest, it will be easy to forget that this gorgeous journey awaits offshore. 
Join us on the Captain's Sunset and Tasting the Hawaiian way. We offer our signature sunset sail to Ko Olina, HI, where you can end your day by enjoying a Pupu tasting menu. We'll provide all of the ingredients so that you can experience dishes like kalua pork and salad as well as mahimahi poke and rice for two – in the genuine tradition of Aloha hospitality!