Calling the adventure seekers out there, this tour package is especially for you!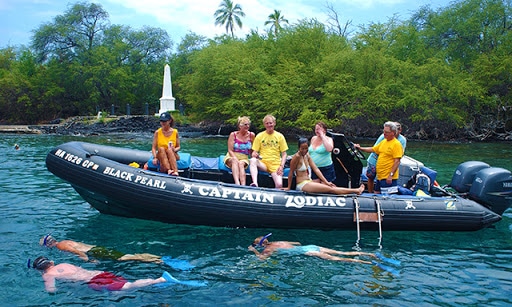 Captain Zodiac combines two thrilling activities in this tour, particularly speed rafting and underwater snorkeling, so if you choose to book this tour, you're in for a treat and an adventure of a lifetime! Come and join Captain Zodiac's Raft and Snorkel Adventure for the ultimate ocean adventure that will undoubtedly make your Big Island experience even more exciting and memorable.
This tour is available in two time slots, so you get to choose depending on your schedule and preference. If you would rather start your day straight with some thrill and action, then go ahead and choose the morning time slot. If, on the other hand, you would like a slow and steady morning and just go on your rafting and snorkeling excursion later in the day, then the afternoon time slot is perfect for you. Whichever between the two you decide on booking, you are guaranteed the best views, the best experience, and the best ocean adventure!
Captain Zodiac's Raft and Snorkel Adventure utilizes the 24-foot Zodiac raft, which is certified and inspected regularly by the U.S. Coast Guard. This raft, which can accommodate up to 16 passengers, will take you on a fun rafting experience to the most stunning and awe-inspiring sea caves, lava tubes, and blowholes that Big Island and its people pride themselves in! This, precisely, is the advantage of going on a raft—it takes you closer to nature and deeper into its charm and beauty!
For the snorkeling part of this tour, Captain Zodiac's Raft and Snorkel Adventure takes you to Kealakekua Bay, a marine preserve and one of the best areas on the island for snorkeling! With waters so clean and pristine, you get great views of the reefs, rock formations, and, of course, Hawaii's sea life. From Hawaiian dolphins, sea turtles, a wide variety of tropical reef fish, and many other sea creatures, this marine life encounter, no doubt, is an experience of a lifetime.
Both fun and educational, Captain Zodiac's Raft and Snorkel Adventure is a tour package that you should not miss when traveling to the Big Island. Go and make your reservations now!
TOUR HIGHLIGHTS
Enjoy Captain Zodiac's most popular tour, which has been in operation for more than 30 years now!

Go on a rafting tour along Kona Coast's scenic shoreline via a US Coast Guard-certified and inspected raft

Get up close views of lava tubes, sea caves, archways, and many more Big Island hidden gems

Snorkel in the crystal clear waters of Kealakekua Bay, a marine preserve that is home to a wide variety of marine life
TOUR INCLUSIONS
Captain Zodiac's Raft and Snorkel Adventure is inclusive of the following:
High quality snorkeling equipment (silicone masks, fins, float boards, vests, and Rx masks for those who might need graded snorkel masks)

A comprehensive pre-dive snorkeling instruction and safety briefing, facilitated by Captain Zodiac's expert crew

Tropical snack of fresh fruits, chips, cookies, and an assortment of non-alcoholic drinks *
* To minimize human impact on Hawaii's seas, Captain Zodiac does not provide bottled water on the trip. Reusable water bottles are encouraged, and water fill-up stations are available at the check-in office and on the boat.
Special Instructions
Choose from the following tour times:

Morning tour: 8:15 AM to 12:15 PM

Afternoon tour: 12:30 PM to 4:45 PM

Check-in time is 8:00 AM for the morning tour and 12:15 PM for the afternoon tour. Make sure to check in early as the tour will depart promptly as scheduled.

This tour departs from Honokohau Harbor. Look for the HONOKOHAU MARINA sign on the highway and the mall after turning to Kealakehe Parkway. Captain Zodiac's check-in office is inside said mall.

The following are the requirements and restrictions in joining this tour:

Children must at least be 4 years old to participate.

Pregnant women are not allowed in this tour.

As the ride on the raft is usually bumpy and bouncy, those with neck and back problems are also discouraged from joining.

As mentioned above, this tour includes the use of life vests, snorkels, and masks. Guests, however, are free to bring their own gear. 

This tour operates daily except Wednesdays. However, there may be instances that the tour will not be available on other days, if a cruise ship is visiting Kona on the day of your tour day.

Tour duration is approximately 4 hours.

The raft can accommodate up to 16 passengers, but Captain Zodiac reserves the right to limit the guests per tour in light of the safety protocols in place given the circumstances brought about by the COVID-19 pandemic.