You may have heard of Captain James Cook from Great Britain who is one of the most famous navigators and cartographers in the 18th century.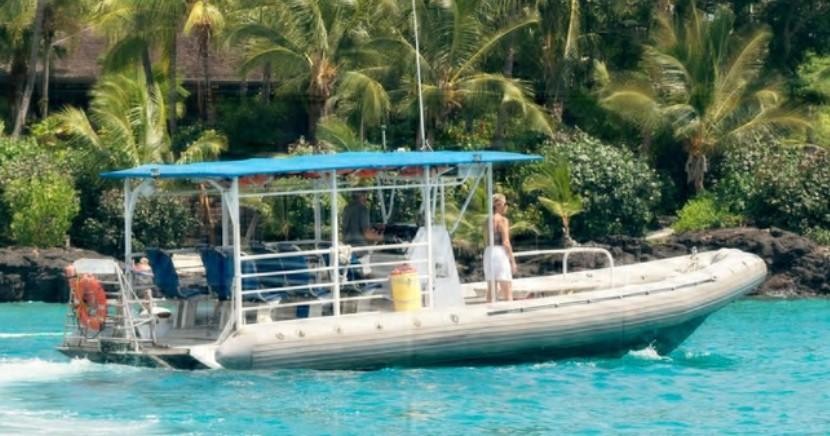 He was known to be the first European to visit the Pacific Ocean, including the Hawaiian Islands. He became friends with the Polynesians, but things turned tragic when he and his men got into trouble when the Polynesian inhabitants stole one of their smaller boats. He ended up being stabbed and bludgeoned to death. These days, he has a lot of monuments found everywhere, including one in Kealakekua in the Big Islands in Hawaii.
If you happen to be on the largest island or planning to visit, we tell you it is not complete without exploring this historical monument. If you do, why don't you do it in style? Body Glove Cruises, which is passionate about sharing the beauty of Hawaii to visitors, brings you the Captain Cook Dinner Cruise. This 3-hour trip with live entertainment on board begins its cruise at the Kona coast to the Captain Cook's monument in Kealakekua Bay. On your way, enjoy spectacular sights while sipping your favorite cocktail. When you arrive at this piece of paradise, you will feast on a Hawaiian-style buffet dinner and on your way back, you will witness a postcard-worthy sunset. So, book your tickets now and see what we are talking about!
What to Expect?
Check-in at 3:30 pm, at least 30 minutes before the departure time at 4:00 pm. The Kanoa II is a 65-foot long double-decker with a spacious lower deck that allows you plenty of room to move around. Shaded seats are cushioned, which adds comfort and relaxation throughout the trip. It even features a 15-foot high jump and 20-foot water slide. Seating is on a first come first serve basis so we suggest you come earlier to take the top front spot, where you could have 360-degree views of the sceneries along the way. 
Inside the shade at the lower deck are three restrooms, flat-screen televisions, a full premium bar, as well as a complete sound system for optimum entertainment. The vessel, indeed, was designed for ultimate fun and enjoyment.
You commence your adventure at the Kona coast, which is known for deep-sea fishing, producing giant marlins, usually the Pacific blue variety. Chances are, you could also spot honu (green sea turtles) gasping for air or spinner and bottlenose dolphins swimming gracefully. So, prepare your camera, and you know what to do. At the same time, delicious appetizers are served, which are mostly gluten-free and vegan-friendly like vegetable crudités, assorted cheeses, and pita chips, among others. Alcoholic and non-alcoholic drinks are also available, which you can order from the bar and your first cocktail is definitely free. Additionally, a local musician plays live music in the background with his guitar with Hawaiian-style music that compliments the afternoon mood in the ocean.
While cruising towards Kealakekua Bay, a knowledgeable local historian points out historical sites and narrates significant events and legends that you probably never heard before. The most interesting thing about it is these landmarks can only be viewed by a helicopter, by hiking or by a boat. So, from your vessel, take the opportunity to take as many pictures as you can that you will treasure for a lifetime.
Looking at the 27-foot high obelisk from your boat, this is the monument of Captain Cook, where he met his unfortunate end. A small plaque in the surf is the spot where he was believed to have died. Behind the obelisk is the devastation of the ancient village of Kaawaloa. This historic site can also be viewed through a 2 and a half-hour hike on Captain Cook Monument Trail. However, the hike is worth the adventure because you will pass by lava fields and vast patches of sugarcane. On top of these, there is a snorkeling area at the monument that attracts visitors, where your boat is positioned.
Arriving at the Kealakekua Bay signals dinner. It's a buffet-style meal so help yourself with the foods, including kalua pork served with cabbage. Heading back to the Kailua pier, live music once again serenades you, while gazing at the beautiful Hawaiian sunset. This time, it is mellow that relaxes you after a one-of-a-kind escapade.
MENU:
Appetizers: 

Assorted Veggies (GF)

Mixed Cheeses (GF)

Lomi Ahi Tuna Dip (GF)

Roasted Red Pepper Spread (Vegan, GF)

South Pacific Avocado Dressing (Vegan, GF)

Pita Chips (Vegan)

Entrée:

Kalua Pork, served with Poached Purple Cabbage (GF)

Boiled Breadfruit in Coconut Milk (Vegan, GF)

Island-style BBQ Chicken (GF)

Coconut Bread Rolls

Vegetables mixed with Rice (Vegan, GF)

Pesto Risoni Salad (Vegetarian)

Quinoa-Garden Salad accompanied by Tropical Vinaigrette (Vegan, GF)

Dessert:

Delicious Cheesecake topped with Strawberry & Lilikoi Dressing
*Vegan or gluten-free desserts are available upon request prior to the tour. 
Know Before Booking
The Kanoa II is a state-of-the-art catamaran that was built for Hawaiian waters with comfort and safety as the priority. 

Body Gloves Cruises is located in the Ilima Court, North Kona Shopping Center, Kailua-Kona, which is very close to the free parking lot around the Kailua-Kona pier (5-minute walk to the dock from the office).

Daily operations except for Mondays. Check-in is at 3:30 pm and departure time is at 4:00 pm whereas the return time is at 7:00 pm.

All ages are allowed, including guests in a wheelchair. Upon booking, let them know if you are travelling with an individual in a wheelchair so they could reserve a parking area since there are only two spaces.
*Special Note: A portion of Body Glove Cruises' proceeds is donated to non-profit organizations on a mission to preserve and restore the Hawaiian culture and history, along with the local and global coral reefs.