One of the many great things the Big Island, particularly Kona Coast, is known for is its marine life.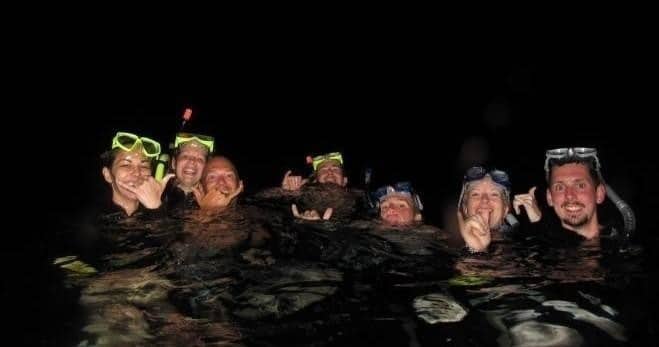 Kona's marine life is so diverse and abundant that many of its vacationers do not leave the island without first having an up-close encounter with these precious Hawaiian sea creatures. If you will be vacationing in this part of Hawaii, too, make sure you do the same! There are plenty of tour operators offering different kinds of animal encounter packages, and one of the most exciting ones is definitely Captain Cook Cruises' Night Manta Ray Tour!
Captain Cook Cruises' Night Manta Ray Tour is more for the adventurers and thrill seekers. One of the few excursions that takes place in the night, Captain Cook Cruises' Night Manta Ray Tour is a fun animal encounter experience that departs from the Keauhou Harbor just after the sun has set. The snorkeling site is not too far off the harbor, so you will get to begin your manta ray encounter in no time! These creatures are more visible during the night, especially since they are easily lured and attracted by bright lights. 
Thus, because your snorkeling flashlight, which is inclusive in the package tour, is what these sea creatures will get to see immediately in the dark water, the manta rays will come near and guarantee your manta ray sightings! There is nothing to fear about their close proximity, though. While the manta rays can get as enormous as 16 feet wide, these creatures are gentle giants, and if they remain unagitated, they will give a warm welcome to their human friends in their natural habitat.
What's fascinating about the manta rays, which would entice you all the more to book Captain Cook Cruises' Night Manta Ray Tour, is that apart from their immensity, they are also known to be very graceful in the water, too! Prepare to be mesmerized by their underwater ballet and acrobatic displays, especially when they dashingly perform somersaults with their wide wings. Besides their graceful movements, you would also be able to catch sight of these creatures' large mouths, their bodies' tools when they gather plankton, and then catch a glimpse of their insides, through their gills. These sights are undoubtedly amazing and wonderful, and this once in a lifetime experience would certainly top any nature channel shows you've seen, any scientific magazines you've read, or any Science lessons you've listened to in class! 
When you book the Captain Cook Cruises' Night Manta Ray Tour, besides the flashlights that you will use to lure the manta rays, everything else that you will need in the dive will also be provided and will readily be available in the boat, from the masks, snorkels, and fins. Helpful instructions from the crew will also be given to passengers, especially because the crew are composed of well-experienced individuals, who are guaranteed to have been trained well to handle guests, prepare them for the water activities, and give first aid and emergency response, if necessary. The last one is just a precautionary measure, though! The Night Manta Ray Tour is guaranteed safe and fun for guests, and those who have gone on this tour can surely attest to this!
If you prefer to stay on the boat and just enjoy the cool breeze and the relaxing night sky while your companions are in the water, Captain Cook Cruises' Night Manta Ray Tour also offers "Ride Along" rates to such passengers. The "Ride Along" option is more affordable, as this does not include snorkeling privileges–the more prudent choice for those who are not used to swimming in open water, or perhaps those who are more comfortable going into the water during the daytime. Thus, even if you may have apprehensions about diving into the ocean, you are still more than welcome to join Captain Cook Cruises' Night Manta Ray Tour.
Most travellers in the Big Island, or in the entire Hawaiian Islands for that matter, choose the morning adventure cruises and get to have an encounter with dolphins, sea turtles, and a variety of tropical fish. While these tours are undeniably awesome, the Captain Cook Cruises' Night Manta Ray Tour is an entirely unique and unparalleled ocean adventure that you just can't pass up on, especially for the venturesome thrill seekers. Not many tour operators offer this kind of experience, so with a renowned one like Captain Cook Cruises, you are sure to be in good hands. What are you waiting for? Go and have an adventure of a lifetime by booking Captain Cook Cruises' Night Manta Ray Tour! This will surely be the best 1 hour and 30 minutes of your vacation on the Big Island!