Here's a quick history lesson – One of the most prominent historical figures in Hawaii, particularly Kauai Island, is Captain James Cook.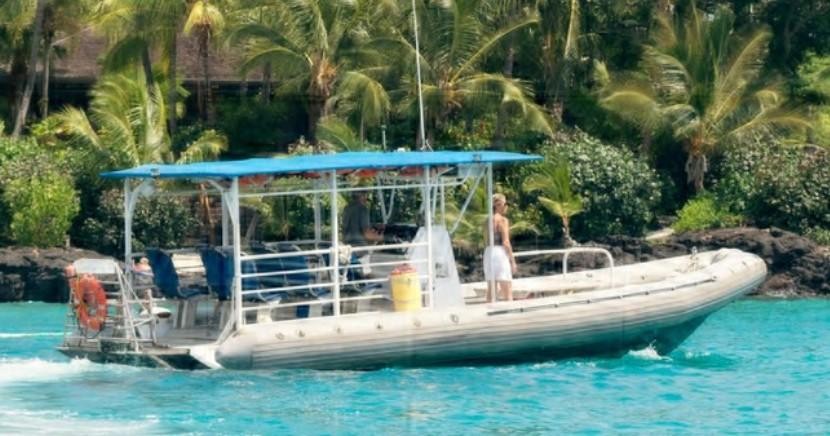 In 1778, Captain Cook landed on the Hawaiian Islands, making him the first westerner to touch down on this part of the world. Not long after his arrival, however, he was killed in a battle with Native Hawaiians exactly where he made his landing: on Kealakekua Bay. Thus, the memorial monument on the bay in his name.
As the Captain Cook Monument is a symbol of an important moment in the history of Kauai Island, it would be a shame to miss visiting this top tourist attraction during your vacation in this part of Hawaii. Make this excursion possible for you and your companions with no less than the Captain Cook Cruises! Captain Cook Cruises offers different package tours, one of which is a fun afternoon package that lets you visit Captain Cook's Monument and a whole lot more, rightfully called the Deluxe Afternoon Captain Cook Tour!
Captain Cook Cruises' Deluxe Afternoon Captain Cook Tour is the company's most popular package tour among tourists. Here, guests get to see where the famous explorer, whom the company got its name from, first arrived in Hawaii, and then also get to visit the site of the Ka'awaloa Village, the dwelling place of Hawaiian rulers/chiefs during Captain Cook's arrival in Hawaii. Guests get to be enlightened about these historic locations as Captain Cook Cruises' crew and guides are great storytellers who will gladly share with you their vast knowledge of the history and culture of their motherland. This part of the tour is certainly a treat for history buffs, as these spots truly played a momentous portion in the narratives of the ancient Hawaiians. 
Thrill seekers, of course, will enjoy the Captain Cook Cruises' Deluxe Afternoon Captain Cook Tour just the same as this package tour also includes an exciting snorkeling adventure! Kealakekua Bay is known as one of the best snorkeling spots in all of the Hawaiian Islands because of its calm, clear, and warm waters, and this you will get to experience for yourself on the snorkeling part of the tour. Once you're ready for the dive, which, of course, comes only after the crew has briefed you with the snorkeling instructions and geared you up appropriately, get ready, perhaps, for the highlight of your Hawaiian trip! Get ready to see vibrant tropical fish, green sea turtles, and other sea creatures, and also the majestic coral reef these organisms dwell in. Hawaiian spinner dolphins are also very abundant in the area, so prepare to get up close with these playful marine mammals, too! With waters so clear, you surely will get to have a fun and easy time catching sight of these underwater creatures. Having a waterproof action camera would surely be an advantage for this adventure, as you would definitely want to bring home photos of below-the-surface views so dreamy and absolutely breathtaking!
While the underwater sights are undeniably awesome, the views above the surface are nonetheless very pretty, too! As Captain Cook Cruises' Deluxe Afternoon Captain Cook Tour takes you to a cruise on the beautiful Kealakekua Bay, guests get to savor the stunning views of the turquoise-blue waters, sea caves, and the rugged landscapes in the background, while enjoying the beautiful Hawaiian breeze and weather. Look out for the spinner dolphins, as these precious creatures love going above the surface and leaping and spinning high into the air, which is why these spinner dolphins are called so. Also, if your visit is sometime from November to March, also known as the whale season, you may also catch sight of enormous humpback whales! Thus, if you book a slot to the Captain Cook Cruises' Deluxe Afternoon Captain Cook Tour but are not the type to go swimming in the open water, you would still have an enjoyable time on the boat because of these wonderful sights surrounding you. For this, make sure to choose and pay the "ride along" rate, which is a more affordable option as it does not include snorkeling privileges. This is what's great about Captain Cook Cruises' Deluxe Afternoon Captain Cook Tour — everyone's preferences are considered, accommodated, and priced accordingly, too!
What are you waiting for? Go and discover why Captain Cook Cruises' Deluxe Afternoon Captain Cook Tour is its top-rated, most booked package tour! Book your slot now, and see you soon at the Keauhou Harbor!