The largest sheltered body of water in the whole of Hawaii, Kaneohe Bay is home to crystal clear waters, untainted reef and rock formations, and abundant marine life.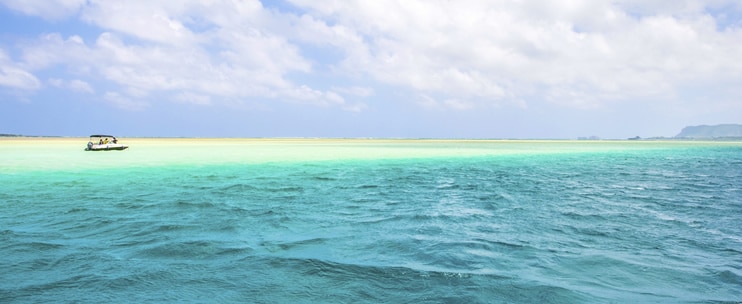 As this is so, Kaneohe Bay on Oahu is a popular recreational site for all of these natural scenes and wonders! This is an Oahu stopover you would not want to miss, and thankfully, Captain Bob is here to make sure you get to experience Kaneohe Bay to the fullest! Come and join Captain Bob's Picnic Sail and Snorkeling for a day of sightseeing, exploring, and ultimately enjoying in an exceptional and breathtaking tropical paradise.
Captain Bob's Picnic Sail and Snorkeling is a relaxed sightseeing cruise and snorkeling adventure on Kaneohe Bay, in which the first stop is one of the Bay's lovely sandbars. Here, the crystal clear waters go at just about 12 inches deep, which they say is perfect for some physical activities like volleyball! There are designated areas, too, where you can go straight on to swimming and snorkeling. With waters so pristine, you will most definitely have a fun and exciting time exploring the beauty of Kaneohe Bay down under. The views will be a treat to your eyes and senses, that's for sure!
 Whatever it is you and your companions decide to do on the first stop, the accompanying chef will be preparing the most scrumptious barbecue lunch while you're at it! Enjoy a delicious picnic lunch of juicy hamburgers and other delicious sides on board—the best and most sumptuous way to regain all that energy from the first part of the tour. Freshly prepared food, the warm Hawaiian breeze, and the views from the cruise en route the next stop—a picnic sail cannot get any better than this!
The fun does not stop there. Captain Bob's Picnic Sail and Snorkeling takes its guests to two prime snorkeling spots, and that is where the boat is headed during the picnic lunch. At the second snorkeling site, prepare to see the most magnificent underwater views of colorful tropical reef fish, sea turtles, and other marine organisms, as well as the well-preserved topography of Kaneohe Bay. Truly a spectacle to perfectly end the cruise and highlight your trip to Oahu, Hawaii!
Tour Highlights:
A relaxing sightseeing cruise on Kaneohe Bay on Oahu's east shore

An opportunity to snorkel at two prime sites, one of which is Kaneohe Bay's lovely sandbar

An animal encounter with Oahu's diverse marine life, including green sea turtles, reef fish, and a lot more!

An opportunity to see Gilligan's Island and Chinaman's Hat Island

A delicious barbecue lunch on board *
Tour Inclusions:
Captain Bob's Picnic Sail and Snorkeling is inclusive of the following:
A freshly prepared picnic lunch on board (salad, hamburgers, baked beans, chips, and fresh fruits) *

Refreshments of water and soda (Alcoholic beverages of beer and wine are available on board, but for an additional fee.)

All snorkeling equipment (snorkel, mask, fins, life jackets, and floating noodles)

A freshwater rinse on board

A roundtrip transportation from Waikiki
* Vegan burgers are also available, but please make sure to notify the tour operator in advance.
Special Instructions:
Check in at He'eia Kea Boat Harbor.

Check-in time is at 10:30 AM. A pick-up time will be provided for those who will be availing of the transportation service. Make sure to arrive at least 10 minutes before said pick-up time.

This tour operates on Mondays to Saturdays.

Tour duration is approximately 5 hours. Tour will return at around 4:00 PM.

Note that the vessel that will be used for the tour is not wheelchair-accessible. Those with wheelchairs will have to be wheeled to the boat to board, and their wheelchairs are to be stored until the end of the tour. Note, however, that only a collapsible wheelchair may be stored for safekeeping, as there is limited storage space.
Feel free to visit Oahu tours and packages here: Oahu Tours | Cheap Hawaiian Activities